Trading Analysis
BTC/USD – Significant Rally Creates Fresh Demand
October 27, 2019 | 10:15 am | The 5%ers' Blog > Trading Analysis
October 27, 2019 | 10:15 am
The 5%ers' Blog > Trading Analysis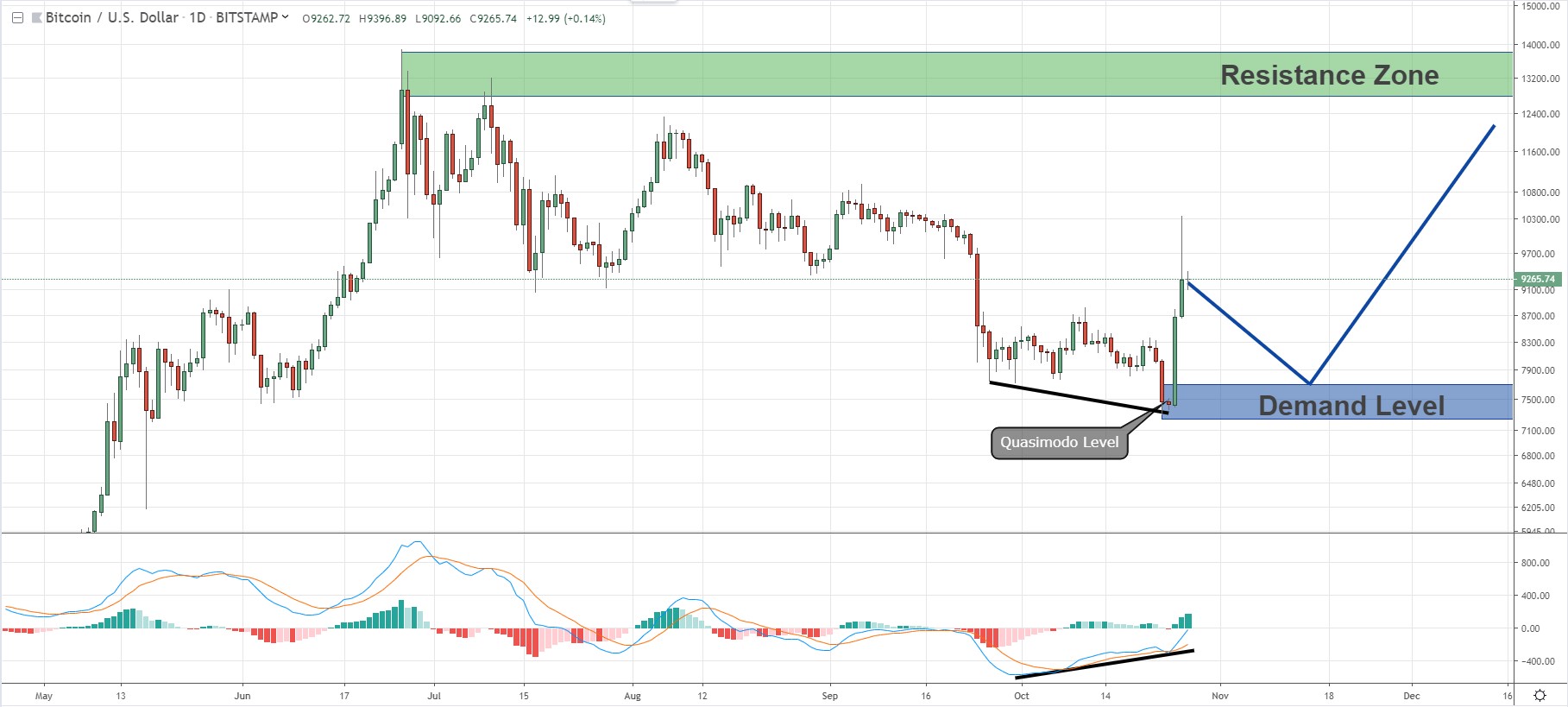 A Confluence of MACD Divergence and Quasimodo Level.
Sunday  27/10/2019
BTC/USD price has formed a significant recovery at the end of the past week and creates a new fresh demand level.
For the first time since September BTC/USD price back to test the 10K zones.
In two days Bitcoin has jump up from $7400 up to $10.400 and closed the week on $9300 zones.
This rally which creates a fresh demand below also broke out a fresh supply from 24/09/2019.
Breaking out this supply indicates that the price now tends to reach the resistance above.
The demand below also creates a Quasimodo pattern which is one of the most powerful reversal patterns.
In addition, this Quasimodo pattern occurs after MACD Divergence on the D1 time frame chart.
As we can the black line marked on the chart, while the price creates a lower bottoms the MACD Indicator creates a higher bottoms.
This influence between the MACD divergence and a new Quasimodo is a great setup for buy position,
The entry-level will be the demand below which is the last bottom of the price.
We can buy there at the first touch of the price, or to look for confirmation in the lower time frame chart.
The target for this position will be the resistance above which is $13.000 zones.
WE FUND FOREX TRADERS!
The5%ers let you trade the company's capital, You get to take 50% of the profit, we cover the losses. Get your trading evaluated and become a Forex funded account trader.
Get Your Forex Funded Trading Account