Trading Analysis
DAX Index – an Uptrend or Technical Correction?
October 10, 2019 | 11:38 am | The 5%ers' Blog > Trading Analysis
October 10, 2019 | 11:38 am
The 5%ers' Blog > Trading Analysis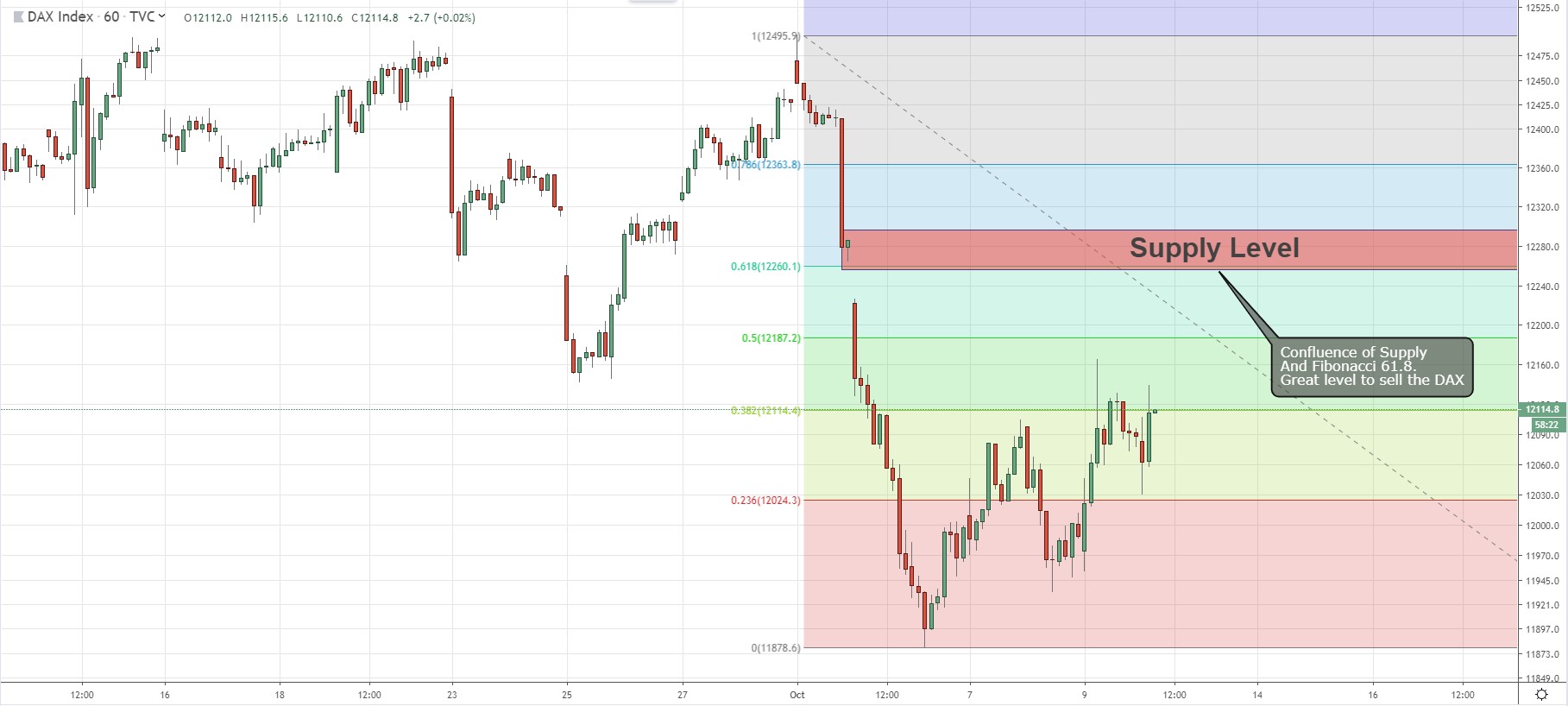 A Confluence of Fresh Supply and Fibonacci 61.8% Level.
Thursday 10/10/2019
In the H1 time frame chart, the DAX index seems to be bullish.
But in the higher time frame, we can see that the price has just become bearish,
This means that the uptrend we see at the H1 chart is only a technical correction for the higher time frame.
Among all the majors Indicies on the world stock markets, the DAX seems to be the weakest one,
Therefore, I'll look for a signal and the right level to sell the DAX index.
The supply above seems like a fresh one, we can see how the price has a gap down from that level,
That indicates a massive sell order at that level and most likely some unfilled orders that are still waiting there for the price.
In addition, this fresh supply is also the Fibonacci 61.8% retracement of the last drop from 12.500 to 11.880 points.
The Fibonacci tool is a great one, but it's not enough and it might not be smart to rely on Fibonacci retracement levels alone,
But, when Fibonacci levels confluence with a fresh supply it's a great setup for a trade.
As we can see the supply above the confluence with Fibonacci 61.8% creates a powerful setup to sell the DAX Index.
I'll sell at the first touch of the price at that level.
The final target for this sell position will be 11.700 zones.
WE FUND FOREX TRADERS!
The5%ers let you trade the company's capital, You get to take 50% of the profit, we cover the losses. Get your trading evaluated and become a Forex funded account trader.
Get Your Forex Funded Trading Account