Forex Blog Articles
Never Change Your Forex Trading Objective – Only The Way
July 8, 2020 | 11:46 am | Forex Blog Articles
July 8, 2020 | 11:46 am
Forex Blog Articles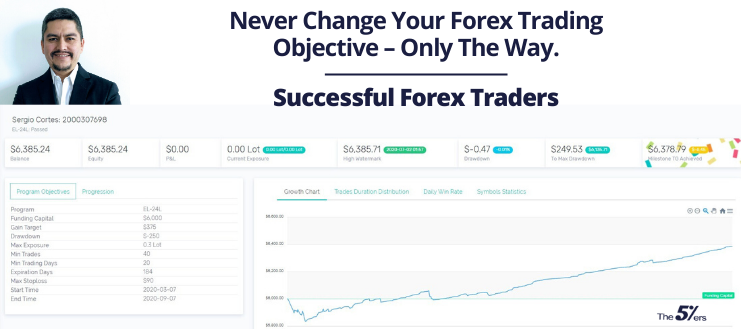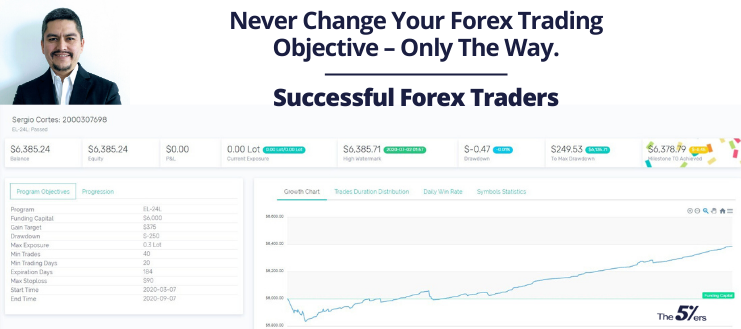 Avoid Trading During High Impact Geopolitical or Macroeconomics Events.
That's Sergio Advice.
"Never Change Your Forex Trading Objective – Only The Way.".
Sergio has just successfully passed our evaluation program with a great trading plan and has become a forex funded trader.
He is now one of our funded traders and is trading with a 24K forex funded account on our platform.
His next mission is to reach 10% of profit and double his funds to 48K.
We spoke with Sergio about his trading plan, insights, and lessons gained while trading in the Forex market and on our platform as a funded trader.
Click here for more Inspirations lessons and interviews from our professional funded traders
How were you introduced to the Forex market?
It happened when I started seeking other ways to get income not being an employee.
Do you have a specific trading plan?
Basically I do scalping during Asian session with EA support. Tuesday to Friday only and avoid trading during high impact geopolitical o macroeconomics events.
Tell us about your trading routine.
Every day during the American session I got briefed about fundamentals, review, and check the VPS where the EA is located. Review the market by technical analysis of basic forex pairs and major stock indexes. During Asian sessions check the EA performance trade only one hour as max.
Do you have any risk management techniques? If so, please, elaborate?
Every trade has its own stop loss and I have an EA that acts as "emergency" or "hard-stop loss" if this tool is activated it closes all trades and refrains to open any case in the event the drawdown is close to max drawdown permitted. In the case, the hard stop loss is activated all trading activities are stopped one week at least after identifying and understanding the reason for hard-stop loss activation.
What was your biggest challenge in trading, and how did you overcome it?
I got broke once because of trading this was the hardest and most expensive trading lesson but at the end it payoff.
What was the key moment of your trading career?
When I made the decision to be a trader instead of a corporate employee.


In your opinion, what are the most important characteristics for maintaining a steady trading career?
Be confident that you will succeed becoming consistent never look for a plan B there is no plan B there is on plan A or objective A and be flexible if something is not working try another way day and night you can have path A, path B, etc but never plan B there is only Plan A. Never change your forex trading objective only the way.
Do you apply any mental/psychological routines while trading? Please elaborate.
Yes, I consider myself spiritual I do believe in God I do meditation one hour per day and try to live a relaxed lifestyle I avoid "silly risks" and look only for "worthy risks". I only follow people that reached what I want I read a lot and keep motivated.
What was your strategy for successfully passing The 5%ers' Evaluation Program?
Besides the risk management topic that all traders must dominate your technique has to be successful in general at least 80-20 this means that by years (not months) your trades have to be winners by 80%. This takes years of forwarding testing.
Please share your recommendations for online resources that were/are significant in your trading development. Name and links are appreciated.
There are countless academies but for Spanish speaking traders, I recommend https://www.elgurudeltrading.com/, read materials, and join online websites of real Money Gurus like Kiyosaki, Tony Robbins, etc.

How long did it take you to become a consistent trader?
After 2 years of training and burning demo and real accounts and mastering the basic aspects theoretically (tec and fundamental analysis, psicotrading, risk management, etc) you have to master by practicing day and night during years of intensive practice.
Would you like to share anything else with us?
Thank the The5ers for the opportunity and I think trading is not for everybody but you have figure out by yourself.

If you want to receive an invitation to our weekly forex analysis live webinars, trading ideas, trading strategy, and high-quality forex articles, sign up for our Newsletter.
Subscribe to our youtube channel.
Click here to check how to get qualified.
Click here to check our funding programs.
WE FUND FOREX TRADERS!
The5%ers let you trade the company's capital, You get to take 50% of the profit, we cover the losses. Get your trading evaluated and become a Forex funded account trader.
Get Your Forex Funded Trading Account