Forex Blog Articles
A Funded Trader Daily Routine | Prepare Each Day Like a Pro!
November 11, 2019 | 7:35 am | Forex Blog Articles
November 11, 2019 | 7:35 am
Forex Blog Articles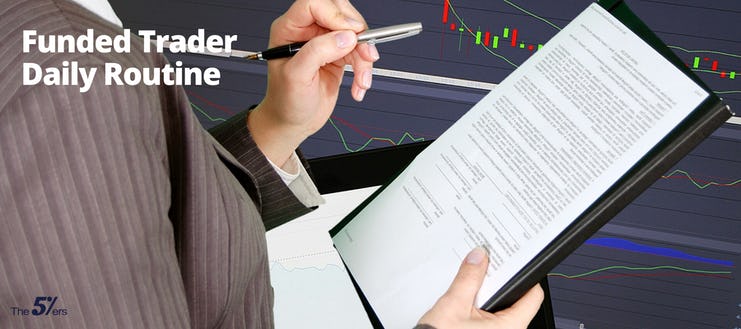 A Day In The Life of a Funded Trader
There are two main types of traders – the trader who chooses it as a career and then all of the rest.
If you're a funded trader, it means you've decided on a career in trading, or at least that you expect to make a living from the trading profession. Or perhaps you are just considering becoming a funded trader which means that you have at least made the decision to explore taking your trading to a career level. 
A Funded Trader Daily Routine is one of the most important keys to success
Like every other serious pursuit in life, when you take a profession seriously, it means total commitment. 
While trading for others entails plenty of responsibilities and duties and commitments, it is still within the framework of someone else's trading system. In order to achieve almost full autonomy, more and more traders are looking past trading venues such as hedge funds or private portfolio management and instead focusing on becoming funded traders at an online prop firm. This is the most flexible option yet still a highly professional one.
A look at the hour to hour routine of remote prop traders
By the time the opening bell rings, you're more than prepared. That's because as a remote prop trader you've got to get up early in order to put yourself in the proper mental zone. This means going over your trading plan if you don't have click here to learn how to create one, and reminding yourself of the key elements you know you should be emphasized during the current day. 
Having a daily motto can help, a mantra to go over which helps to remind yourself what your strengths are and how you use them to your benefit. Also, remind yourself what your weaknesses are and how you can best minimize their effect on an upcoming day.
Patience Are Key To A Trading Career.
Go over and over the concepts of your trading strategy. You can never do this too much.
Goals and Limitations For Funded Trader Daily Routine
Along with the questions asked above, also ask yourself what your daily goal is and what do you want to have accomplished by the time your day ends. Define things like your maximum stop out. 
Before you touch the charts
Open your information sites and resources and find whatever economic events are expected over the horizon and are aware of how they may affect your trading. What will you need to be warned about, what will you be able to turn into a lucrative opportunity, and Recognizing Trend Exhaustion and Benefiting
Write down specific times during the day you should be hyper-aware and what your actions will be in these times.
Analysis
Do your daily analysis and locate possible opportunities made possible by your analysis.
Scenarios
Prepare for any and all outcomes, what-if situations, and how you will need to react in each one. Map out as many scenarios and put together action plans.


Trade your day 
rise and shine
If you do every day the same routine, you can measure your success.
If something works I should stick with it.
One of the strong tips you get up to is not to go straight to catch up.
Meditate, read the news in sports, do countless exercises, but take advantage of the start of the day to clear your brain before going to work.
Master your routine in the morning.
after you clean our mind its time to work
check with your notebook, or app, what you should do.
Split in half, what you have to do for a successful day of trading, and what you are supposed to do (not at this moment), but when you have time for it.
After that, check you're email, find out that there is nothing streaky or urgent.
Use Free Money Management Tools, such as easy order script.
If there's something to say rather sternly, it's this: Trade according to your analysis and trading plan. While it might feel easy and smart to improvise and wing it at certain points, it's very important to stick to it!
Look around your trading environment and remove noises and interruptions.
There are those who put on headphones for the quiet and concentrate, some who listen to Mozart.
It helps against the distractions of a neighboring house or a barking dog.
Give yourself every chance to be totally in the zone for as long as possible. This also means knowing when your breaks will be and stick to the schedule.
As this is all occurring, write down a daily log of events that highlight outcomes, scenarios, and new insights for later review.
Early Trading, waiting for the first opportunity to arises
The first half-hour of trading is usually to understand "where the wind is blowing," many (but certainly not all) traders sit on the sidelines to understand the market that day.
Once an opportunity appears, a trader must work fast to identify the setup and then pounce on the trade – seconds can make the difference between a winning and losing trade.
Traders are back from lunch
Once the institutional traders return from lunch and meetings, the markets pick up and volume and price movement once again come to life. Savvy traders take advantage of this second wind, looking for additional trading opportunities.
Ending your day
Once you've accomplished what you set out to do for the day, or the time for your trading has come to an end, it's time to wrap up your day.
Bundle up your charts and summarize your logs with all the new insights and ideas from the day. Take these lessons in order to modify your trading plan. Also, write down any and all trade ideas you would like to explore for the next session.
At the close of every day, it's also important to create a new analysis to apply to the next trading day so you are better prepared for the next day per-session.
Training
Like any performance-based profession, training is important. This means training on simulators, consuming new ideas and insights you were exposed to or developed on your own along the way.
Train yourself for better performance regarding how you deal with your weaknesses, and train how you can make the most of your strengths. Train to optimize what you are already doing right and what you wish to be better at. Add experiments to the training sessions so you can discover if you're able to add these elements in the future during real money trading scenarios. 
The mentality
Find a mentor or a group of pros that you can express your thoughts to, including being open and honest about struggles in your trading day routine. This is a priceless resource in regards to building your trading career. Such a framework will enhance and inspire you, make you think and rethink solutions, effectively mapping issues and developing good solutions for the stumbling blocks you encounter over the course of your career. 
What is the Advantage of the Remote Prop Firm to Funded Trader Daily Routine trading?
There are a lot of reasons Why You Should Trade at a Remote Prop Trading Firm and some of them are great for daily routine.
The fundamental key that many traders are missing is a structured trading plan and a well-devised and tested risk management system. When you join a prop firm, you are entering a trading environment that provides essential risk parameters. This ensures that all traders adhere to a stringent set of rules and do not trade without a plan.
The next element that is crucial in becoming and succeeding as a trader in a prop firm is the ability to guard trading capital and profits. This means that although you have the freedom to invest and grow the firm's capital exponentially, you also need to commit to not throwing it all away. The fund will happily give you more and more to invest with, trusted you know how to manage and care for that capital.
Once you've got this physical framework put together, each day you need to also prepare mentally. How was your sleep last night? Is there something that's been distracting you? Find ways to cope with whatever mental issues might distract you from the trading task at hand. Spend time exploring the depths of your mind and personality in order to control yourself and become the most productive and efficient trader. 
for more Day Trader Tips  From Professional Forex, Funded Trader click here
Funded Trader Daily Routine summary
The daily routine of a funded trader is built on discipline, determination, and persistence. Traders who are able to self motivate and stick to well-crafted trading plans, can thrive and earn consistent profits.
with remote Prop Firm, there are quite a few benefits to funded trader Daily routine, that help him to become disciplined, get better and achieve your goals.
If you want to receive an invitation to our weekly forex analysis live webinars, trading ideas, trading strategy, and high-quality forex articles, sign up for our Newsletter.
Subscribe to our youtube channel.
Click here to learn how to get qualified.
Click here to check our funding programs.
---
resources
WE FUND FOREX TRADERS!
The5%ers let you trade the company's capital, You get to take 50% of the profit, we cover the losses. Get your trading evaluated and become a Forex funded account trader.
Get Your Forex Funded Trading Account