Trading Analysis
GBP/JPY: Double Bottom Indicates the Downtrend Ended
September 8, 2019 | 11:32 am | The 5%ers' Blog > Trading Analysis
September 8, 2019 | 11:32 am
The 5%ers' Blog > Trading Analysis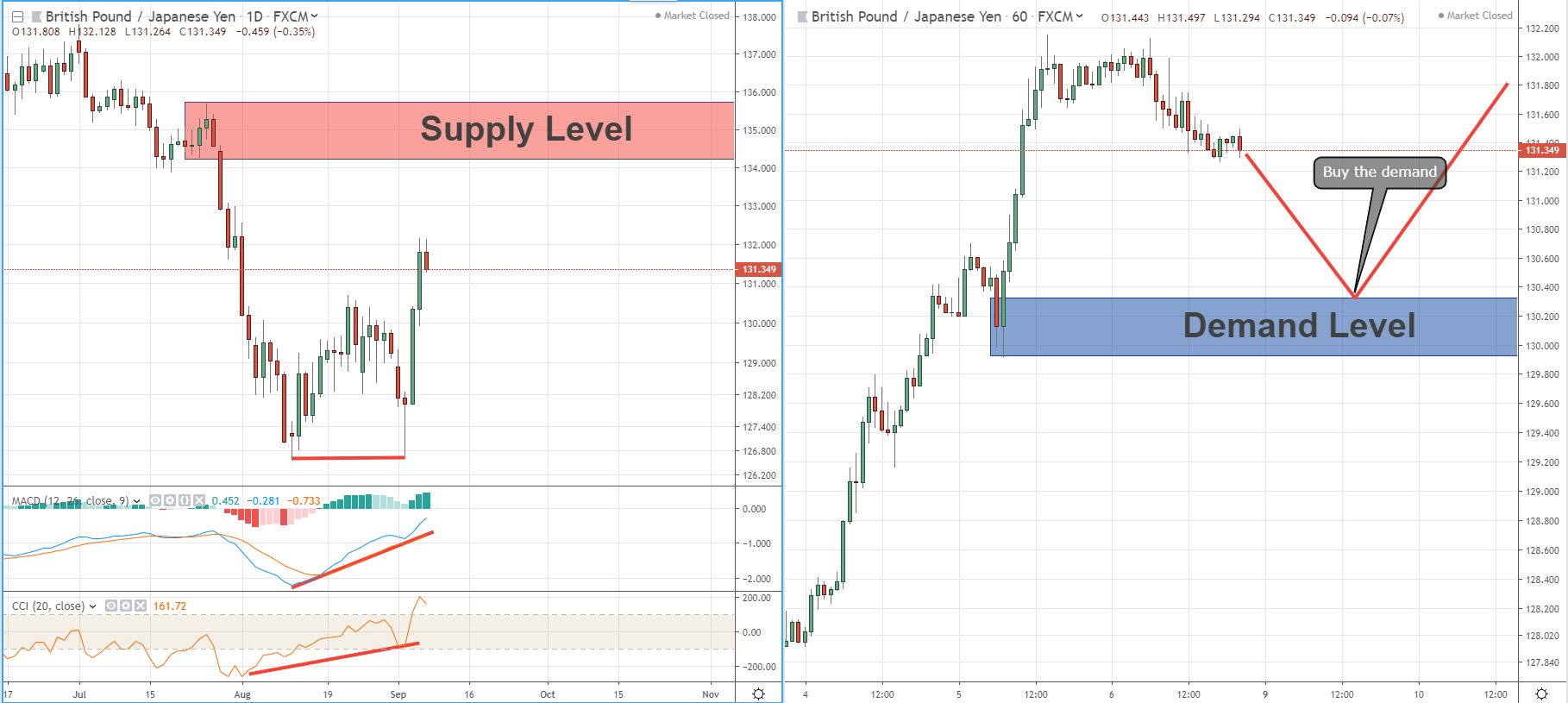 CCI and MACD Divergence Confluence With Double Bottom
Sunday  08/09/2019
The double bottom pattern is one of the reversal patterns in the forex market.
It usually formed after an extended downtrend when two valleys formed at the same level.
The sellers weren't able to go below the last level and create a lower low.
It's a signal that the Selling pressure is ended and reversal opportunity is about to occur.
In order to trade the double bottom pattern we to wait for the price to complete the pattern.
The pattern is completed only when the price breaks out the neckline which is the last high between the two bottoms.
If we look at the D1 time frame chart on GBP/JPY we can see the double bottom pattern below.
There is also a CCI and MACD divergence which also indicates reversal potential.
Two days ago the price just completed the pattern while broke out the neckline.
Now it's time to look for the right level to buy GBP/JPY.
At the H1 time frame chart, we can see a fresh demand below at 130.25 zones.
It seems that this demand is the one that broke out the neckline.
I'll wait for the at this demand in order to buy GBP/JPY.
The target for this position will be the supply at 134.20 zones which we can see on the D1 chart.
This fresh supply is also a great level for a sell position.
WE FUND FOREX TRADERS!
The5%ers let you trade the company's capital, You get to take 50% of the profit, we cover the losses. Get your trading evaluated and become a Forex funded account trader.
Get Your Forex Funded Trading Account