Trading Analysis
GBP/USD: The British Pound Rallies After the UK Election.
December 15, 2019 | 10:03 am | The 5%ers' Blog > Trading Analysis
December 15, 2019 | 10:03 am
The 5%ers' Blog > Trading Analysis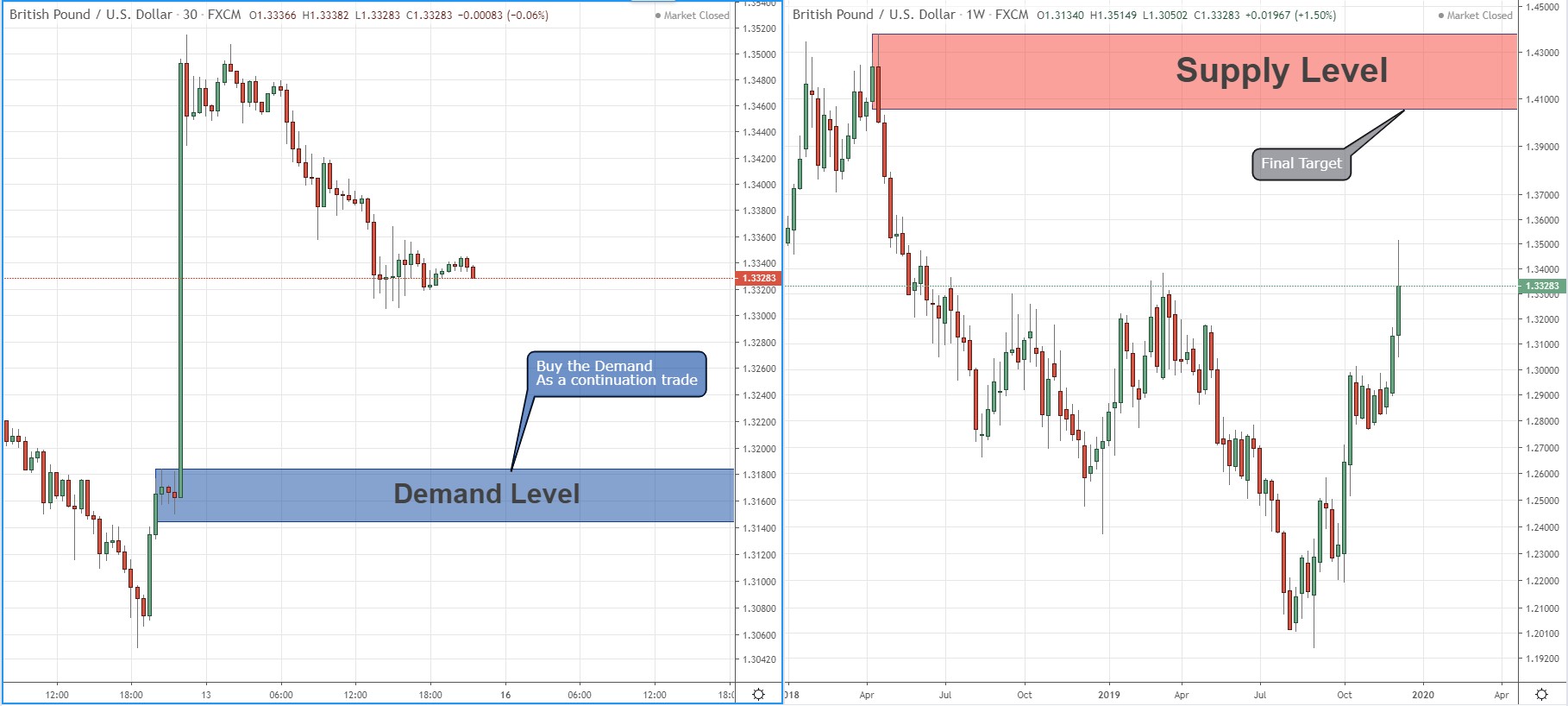 Price action analysis after the massive rally in the GBP/USD.
The GBP/USD price has a significant rally after Boris Johnson wins the UK election.
As we can see, the price reaches the highest level in the past 18 months and it seems there are more rooms to move up.
If we look at the M30 chart, we can see how fast and strong the price clime from 1.3180 to 1.3500 zones.
It lasts maybe 20 minutes to the price to jump up this 380 pips.
Still, in the M30 chart, we can see the few small candles before the price rally,
This is exactly what we look for when we are looking for fresh demand to join the bullish momentum.
This demand below seems like a very strong one and it's a great level to buy GBP/USD as a continuation buy position for the long term.
In the W1 chart, we can see the final destination of the price which is the supply above,
It's the next critical level where the price tends to reach.
Therefore, my final target for this buy position will be the supply above at the W1 chart.
This position is relevant for the long term forex traders.
Subscribe to our youtube channel
Click here to check how to get qualified
Click here to check our funding programs
If you want to receive an invitation to our live webinars.
Sign up for our newsletter.
WE FUND FOREX TRADERS!
The5%ers let you trade the company's capital, You get to take 50% of the profit, we cover the losses. Get your trading evaluated and become a Forex funded account trader.
Get Your Forex Funded Trading Account