Trading Analysis
GOLD: Will the Price Complete the Head & Shoulders Pattern?
September 23, 2019 | 9:29 am | The 5%ers' Blog > Trading Analysis
September 23, 2019 | 9:29 am
The 5%ers' Blog > Trading Analysis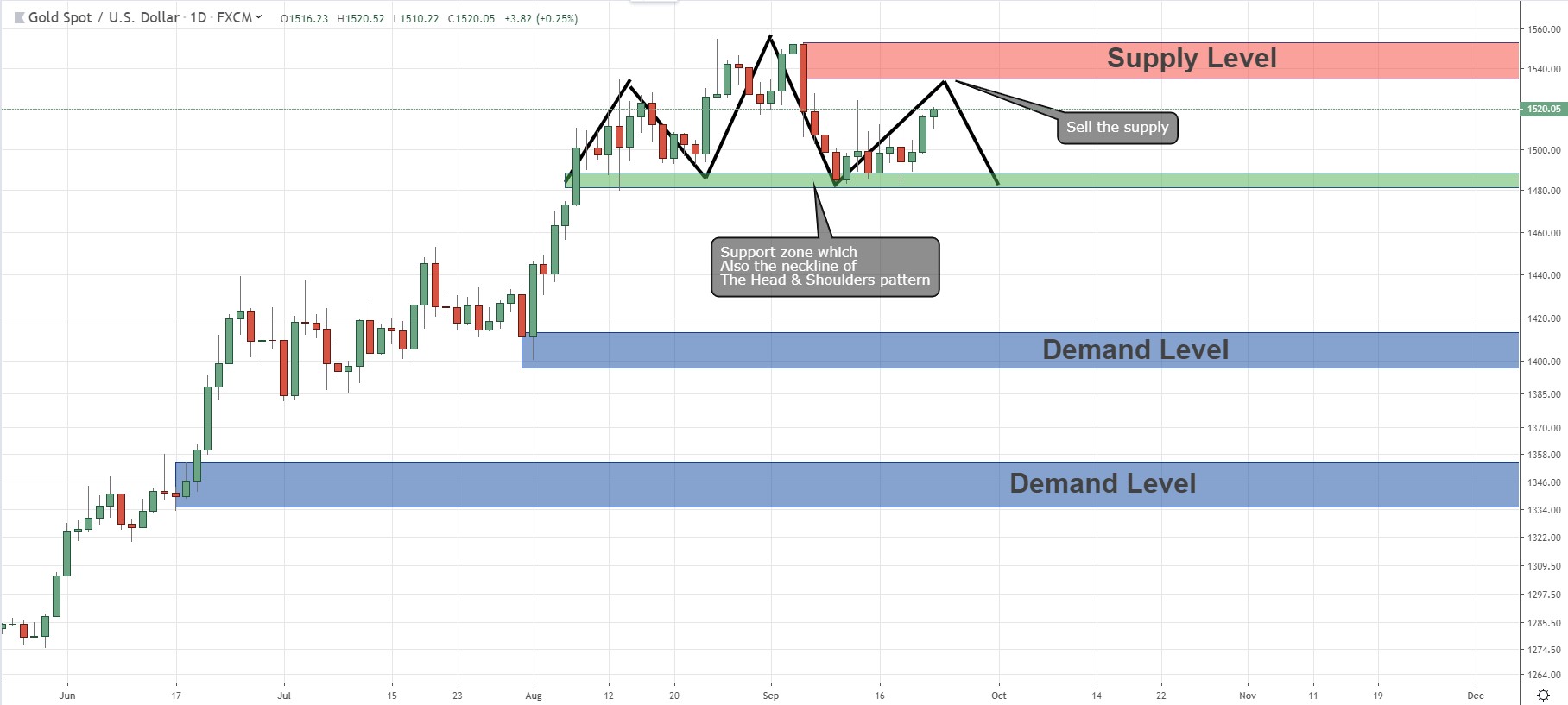 Key Levels With Price Action Analysis for GOLD.
Monday 23/09/2019
As we can see in the D1 time frame chart, the GOLD price is about to perform a Head & Shoulders pattern.
The Head & Shoulders pattern is also known as a reversal pattern among forex traders.
After an uptrend, the pattern starts with a new top (left shoulder),
Then the price creates a higher top (Head), and lastly a lower top ( right shoulder).
Usually, the tops of the two shoulders are in the same height.
The lower levels of the two shoulders create the Neckline.
Back to the D1 chart in GOLD, we can see the price hasn't completed the pattern yet.
It has created the left shoulder and head, but the right shoulder is not yet complete.
The reason I believe the GOLD price will complete the Head & Shoulders Pattern is the supply above.
If the price will react to this supply and move down from there it will perform also the right shoulder.
We can see that the supply is also at the same height as the left shoulder's top.
I'll sell the supply above, if the price will reach the neckline which is the support below I'll roll the stop loss to break even.
The demand below will be the first target for this sell position.
The demand at the bottom will be the final target.
This analysis is relevant for long terms of forex traders.
WE FUND FOREX TRADERS!
The5%ers let you trade the company's capital, You get to take 50% of the profit, we cover the losses. Get your trading evaluated and become a Forex funded account trader.
Get Your Forex Funded Trading Account