Trading Analysis
Greenback is Back to being Bullish Against the CHF
August 18, 2019 | 11:52 am | The 5%ers' Blog > Trading Analysis
August 18, 2019 | 11:52 am
The 5%ers' Blog > Trading Analysis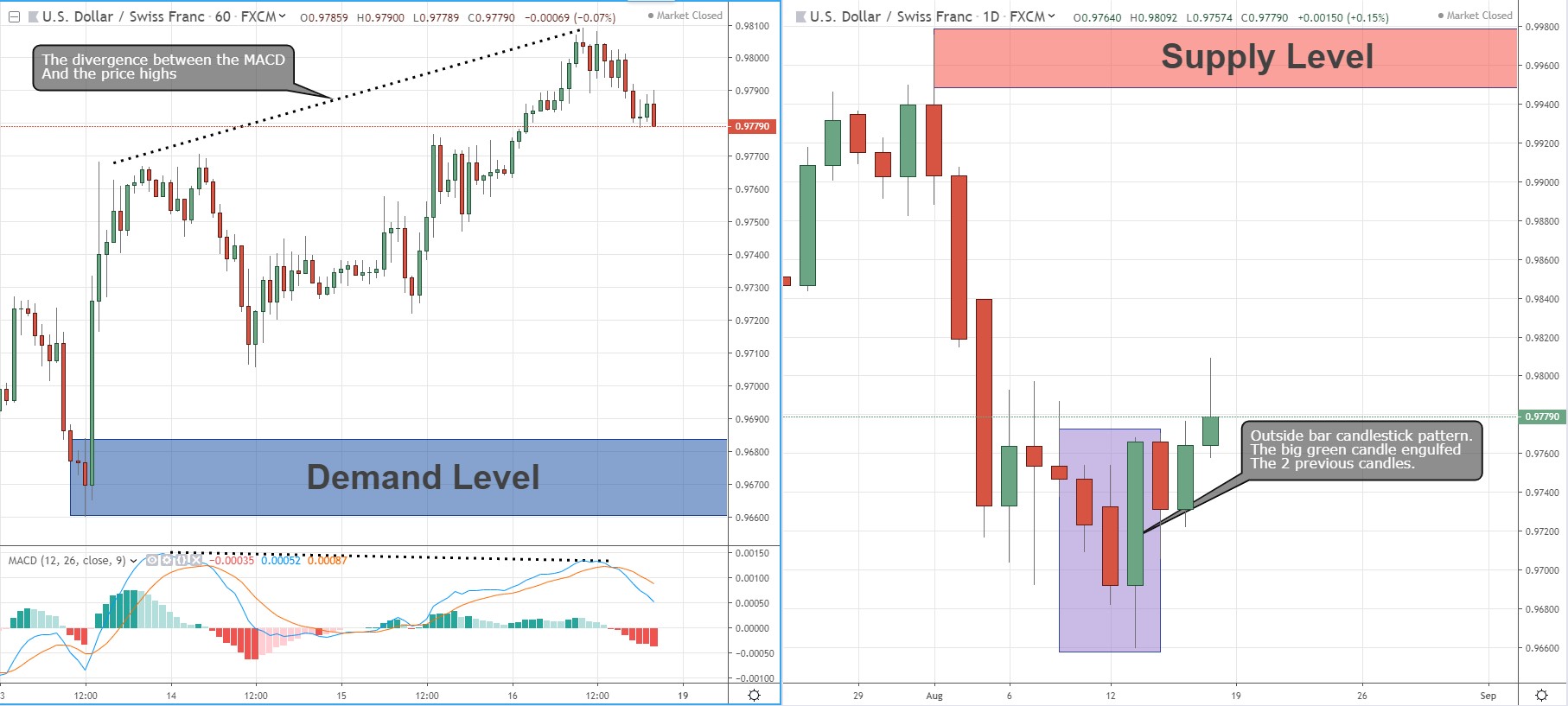 A Confluence of MACD Divergence and Fresh Demand.
Sunday  18/08/2019
Although the interest rate cut, it seems that the Greenback is back to be bullish.
Also, it seems that the Greenback gets strong against most of the other currencies.
In D1 chart, we can see a bullish outside bar candlestick pattern which is a strong reversal candle.
The daily candle from the 13/08 engulfed the two previous candles, it's a big green candlestick.
We can see also that the close price of this candle is also the high of it, which indicates the determination of the buyers on this day.
In the H1 chart, we can see the right level to buy the Greenback against the CHF which is the fresh demand below.
This demand created the daily outside bar candlestick pattern.
This confluence between MACD divergence and a fresh demand creates a very reliable setup for buy position.
In the H1 chart, we can see also a divergence between the MACD indicator and the price.
While the price creates a higher high the MACD creates a lower high.
This divergence may indicate the price on it's way to a technical correction before Greenback continues it's way up.
This technical correction can drop the price to the demand below, if that happened we should buy there.
The target for this buy position will be the supply above which we can see on the D1 chart.
WE FUND FOREX TRADERS!
The5%ers let you trade the company's capital, You get to take 50% of the profit, we cover the losses. Get your trading evaluated and become a Forex funded account trader.
Get Your Forex Funded Trading Account