The 5%ers' Blog
NZD/USD: Second Attempt To Break Demand Level
June 17, 2019 | 5:59 pm | The 5%ers' Blog
June 17, 2019 | 5:59 pm
The 5%ers' Blog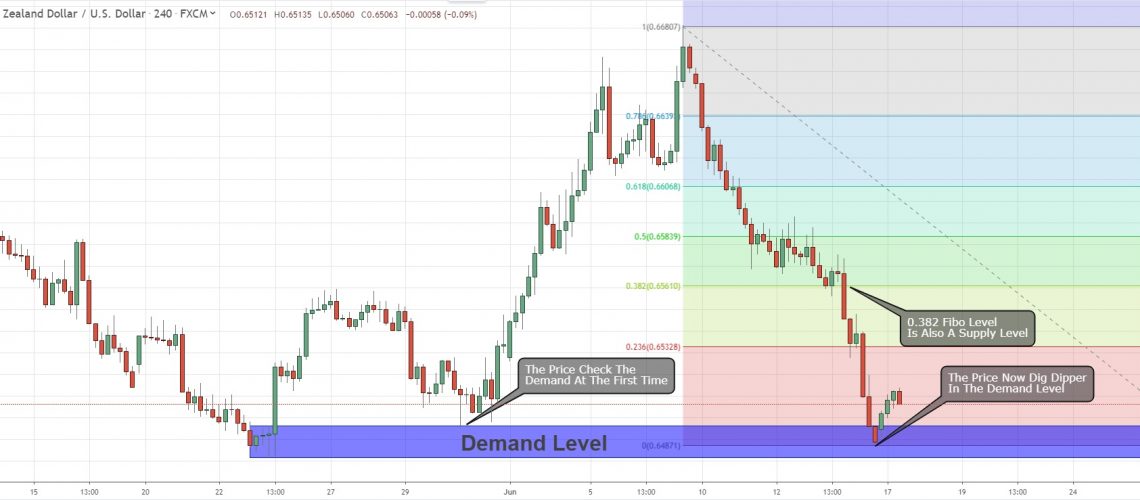 Monday  17/06/2019
Combination Of Fibonacci 38.2% And Fresh Supply.
We can see that on the 4H, 1D, 1W and even 1M charts that, in the long term, the NZD/USD pair is in bearish momentum. At the moment, we can also see on the 4H chart that the price has just arrived at the demand level that was created about a month ago.
Two and a half weeks ago and for the first time, the price checked for this demand and picked up some unfilled buy orders from there. Then it moved up about 170 pips and dropped back down to the demand level.
But now, the price is digging deeper into that demand and we can see by the big red candles that the price has returned with more power than the first time. This indicates a high probability of breaking out the demand this time.
Fibonacci levels are significant in trading the forex market and a combination of supply level with Fibonacci 38.2% is a great setup for the sell position.
Usually, the combination of supply and Fibonacci 38.2% is a very reliable setup. If the price is able to retrace to this level, it will be a great opportunity for a sell position at the first touch.
The first target will be at 0.6500 zones and the final target is at 0.6300 which is a support zone that we can see on a 1W chart.
WE FUND FOREX TRADERS!
The5%ers let you trade the company's capital, You get to take 50% of the profit, we cover the losses. Get your trading evaluated and become a Forex funded account trader.
Get Your Forex Funded Trading Account