The 5%ers' Blog
Only A Retracement? or is The BTC/USD Moving back to Bearish?
June 15, 2019 | 9:31 am | The 5%ers' Blog
June 15, 2019 | 9:31 am
The 5%ers' Blog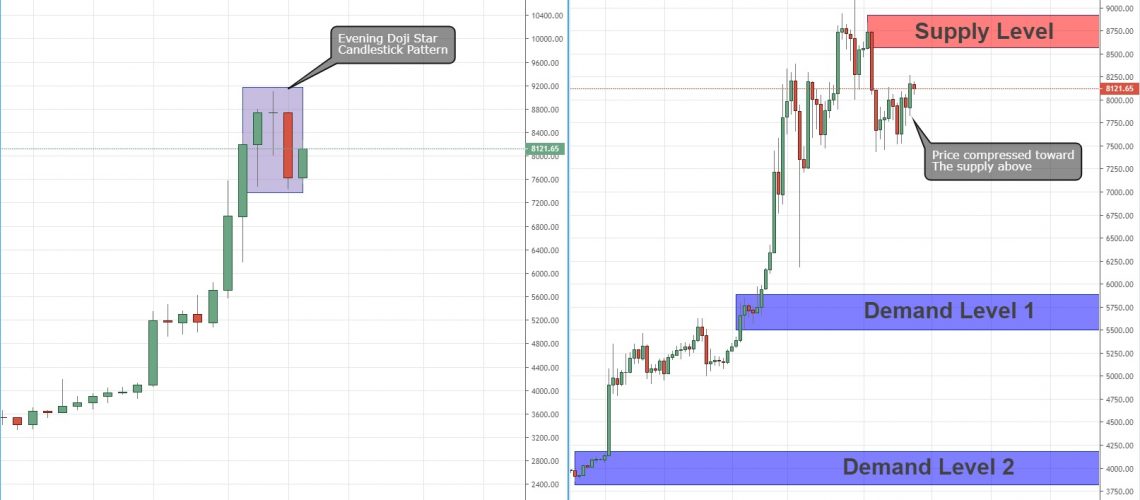 Thursday  13/06/2019
Evening Doji Star Candlestick Pattern In 1W Chart On BTC/USD.
This Evening Doji Star is a reversal candlestick pattern, The uptrend continues with a large green body.
The next candle opens higher, trades in a small range and then closes at its opening (Doji). The last candle closes below the midpoint of the body of the first candle.
We can see this pattern now on the 1W chart, although in the long term the price returns to being bullish after the last three-month rally,
It seems that the price is about to have a technical correction before continuing on the bullish momentum. the Evening Doji Star is the signal for a retracement possibility.
On the 1D chart, we have another confirmation which is the fresh supply above and that supply is where we should sell BTC/USD.
Meanwhile, the price compressed upwards toward the supply above and it indicates that this upward movement is powerless. This is exactly what we prefer before selling.
There are two demands below – the one at the bottom is the source of the last three-month rally and it will be the final destination. If the price reaches that demand at the bottom
(number 2 on the picture), we can buy there in order to continue the long term bullish momentum. The demand below (number 1 on the picture) will be the correct level to close part of the position.
WE FUND FOREX TRADERS!
The5%ers let you trade the company's capital, You get to take 50% of the profit, we cover the losses. Get your trading evaluated and become a Forex funded account trader.
Get Your Forex Funded Trading Account