The 5%ers' Blog
Quasimodo Level after MACD Divergence and Pinbar Pattern in GBP/JPY
June 19, 2019 | 12:27 pm | The 5%ers' Blog
June 19, 2019 | 12:27 pm
The 5%ers' Blog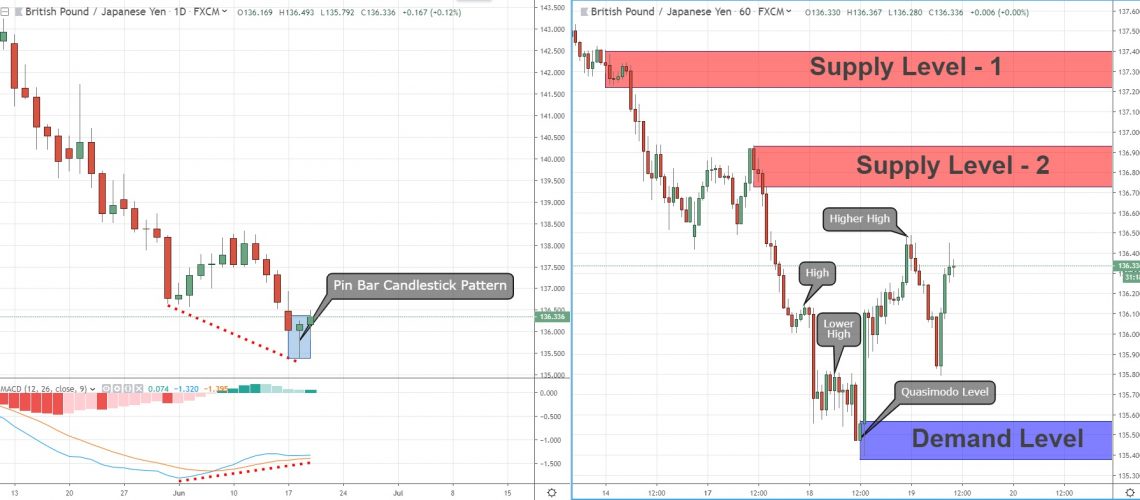 Serious Confluence Indicates – GBP/JPY going for a Technical Correction
Wednesday  19/06/2019
Yesterday's 1D chart, the candle has ended as a Pinbar pattern. The Pinbar candlestick pattern is a reversal pattern and is a very reliable pattern to use amongst forex traders.
Today, this GBP/JPY pair is in a downtrend of almost 1000 pips and is still considered bearish.
In this 1D chart, there is a bullish Pinbar which shows us the first signal for a reversal opportunity.
There is also a MACD Divergence price formation. If the price creates a lower low, then the MACD creates a higher low. This indicates that the downtrend is decreasing its strength, and now gives us the second signal for reversal opportunity. This is at least for the short term.
In the 1H chart, below, there is a third signal, which is a new demand, and it is a Quasimodo level which is considered to be a very powerful level.
The confluence of these three signals, the Pinbar pattern, MACD divergence, and the Quasimodo level, all create a reliable opportunity for a reversal position.
The right level to open buy position is the demand below, which is the Quasimodo level, and of course only, if the price retraces to that level.
The first target for this position is number 1, the supply above. The final target will be number 2, the supply at the top.
WE FUND FOREX TRADERS!
The5%ers let you trade the company's capital, You get to take 50% of the profit, we cover the losses. Get your trading evaluated and become a Forex funded account trader.
Get Your Forex Funded Trading Account