The 5%ers' Blog
USD/CAD: Good Chance to Break Resistance
July 9, 2019 | 1:17 pm | The 5%ers' Blog
July 9, 2019 | 1:17 pm
The 5%ers' Blog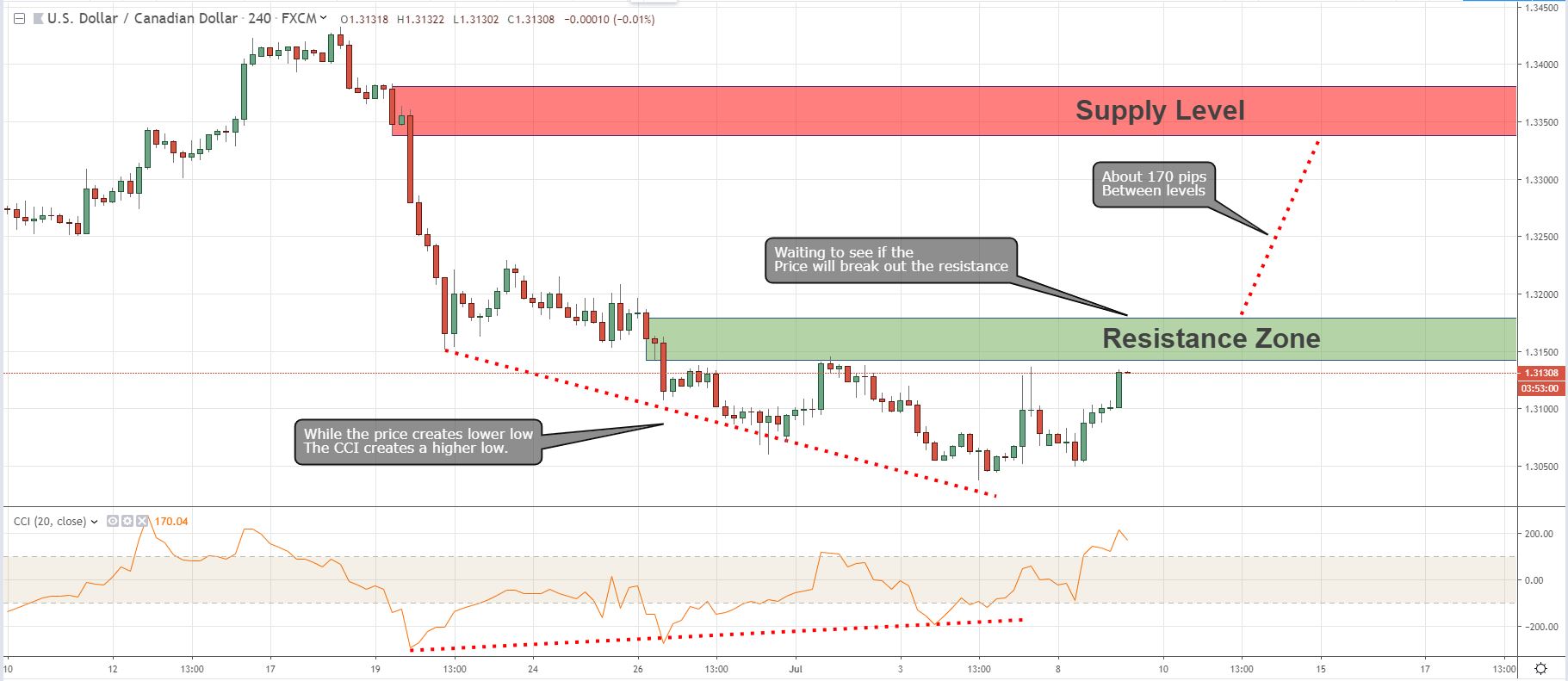 Tuesday 09/07/2019
A Reversal Opportunity may be Indicated Here
The USD/CAD has just arrived into a resistance zone and it is the third time that the price retests in this zone.
It began as a fresh supply, following the price retests it turned into a resistance zone.
This time, there is a high probability that the price will break out of the resistance zone.
The indications below show the reasons why:
1- The divergence between the CCI indicator and the price – while the price creates a lower low in this current downtrend, the CCI indicator creates a higher low.
It indicates that the downtrend becomes powerless and there is a potential for a reversal movement.
2- The correlation between the CAD and the OIL –  usually, when the oil price rises, the CAD becomes stronger, which means the USD/CAD weakens and vise verse.
If we look at the USOIL H4 chart, we can see that the price just arrived at a fresh supply level. It may cause the price to fall down from there, which means that the CAD will weaken also.
But, the USD/CAD will increase as a pair.
Confirmation
We should wait to see if the price will break out the resistance zone above. If the price does break out, it indicates that the price can reach the supply at the top,
In this case, we can look for a new price action setup for a buy position.
There is a space of 170 pips between the resistance and the supply levels.
WE FUND FOREX TRADERS!
The5%ers let you trade the company's capital, You get to take 50% of the profit, we cover the losses. Get your trading evaluated and become a Forex funded account trader.
Get Your Forex Funded Trading Account