Interviews With Traders
The5ers Proprietary Trading Fund Welcomes a New Funded Trader to our Portfolio Manager Team.
November 7, 2018 | 3:52 pm | Interviews With Traders
November 7, 2018 | 3:52 pm
Interviews With Traders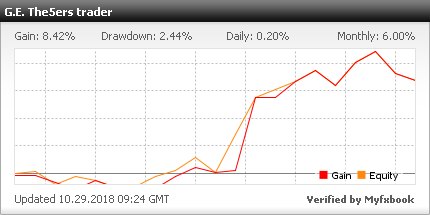 Gideon.E from South Africa has succeeded to pass The5ers evaluation program, he gains 8.4% with only 2.4% DrawDown, his equity growth seems very nice and stable, he now becomes One of  The5ers funded traders, He got a new funded account of 52K to start and his next goal is to gain 10% and get double account of 104K, congratulation Gideon.E, great work. in this post, we can See his trading statistic and performance, and read our interview with  Gideon.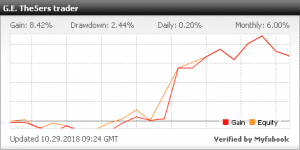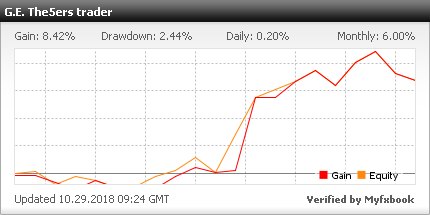 Name: Gideon.E.
Age: 31
Country: South Africa
Please describe your trading journey. How long are you trading? when you become consistent? what made the change for you?
I used to work at a gym as a personal trainer, (this helped me a lot with the discipline needed to be a trader) I got introduced to the stock market of South Africa, and I started to do all my research on trading and investing. I used all my extra cash on buying stocks, I did very well because at the time South Africa was in a big bull rally. I thought I was a trading genius….. until the bull rally ended haha. I then applied all my time and energy into FX. I decided to make as many mistakes as possible within the first 12 months, to gain experience. This helped a lot because I recorded a video of my trading days, and re-watch the video at the end of the day and again on a Sunday afternoon. This gave me special insight on where I made mistakes and rash decisions. My change came when I learned Elliot wave theory, I believe Elliot was on to something, but he could not finish his theory, and he did not have the technology we have today. I believe I have refined the basics to fit my trading style.How were you introduced to trading?
Someone very close to me used to talk about the stock market and how he is making good money as a hobby. I was very intrigued and I went on to trade stocks after going to several courses. I realized FX is more volatile so there should be more opportunities per day.
Describe your trading plan.
I have a monthly, weekly and daily trading plan but in short, it goes like this:
– Evaluate and set my risk percentage and trade size for the month.
– Analyze the possible monthly, weekly and daily structure with possible patterns it is likely to form.
– Set Weekly and daily goals.
– Mental preparation pre-trade.
– I will have my pre-trade checklist to fill in.
– Keep record by posting on my private journal/blog every trade and all analysis.
Tell us about your trading routine.
First I read through my pre-trade mentality list before each trading session, to get me in the correct mindset for the trading day, and I read through this again before each trade. I try and establish what possible structure price is currently forming on the higher time frames, I look at the corrective patterns and try to identify possible moves for London Open.
How do you manage risk in your trading? Do you have a risk management Technique you can explain?
At the beginning of every month, I calculate my risk percentage and trade size per trade, and keep it the same for the rest of the month, but also…
I have a checklist of certain characteristics a trade setup has to have, I score it by points, if the points is lower than 7/10 I will use half my normal trade size/risk.
I have just qualified with my evaluation account, and if you look at the biggest loss, it was $105.50, My biggest winner was $631. That is almost a risk to reward ratio of 1:6.
What was your biggest challenge in trading, and how had you overcome this?
My biggest challenge was to not fight the market or try to get back at the market when things did not go my way, I believe everyone at the beginning of their trading journey, believes the market or brokers are out to get them. (In some cases the brokers are, but that is a whole other story for another time) I had to learn not to be emotionally involved in a trade, you make stupid irrational mistakes when emotion is involved. I had to realize that my strategy works in probabilities, I don't have to be right every time.
What was the key moment of your trading career?
I had to learn not to be emotionally involved in a trade, you make stupid irrational mistakes when emotion is involved. I had to realize that my strategy works in probabilities, I don't have to be right every time. Quality over quantity.
In your opinion, what are the most important characteristics for maintaining a                       steady trading Career?
Discipline, Patience, Strict Risk Management and Discipline. Yes definitely Discipline twice.
What it the most important trading mental aspect, and how do you apply it in your routine?
For me personally it's when you have a winning streak of more than 5 trades in a row, it is easy to feel invincible BUT you have to stay disciplined in your strategy, don't let your ego get the better of you and change a winning formula. Euphoria is a dangerous feeling to have in trading, as it will make you think you don't have to follow your rules or your risk management. If you think about it, what happens when you have 10 winning trades in a row? You start to think that the next trade will 100% be a win, so you take much more risk than you are supposed to, that is when you make stupid mistakes. I have a private trading journal blog, where I post my pre and post trades with comments, but on the blog is a post I call Pre-Trade Mentality list, before each trade I read through the list first to prepare myself mentally and remind myself each opportunity the market presents is unique and I need to focus on the current trade and forget about all previous trades.
What is your strategy to successfully pass the5%ers evaluation account?
I have set daily, weekly goals for myself.  I have developed a tried and tested strategy that works with my personality and my way of thinking. I will use this strategy to slowly but surely reach each of my goals.
Please share your recommendations with online resources that were significant to your development path. Name and links are appreciated.
Websites
Forex4noobs.com
elliottwave.com
Books that can be bought online
Discipline equals freedom by Jocko Willink
The disciplined trader Mark Douglas
Trading in the zone by Mark Douglas
One good trade by Mike Bellafiore
Please write anything you think is important but was not asked.
As a trader, there is only one thing you can control in the market, and that is how much money you can lose per trade. In all other aspects, you can do nothing to influence the market, or make the trade go "your way" there are to many variables. I believe that risk management is the most important aspect of trading, I can not stress this enough. The 5%ers really have a winning recipe with the business model and risk management rules. I am very honored to be part of the team.
The5ers – We Fund The Top Forex Traders.
WE FUND FOREX TRADERS!
The5%ers let you trade the company's capital, You get to take 50% of the profit, we cover the losses. Get your trading evaluated and become a Forex funded account trader.
Get Your Forex Funded Trading Account