The 5%ers' Blog
Three Reasons Why There is High Probability For Sell Position In XAU/USD.
June 16, 2019 | 12:54 pm | The 5%ers' Blog
June 16, 2019 | 12:54 pm
The 5%ers' Blog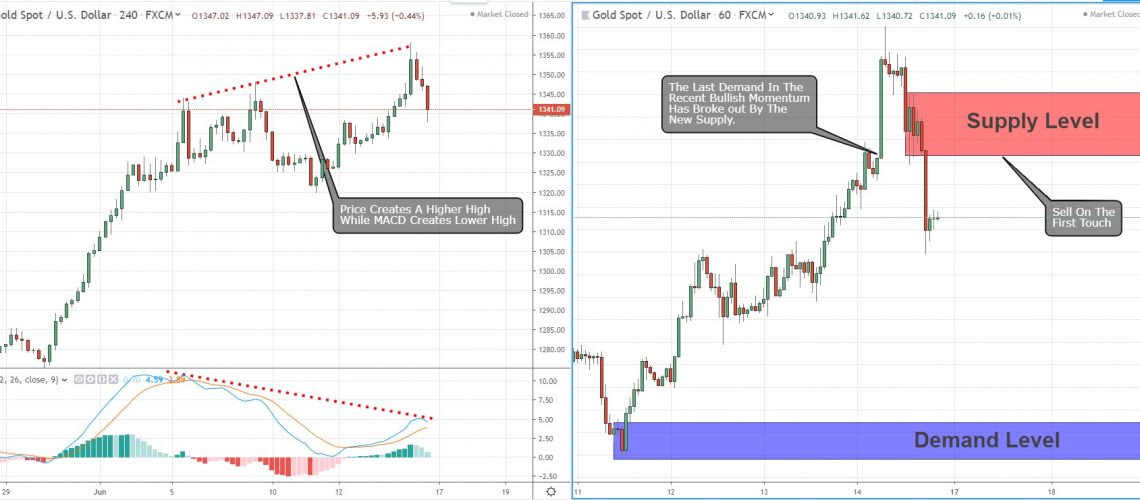 Sunday  16/06/2019
MACD Divergence With A New Supply For Sell Position On XAU/USD.
There are a few reasons to look for a sell position in XAU/USD:
1. In the wide picture – 1W chart, the price has just arrived into a strong resistance zone. The last time that this happened was about a year and a half ago but back then, it continued to drop to 1160.00 zones.
2. In the 4H chart, there is a remarkable divergence between the MACD indicator and the price. While the price creates a higher high, the MACD creates a lower high and that divergence indicates that the recent uptrend is now powerless.
3. In the 1H chart, there is a new supply above. The last demand of the recent uptrend has broken out by this supply. This indicates that the supply is a strong one and is also on the right level to open a sell position, only if the price retraces there.
The demand below will be the final destination for this sell position.
WE FUND FOREX TRADERS!
The5%ers let you trade the company's capital, You get to take 50% of the profit, we cover the losses. Get your trading evaluated and become a Forex funded account trader.
Get Your Forex Funded Trading Account