Trade Of The Day
Trade of The Day: 123 Pips in Only Three Hours by Selling GBP/AUD. False Breakouts
December 17, 2019 | 3:27 pm | Trading Analysis > Trade Of The Day
December 17, 2019 | 3:27 pm
Trading Analysis > Trade Of The Day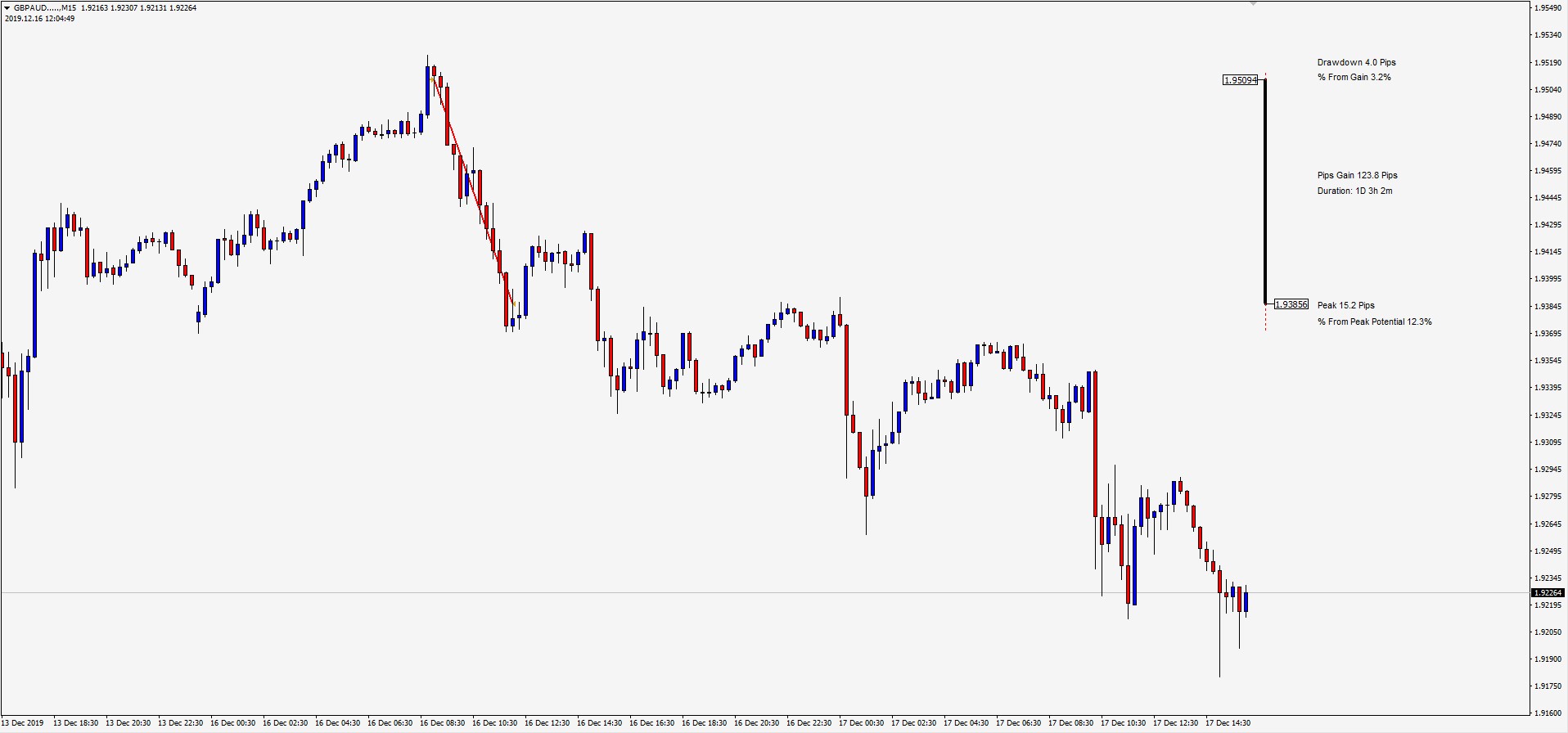 Divergence, Cycles, and False Breakouts: That's What Akan.N. Trading Analysis Based On.
Akan.N. from Nigeria is currently trading in our 40K evaluation program.
Akan.N. testify himself as a swing trader who mostly trades with the current momentum.
His trading analysis is based on techniques that include cycles, divergence, false break, and trend line breakout.
Open Position
On 16/12/2019 he opens a sell position on GBP/AUD and he held this position for only 3 hours.
If we look in the high time frame charts we can see that he chose to sell GBP/AUD on a price record of the last three and half years.
Last time the price has been at that level was in June 2016, so it's a wise decision to sell high.
As we can see, from the moment he opens this sell position the price start to dropdown.
The entry was very accurate and therefore the DD in this position was only 4 pips which are only 3% of the profit in this position.


Close Position
Akan.N. close this position on 16/12/2019 after only three hours with a great profit of 123.8 pips.
Compare to the Max DD this position suffered from it seems like a great Risk-Reward ratio for this position.
It seems that he was a beat in a rush to close this position as a swing trader,
Looking at the high time frame charts indicates that the price has more room to fall down, but still, 123.8 pips in three hours it's an excellent result.
It seems that he chose to close the position at the first support the price reach in the low time frame charts (M15).
As we can see in the picture attached, the exit level was also very accurate and we can see how the supported on that level before it keeps moving down.
Name: Akan.N.
Currency: GBP/AUD
Position: Short
Profit: 123.8 pips
DrawDown: 4  pips
From Peak Potential: 15.2 pips
Duration: 1D 3H 2M
The 5%ers' Score: 774.65
Well done to Akan.N. for his perseverance.
We encourage traders, and we look forward to bringing you some more trader insights and success stories.
Supply & Demand Order flow week ahead analysis live session.  Weekly Supply & Demand Forex Analysis | December 16, 2019 video
If you want to receive an invitation to our live webinars.
Sign up for our newsletter.
Subscribe to our youtube channel
Click here to check how to get qualified
Click here to check our funding programs
WE FUND FOREX TRADERS!
The5%ers let you trade the company's capital, You get to take 50% of the profit, we cover the losses. Get your trading evaluated and become a Forex funded account trader.
Get Your Forex Funded Trading Account