Forex Blog Articles
Take Your Time and Don't Rush the Trading Evaluation Period (6 Months)
September 10, 2020 | 9:35 am | Forex Blog Articles
September 10, 2020 | 9:35 am
Forex Blog Articles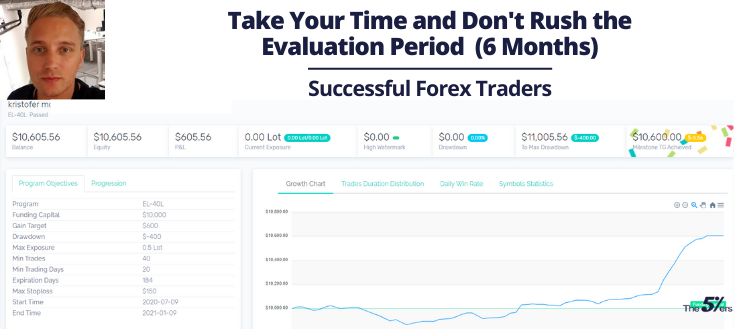 Focus on the long game, not the short fast gains, That's Kristofer Advice
"Take Your Time Don't Rush the Trading Evaluation Period (6 Months)".
Kristofer has just successfully passed our evaluation program with a great trading plan and has become a forex funded trader.
He is now one of our funded traders and is trading with a 40K forex funded account on our platform.
His next mission is to reach 10% of profit and double his funds to 80K.
We spoke with Kristofer about his trading plan, insights, and lessons gained while trading in the Forex market and on our platform as a funded trader.
Click here for more Inspirations lessons and interviews from our professional funded traders


How were you introduced to the Forex market?
Well, it all started with the crash of the stock market, and with that, I saw a golden opportunity to invest my capital. I started to research all about trading and stocks. During my research, I learned that you could trade with Forex and other commodities.
Do you have a specific trading plan?
My trading plan is controlled mostly by a bunch of indicators that give me information when there is a good opportunity to enter or exit the market, followed by a tight money management system. I also only trade the daily chart to get a clear picture of the market.
Tell us about your trading routine.
I'll check my charts before the daily candle closes to see if I've got a good positioning to take, and if there is no upcoming news affecting that currency within 24 hours, I will take the trade. Then I will also check a market tool calling $evz, to confirm the volume of the market, which determines my risk on that trade.
What was your biggest challenge in trading, and how did you overcome it?
FOMO. I've learned fast from mistakes and I never stop consuming trade-psychology material.
What was the key moment of your trading career?
Realizing my trade plan is profitable and finding the flow of trading. To always trust my system and my rules that are put in place.
In your opinion, what are the most important characteristics for maintaining a steady trading career?
Patience, risk and money management. Focus on the long game, not the short fast gains.
Do you apply any mental/psychological routines while trading? Please elaborate.
Just follow your trading plan like a robot, don't let feelings get in your way. "Let the market come to you"
What was your strategy for successfully passing The 5%ers' Evaluation Program?
Scaling down all my trades to fit all the 5%ers rules. Not rushing the trading evaluation period, take your time.
Please share your recommendations for online resources that were/are significant in your trading development. Name and links are appreciated.
No Nonsense Forex.
If you want to receive an invitation to our live webinars, trading ideas, trading strategy, and high-quality forex articles, sign up for our Newsletter.
Subscribe to our youtube channel.
Click here to check how to get qualified.
Click here to check our funding programs.
WE FUND FOREX TRADERS!
The5%ers let you trade the company's capital, You get to take 50% of the profit, we cover the losses. Get your trading evaluated and become a Forex funded account trader.
Get Your Forex Funded Trading Account