Trading Room
USD/CAD – Symmetrical Triangle in Monthly Chart
October 6, 2019 | 10:07 am | The 5%ers' Blog > Trading Room
October 6, 2019 | 10:07 am
The 5%ers' Blog > Trading Room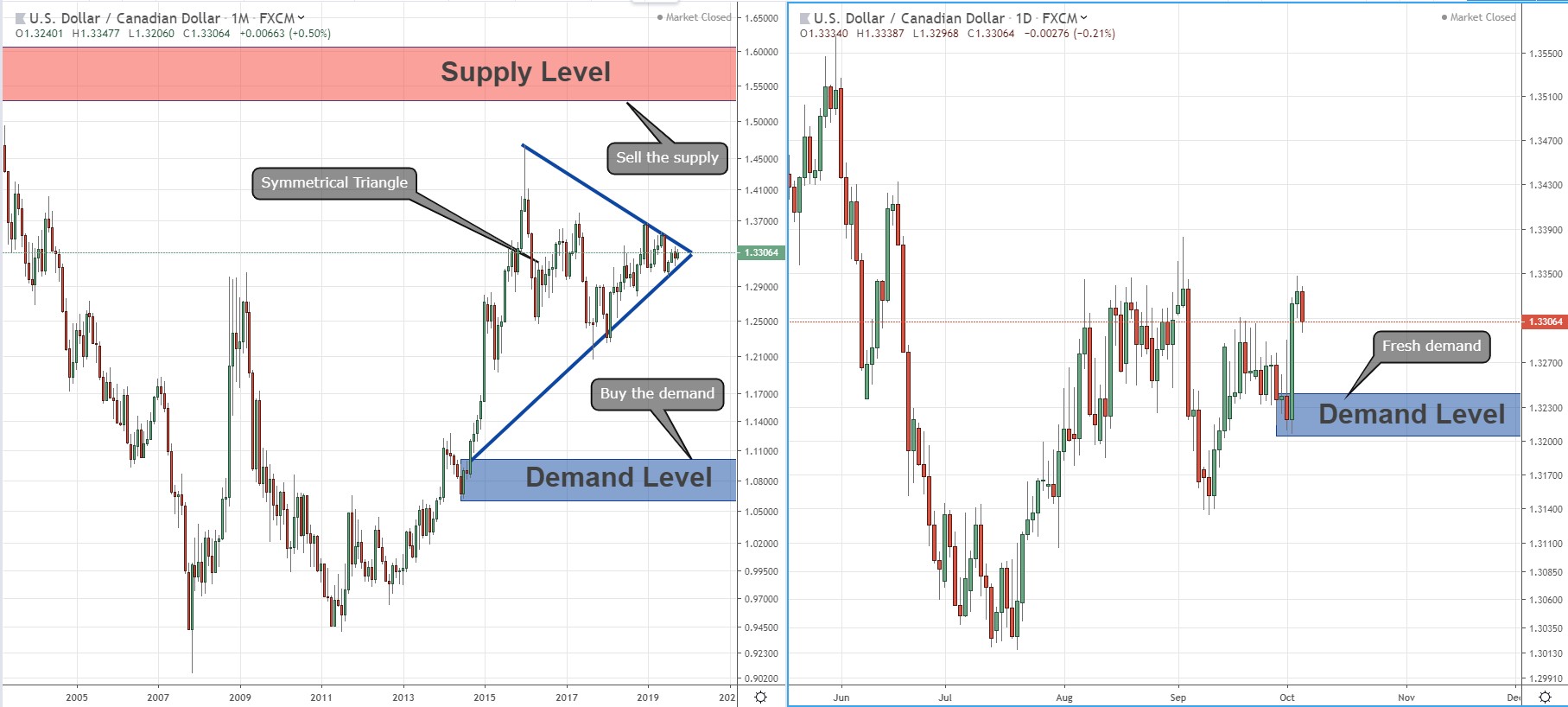 Which Direction the Price Will Break the Triangle Pattern, Down or UP?
Long Term Analysis for USD/CAD
Sunday  06/10/2019
The symmetrical triangle pattern is a pattern where the price converges into a tight range.
The  USD/CAD price creates a higher low and a lower highest.
The meaning of that is that there is no dominant side with neither the buyers nor the sellers pushing the price strongly enough.
The symmetrical triangle pattern on the monthly chart is very rare.
As we can see on the USD/CAD monthly chart, the price performed a symmetrical triangle pattern.
We can see how the price range becomes tighter and soon the price will have to pick a direction.
The way to trade this pattern is to wait for the price to break the triangle up or down,
Then, look for the right price action setup to join the momentum the price choose.
If the price will break the pattern toward down I'll look for sell setup and if up I'll look for buy setup.
On the D1 time frame chart, I marked the demand below as a great fresh demand for buy position.
This demand is still inside the triangle pattern and therefore more risky to trade this level, but still, there is a good potential in that demand.
The supply above at the monthly chart will be the target for a buy position.
The demand below is the target for a sell position.
Both options are relevant for long terms forex traders.
WE FUND FOREX TRADERS!
The5%ers let you trade the company's capital, You get to take 50% of the profit, we cover the losses. Get your trading evaluated and become a Forex funded account trader.
Get Your Forex Funded Trading Account