The 5%ers' Blog
USOIL: The Correction Before Further Decrease.
June 11, 2019 | 1:47 pm | The 5%ers' Blog
June 11, 2019 | 1:47 pm
The 5%ers' Blog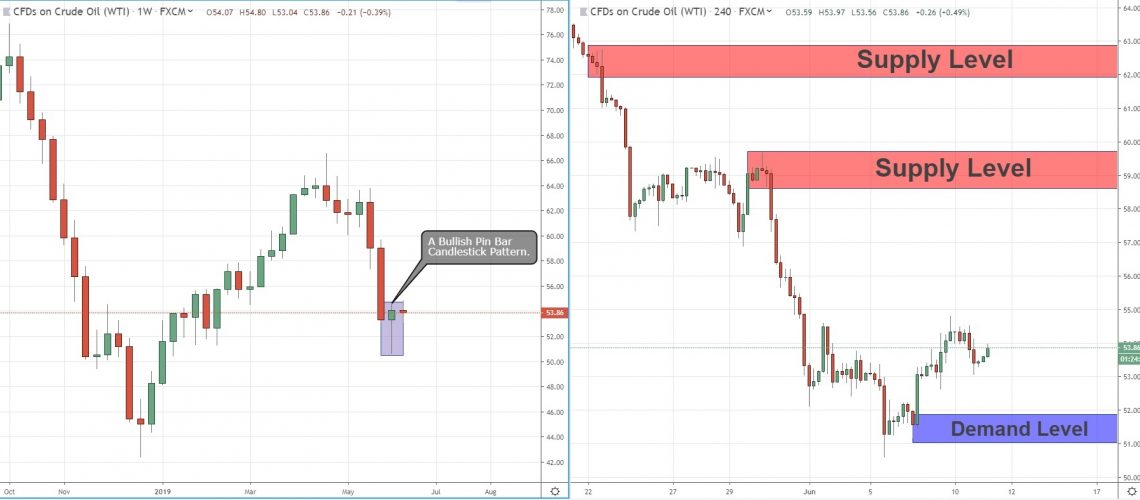 Tuesday 11/06/2019
A Bullish Pin Bar Candlestick Pattern With Demand Level On USOIL
The last USOIL weekly candle formed a bullish pin bar pattern following a closure.
The Pin Bar candlestick pattern is one of the most reliable and powerful candlesticks patterns for technical Forex analysis.  If this pattern is found near a support or resistance key level, it is then a reliable indication for a reversal pattern.
Although the last week candle ended as a bullish pin bar candlestick pattern, zooming out for the bigger picture. it is clear that the long term momentum in USOIL price remains bearish.
It seems that for the long term, any upward movement of the price will be considered as a technical correction, regardless of the price continuing a bearish momentum.
First, it will move upward to collect unfiled orders from the supply above, which we can see on the 4H chart, and maybe even from the supply at the top.
On the 4H timeframe – A fresh demand zone located just below 52ish, if the price touches this demand before reaching the supply above, it will be great timing to open for a buy position.
The supplies above will be the first target and the one at the top is the final target.
WE FUND FOREX TRADERS!
The5%ers let you trade the company's capital, You get to take 50% of the profit, we cover the losses. Get your trading evaluated and become a Forex funded account trader.
Get Your Forex Funded Trading Account