The 5%ers' Blog
Waiting for Reversal Signal at AUD/JPY
May 19, 2019 | 10:21 am | The 5%ers' Blog
May 19, 2019 | 10:21 am
The 5%ers' Blog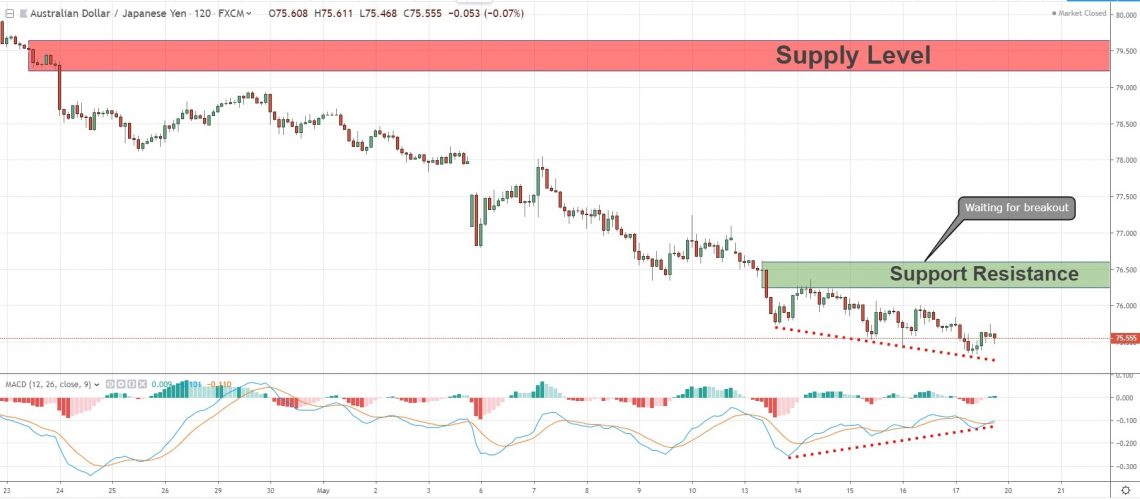 MACD Divergence Indicates Reversal Opportunity
Sunday 19/05/19
As we can see, the AUD/JPY is in bearish momentum, and the price has gone down almost 500 pips in that bearish momentum, it's time to look for a reversal.
Also, we can see a clear divergence between MACD and the price. As we know, the divergence indicates that the price losing power and the bearish momentum is about to end now.
Besides the divergence, we are waiting for the price to break out the resistance above and to create anew and fresh demand and a reversal opportunity.
If that happens, it will be a great setup for buy position. The final target will be the supply at the top, which is also a great supply for sell position.
That analysis is relevant for swing forex traders.
WE FUND FOREX TRADERS!
The5%ers let you trade the company's capital, You get to take 50% of the profit, we cover the losses. Get your trading evaluated and become a Forex funded account trader.
Get Your Forex Funded Trading Account