The 5%ers' Blog
A Great Forex Trader Who Qualify To Be A Funded Trader At The5ers Proprietary Trading Fund.
October 22, 2018 | 8:41 am | The 5%ers' Blog
October 22, 2018 | 8:41 am
The 5%ers' Blog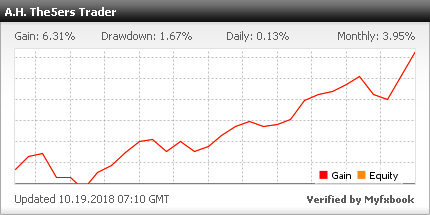 This is our last success story at The5ers Fund, Arthur.H. from the USA succeed to pass the evaluation and became one of The5ers portfolio managers team. as we can see at his Balance/equity chart at the picture, this forex trader is very stable and profitable one, he managed to reach the target with a very low DrawDown of 1.67%, he is definitely the kind of Forex trader that the The5ers looks for, he is now got a new funded account of 24K and his next mission is to reach 10% of profit and get double account of 48K, in this post we can See his trading statistic and performance, and read our interview with  Arthur.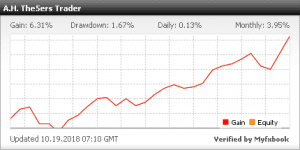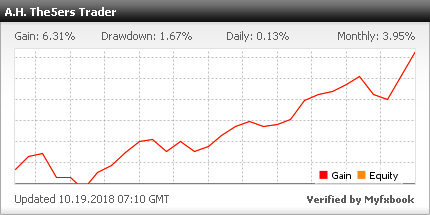 Name: Arthur.H.
Age: 28
Country: USA
Please describe your trading journey. How long are you trading? when you become consistent? what made the change for you?
The journey was very difficult I lose thousands of dollars. I was ready to quit. I would have a profitable day then would negative the next day it was very frustrating I tried robots all different type of indicators but it seems nothing was working.
How were you introduced to trading?
I first learned about it watching CNBC.
Describe your trading plan.
picking a direction for the trading day before I execute a trade.
Tell us about your trading routine.
I start every day by analyzing the market and look at upcoming news events.
How do you manage risk in your trading? Do you have a risk management Technique you can explain?
never maximize account trust me I been there! cut your losses early never make stop-loss bigger than it has to be. recent swing low or high. Always have a max loss per day depending on account size.
What was your biggest challenge in trading, and how had you overcome this?
my biggest challenge was my inconsistency. I had to evaluate how much my take profit would actually be hit and not put my take profit too far away.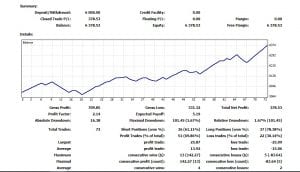 What was the key moment of your trading career?
my key moment was when I had my first profitable trading year and I was still working full time. I said to myself I just need to be more consistent so I dug even deeper and a lot of weekends I choose to stay in just to study and backtest data.
In your opinion, what are the most important characteristics for maintaining a                       steady trading Career?
Having clear head knowing that you are confident enough to apply your strategy day in and day out.
What it the most important trading mental aspect, and how do you apply it in your routine?
I never get emotionally involved I always know I have the next trading day.
What is your strategy to successfully pass the5%ers evaluation account?
Price action and trend trading.
Please share your recommendations with online resources that were significant to your development path. Name and links are appreciated.
WE FUND FOREX TRADERS!
The5%ers let you trade the company's capital, You get to take 50% of the profit, we cover the losses. Get your trading evaluated and become a Forex funded account trader.
Get Your Forex Funded Trading Account