Forex Blog Articles
Forex Trading Brokers – There are Better Alternatives
July 19, 2020 | 9:01 am | Forex Blog Articles
July 19, 2020 | 9:01 am
Forex Blog Articles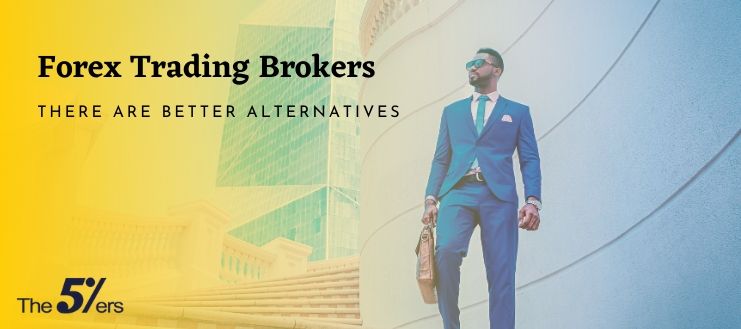 Trading with Forex brokers is not the only way to earn a living in the field of forex trading
If you open up a new browser window and search for forex trading, you'll get no shortage of brokers willing and able to help you put your money into the market. Competing credentials and low initial investment rates will take up page after page. But what if investing with a broker isn't the best option for you? What if there was another way to make your career in the foreign exchange market?
A lesser known but equally potential method of trading does exist. For traders who don't want to go through forex trading brokers, there is the possibility of trading with a fully funded firm. Also known as proprietary trading funds, these firms take the broker out of the picture and offer their own funds to qualified traders. 
What is a Proprietary Trading Fund?
The proprietary trading firm offers traders in its program the ability to trade with the firm's money and to become risk free traders. When you trade with a forex trading broker, the money comes from the individual doing the trading. In the proprietary trading model, all of the capital comes from the firm itself. 
By establishing itself as the capital provider, the firm assumes 100% of the risk a trader might otherwise encounter if trading with a broker. This risk free trading is incredibly attractive to traders.
The fund spends its life working and growing for itself in order to obtain long term viability.

The Differences Between Brokers and Prop Trading Firms
As we just mentioned, there are several differences between trading with forex trading brokers and prop trading firms.
Growth Scheme
Accounts in proprietary trading firms offer a much greater, exponential way to grow. As soon as an initial trading target is hit, accounts are increased dramatically. Traders in the fund are rewarded for great trading and never penalized from their own money for losses.
While trading with your account with a retails broker there is no growth scheme offered, you depend only on your own results, what you earn is what you get.
Notice that when you trade for a forex broker your profits are re-entered to the trading account, while when you trade for the 5%ers proprietary fund you get paid for your profits and keep your account growth.
Funded Trader
We can't stress this difference enough – 100% of the funds to be traded in a proprietary trading fund are provided by the firm. In contrast to forex trading brokers which require funds to come from traders, prop firms offer all of the capital. 
Trading with Professional Risk Management
Traders who trade with forex trading brokers are responsible for their own trading plans and strategies. This means that traders who may not have developed solid plans will be at the mercy of their preparation. While trading for a prop trading fund, this is not the case. If you trade with a funded account, your trading strategy is based on the rules setup by the firm. The framework that prop traders trade under is simply more solid and secure than if they were responsible for it themselves. 

Reputation
Several online proprietary trading firms have great reputations. Dozens of successful traders have gone through their ranks and confirmed the positive aspects of their business. Firms like The 5%ers, FTMO, and TOP STEP are all great alternatives to trading without the hassle of forex trading brokers. The distinction between good and bad is not as clear when it comes to finding reputable forex trading brokers. The market is saturated with sub par players and it can be quite difficult to know which are good.
Prop trading funds will do this work for you, they have the experience and the business relationship needed to work with reliable and regulated brokers.
Partnership
The relationship between traders and the firm they trade with is a partnership. If the trader does well, so does the prop firm. This gives firms an incentive to help traders, to nurture their talents, and push them to succeed. 
If you trade with forex retails brokers, the broker only cares if you open many positions because it means you'll keep pumping your own money into their brokerage house. 
Funded Trading – Bottom Line
If you want the freedom to trade when and where you want with an account size that would be unthinkable with your own capital, a remote proprietary trading fund might be perfect for you. However, it's not easy to get in and only the most talented traders are accepted into funds. When you decide it's a good option for you, study hard and prepare well for your evaluation. If you can make it in, the potential is almost limitless. 
If you want to receive an invitation to our weekly forex analysis live webinars, trading ideas, trading strategy, and high-quality forex articles, sign up for our Newsletter.
Subscribe to our youtube channel.
Click here to check how to get qualified.
WE FUND FOREX TRADERS!
The5%ers let you trade the company's capital, You get to take 50% of the profit, we cover the losses. Get your trading evaluated and become a Forex funded account trader.
Get Your Forex Funded Trading Account