Forex Blog Articles
Heroes Come And Go, But Legends Are Forever | Kobe Bryant's Story
February 25, 2020 | 7:13 am | Forex Blog Articles
February 25, 2020 | 7:13 am
Forex Blog Articles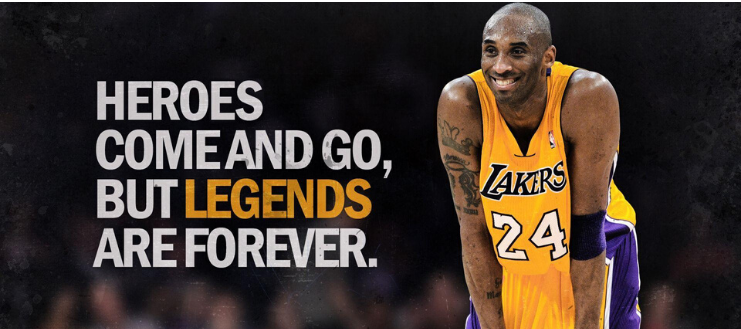 The Wisdom of Kobe Bryant as Applied to Life and Trading
Though the legend left us too soon, he left behind a wealth of knowledge and wisdom
We here at the5ers want to extend our greatest respect to the legend of Kobe Bryant and our deepest condolences to his family. His legacy of excellence, performance at the highest level, and sportsmanship was a true inspiration to everyone. Most of all, Kobe was an outstanding example of what it means to be a top professional in a tense environment filled with plenty of stress and varying playing conditions.
Bryant's personal and team accomplishments cemented his status as one of the best basketball players of all time. But the fascinating question here is not Kobe's achievements, but the secrets behind the achievements that made him a winner.
Over the course of his career, in addition to being a superstar on the court, Kobe also filled the world with wisdom and advice off of it. As we look back on a truly generational talent, we can't help but apply his words to our lives as traders. Even after his untimely death, there is so much we can learn from his well-lived life. 
So, as a tribute, let's take a look at some of our favorite pieces of Kobe wisdom.
Kobe Bryant's Quotes to Live By
"I don't want to be the next Michael Jordan, I only want to be Kobe Bryant."
Rather than try and fit himself into the mold of another player, Kobe was determined from the beginning to forge his own identity and nurture his unique talent set. As traders, we must do the same. Instead of copying other traders, we must understand what our own strengths are and build a unique trading plan around it. We must amplify our strengths while minimizing our weaknesses. 
"I'm reflective only in the sense that I learn to move forward. I reflect with a purpose."
Mistakes and failures are acceptable parts of every journey to success. The important thing is not to dwell on failures but to learn from mistakes and move ahead with the acquired knowledge. It's important to consider your past mistakes but only as a tool to improve. The moment you get stuck in those thoughts is the moment you lose sight of what you may have in front of you. 
"Everything negative – pressure, challenges – is all an opportunity for me to rise."
The Black Mamba never met a challenge he didn't yearn to overcome. The thought of dunking on anything in his path excited him. This fearlessness allowed him to rise above his competition and become the best he could. As a trader, put together a solid risk management strategy and jump into the market without hesitation. 
"Once you know what failure feels like, determination chases success."
After you've stared failure down and the sting has worn off, there's only one thing left to do. Pick yourself up and become determined to work harder in order to succeed the next time around. 
"I realized that intimidation didn't really exist if you're in the right frame of mind."
Once you're in the zone, nothing should be able to shake you mentally. An unstable market, or a rowdy distraction in your home office, if you're sufficiently prepared for all variables and have worked out your mental strength, nothing should feel intimidating. Prepare, practice, and master. 


"The moment you give up is the moment you let someone else win."
While you can't make every great trade, you can certainly capitalize on the ones you see appear. This means not hesitating and grappling with insecurity and uncertainty. When something tells you it's good and ripe for the taking, take it. The moment you step back and let self doubt take over is the moment you lose and miss a potentially great opportunity.
"If you're afraid to fail then you're probably going to fail." 
Jumping into any venture with a head full of fear and doubt is a surefire way to stumble from the starting gate. Confidence in life and work is the key to a successful and fruitful existence on the court and in the markets. 
"We all have self-doubt. You don't deny it, but you also don't capitulate to it. You embrace it."
Just like facing the real prospect of failure and not being afraid at what looks back, we need to treat self-doubt the same way. It's inevitable but our reaction doesn't have to be negative. Learn to accept the feelings that will tell you negative things and build positive reinforcements on top of them. A well rounded mind takes the good and the bad and packages it into something productive and effective. 
"Trust me, setting things up right from the beginning will avoid a ton of tears and heartache."
Preparation is the key to most things you do in life. In trading, just like in professional sports, this is especially important. A well crafted and extensively tested trading plan is the core, backbone, and pillar on which everything in a trading career will grow from. A sturdy foundation can support great successes, but an incomplete and poorly constructed one will crumble under the weight of the work.
Kobe Bryant's Oscar-Winning Short Film 'Dear Basketball'
Kobe Bryant's Story as an Analogy for Succeeding in the Market
As we have seen through these various quotes given over the course of his short life, Kobe's approach to success on the court and in life was not that different from what our approach to the markets should be. Preparation, hard work, fearlessness and perseverance are all qualities that make (or break) great pros. As we continue to mourn the loss of this legend on the court, let's make sure his memory lives on through the positive contributions he was able to make and will undoubtedly continue to make in all of our lives. 
This one's for you, Black Mamba. 
If you want to receive an invitation to our weekly forex analysis live webinars, trading ideas, trading strategy, and high-quality forex articles, sign up for our Newsletter.
Subscribe to our youtube channel.
Click here to check how to get qualified.
Click here to check our funding programs.
WE FUND FOREX TRADERS!
The5%ers let you trade the company's capital, You get to take 50% of the profit, we cover the losses. Get your trading evaluated and become a Forex funded account trader.
Get Your Forex Funded Trading Account