Forex Blog Articles
Quasimodo Forex Trading Strategy – The Most Reliable Pattern to Trade
March 20, 2020 | 12:32 pm | Forex Blog Articles
March 20, 2020 | 12:32 pm
Forex Blog Articles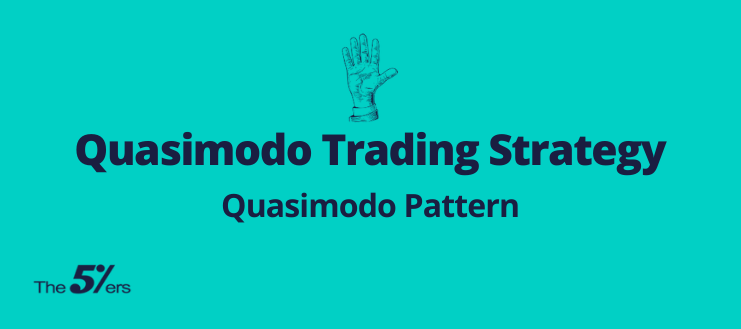 The Quasimodo Forex Trading Strategy
Welcome to The 5%ers forex trading strategy video. This video demonstrates a trading strategy called the Quasimodo Pattern.
Quasimodo is not one of the most popular patterns among forex traders but definitely one of the most reliable and powerful pattern to trade. it's a reversal pattern that provides a great Risk Reward ratio potential.
The risk reward ratio that this pattern provides in potencial in amazing.
The quasimodo pattern is a reversal pattern, it happens after a signigicent up trend or a significant downtrend.
From the point of the lower low the price rises up and creates a new high which is higher than the last one. That situation indicates that the bearish momentum has ended and the price has entered the bullish momentum area.
The price creates a higher high and makes one sharp movement. That forex pattern is Quasimodo.
When the price creates the higher high, the right level to enter is usualy what we call the left shoulder which is the one before the recent downtrend. it's like a head and shoulder pattern.
It's a logical level to buy because it's a demand level. That situation is a great time to buy.
The stoploss will be below that level, at the last low.
Click here for our complete guide – Supply and demand forex the highest accuracy method
If you want to receive an invitation to our weekly forex analysis live webinars, trading ideas, trading strategy, and high-quality forex articles, sign up for our Newsletter.
Subscribe to our youtube channel.
Click here to check how to get qualified.
Click here to check our funding programs.
WE FUND FOREX TRADERS!
The5%ers let you trade the company's capital, You get to take 50% of the profit, we cover the losses. Get your trading evaluated and become a Forex funded account trader.
Get Your Forex Funded Trading Account