Forex Blog Articles
How to Observe Level and Place Smart Alert on MT4
April 16, 2020 | 11:22 am | Forex Blog Articles
April 16, 2020 | 11:22 am
Forex Blog Articles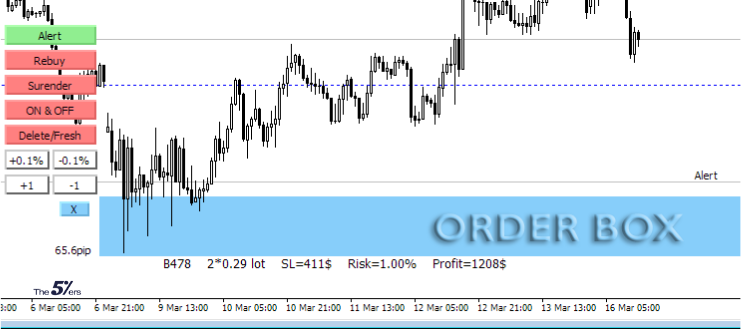 This article is an educational guest post, it was composed by the developer of the TradingBox EA.
In this post, we will discuss what the trader needs to do after the analysis is complete. As a trader, you need to enter the market and take a profit based on the analysis you did. We need to be patient and try not to miss great opportunities because we already invested our time into the analysis.
How to Prevent Missing Out a Trade
The best way to prevent missing out a trade is to place alerts that can be sent from your MT4 desktop application to your mobile MT4 app as a push notification. You can click here to see how to setup MT4 push notifications. After you receive a notification you can check the chart and take trading decision/action.
What can we expect from supply demand (SD) levels?
Price reversal (head and shoulders pattern)
Fake support resistance and fakeout into supply demand level
Break of supply demand level


Placing Smart Alert
A trader can use smart alerts to prepare himself for entering the market. So here are some examples of alert systems:
Simple price alert will give us information for a particular instrument, how many pips away the price is from a level.
Price alerts with names will give us information about the event that happened on a particular instrument. For example: "USDCAD – SD level is broken". This is how we stay informed, even if we are not behind the charts. We know what is happening on the market.
When price comes into SD level the big order can be triggered, and because there are not enough opposing orders, we can detect this significant move. When this happens, then usually, fresh orders are left in the market. We can identify this big order with Supply Demand Candle detection algorithm. A trader will receive a push notification, and now he can place an order when price makes a correction to the origin of the significant order level where fresh orders are left.
The most certain event that can happen in SD zone is the creation of an uncompleted head and shoulders pattern. This is the most basic price reversal pattern that usually occurs when price some to SD zone. A trader can use Head and Shoulder pattern detection to get notification about this event. This level can also have fresh orders, and traders can take advantage of this level if price corrects.
We also have situations when fake resistance below supply level occurs, or fake support above demand level occurs. What follows is usually false move or "fakeout" into SD level. When fake support resistance is created then we have a lot of liquidity beyond these levels. Traders can use Liquidity detection to receive notification that they need to check if orders can be placed in the market.
Free EA tool for The5ers community
Everyone who reads this post can download a FREE version of Trading box Order Management.
MT4 Smart Alert conclusion
With all these smart alert notification system, traders can trade the markets efficiently and not miss trades. The preparation and prediction where price will go next is the key to successful trading.
If you want to receive an invitation to our weekly forex analysis live webinars, trading ideas, trading strategy, and high-quality forex articles, sign up for our Newsletter.
Subscribe to our youtube channel.
Click here to check how to get qualified.
Click here to check our funding programs.
WE FUND FOREX TRADERS!
The5%ers let you trade the company's capital, You get to take 50% of the profit, we cover the losses. Get your trading evaluated and become a Forex funded account trader.
Get Your Forex Funded Trading Account