Interviews With Traders
New Funded Trader At The5%ers Fx Prop Fund
August 28, 2018 | 2:05 pm | Interviews With Traders
August 28, 2018 | 2:05 pm
Interviews With Traders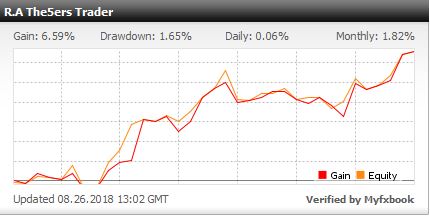 Congratulations to Robin.A  from the Philippines for passing the 40K evaluation phase.
After almost 3 months of evaluation, he finally succeeds to pass the evaluation. He did it with a very consistent way and very low DD of 1.65%.
He is now funded by the5ers fund with a $40K account and become a portfolio manager. His next target is to reach 10% profit and get double account $80K.
This style of a trader is exactly what the Fund looking for,  profitable, consistent and disciplined.
Well done Robin.A, The5ers team are proud of you!
Check out Robin full track records and trading statistics in Myfxbook
WE FUND FOREX TRADERS!
The5%ers let you trade the company's capital, You get to take 50% of the profit, we cover the losses. Get your trading evaluated and become a Forex funded account trader.
Get Your Forex Funded Trading Account