Interviews With Traders
One Of The Great Evaluation Success at The5%ers Prop Fund Recently
September 13, 2018 | 12:45 pm | Interviews With Traders
September 13, 2018 | 12:45 pm
Interviews With Traders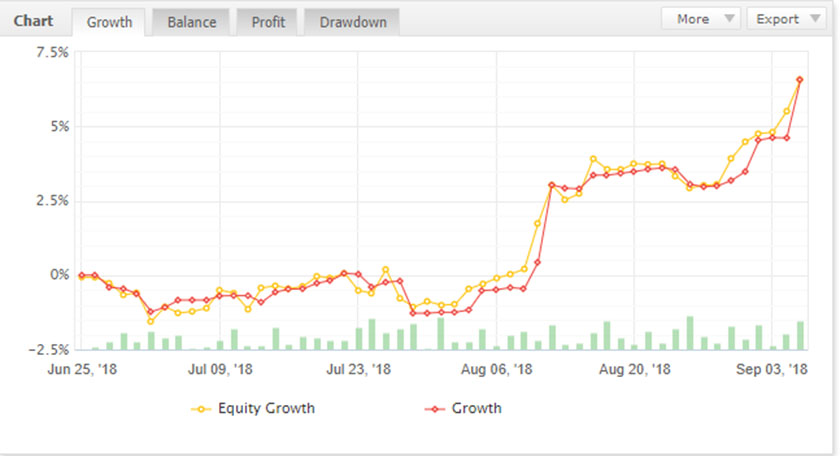 D. Mayowa from Nigeria has just qualified to 40K funded Account. He was introduced to The5ers Fund by Vladimir Ribakov, it took him 2.5 months to hit the target and we can see in his growth chart that he is a very stable and disciplined trader with a good risk management. Here are the statistics and the Interview of D. Mayowa.
Name: D. Mayowa
Age: 35
Country: Nigeria
Please describe your trading journey. How long are you trading? when you become consistent? what made the change for you?
I knew about trading since the year 2007. I was then introduced to a lot of trading systems which included pivot point trading, support, and resistance, news trading etc but was never consistent for the first three years. I then left forex trading for some other business ventures which include poultry egg and meat production but I still have the interest in trading forex. I came back last year (2017) after reading a book, Technical analysis of Financial markets by John Murphy and watching some youtube videos, yet I was still struggling with money management and being consistent. I blew off several accounts both demo and real accounts. The revolution of my trading success came when I met a mentor online, Vladimir Ribacov of Traders Academy Club. I subscribed to the club in January 2018, with the help of my father, Engr Titus Durosinmi who paid for it. I went through their training videos and started attending their life trading rooms. I became consistent in March/April 2018 in my demo accounts. I later decided to go for the 5%ers evaluation to raise fund for trading.
How were you introduced to trading?
Through a friend in veterinary school, Dr. Akinkuotu Femi
Describe your trading plan.
I trade cycles with divergence principles
Tell us about your trading routine.
I go through the charts at the market sessions on the computer and make the necessary drawings on my mobile phone. Most of my entries are through the mobile phone.
How do you manage risk in your trading? Do you have a risk management                                 Technique you can explain?
The summary is that I risk less than 1% of my account on any pair I'm trading.

What was your biggest challenge in trading, and how had you overcome this?
My biggest challenge was the power supply in my country. I don't have the luxury of using a computer for analysis most of the time. So, I have to adapt to the mobile interface of trading.
What was the key moment of your trading career?
The moment I spent under the training and mentoring of Vladimir Ribakov and the Traders Academy Club community members.
In your opinion, what are the most important characteristics for maintaining a                       steady trading Career?
First, focus on the understanding of the concept of trading, have a trading style that suits your personality, have some rules at your fingertips to guide you, follow your rules strictly and be patient.
What it the most important trading mental aspect, and how do you apply it in your routine.
Patience and money management. I applied pending orders techniques and always reminding myself that there is always a tomorrow to trade again.
What is your strategy to successfully pass the5%ers evaluation account?
Slow and steady, Good planning, Persistence. Patience and smart money management.
Please share your recommendations with online resources that were significant to your development path. Name and links are appreciated.
Please write anything you think is important but was not asked.
The God factor can never be overemphasized. There are times I had to fast and pray to understand some concepts. My wife also has been very supportive and encouraging.
WE FUND FOREX TRADERS!
The5%ers let you trade the company's capital, You get to take 50% of the profit, we cover the losses. Get your trading evaluated and become a Forex funded account trader.
Get Your Forex Funded Trading Account