Trading – not always what you think it is!
It is commonly known that if you invest 10,000 hours into a new skill, you are certain to become an expert in that field. By this, I mean fully investing your time and energy into working 8 hours a day, 5 days a week, for 3 years. That is what makes us skilled at what we do. That can be either an intimidating thought for some or inspiring for others. Becoming a trader is an exhilarating skill to choose but it is not an easy one. Many traders struggle through a tedious and up- and -down journey. Even those who have built their solid foundation, still find it difficult at times.  
Good enough will never be considered as good enough trader
Trading is one of the least tolerant professions as you cannot earn a living by being merely average – you have to be an expert to make consistent earnings – and 10,000 hours of investment time does sound like a very real requirement. Yet, what is not said enough, is that the majority of your trading skills are usually acquired within the first 20 hours of your learning, meaning that once you have reached your 20th hour, by then you would have acquired about 60% to 75% of the skills and theory needed. The remainder of the skills will be gained only after putting the long days, nights and weeks of practice in.
Easy to learn but challenging to master
The 'learning curve' graph below shows that we begin incompetent at a skill and then over time with practice, we are able to improve our skills. Eventually, our rate of skill plateaus and remains the same until we are ready for a new growth and learning spurt.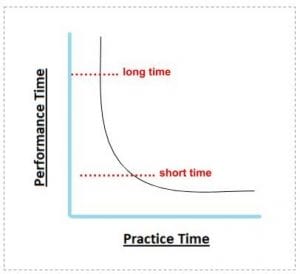 Trading may not be for the faint heart
But, this could be a misleading experience as many traders may become frustrated and lose confidence because trading success is hard to reach, especially since they already know most of the skills required and yet still, cannot reach achievement. This is because the profession of trading is unique; To make a living out of trading takes no less than being excellent. To mediocre perform at a skill would not be nearly good enough to make a living off trading.
Another stage related to the expertise of a skill is the 3 weeks rule. This means that your skill will be practiced for 3 weeks consecutively and through this, the skill will become ingrained in your daily routine and will play a natural role during your tasks.
Your mind is able to adapt to anything, and so during the process of these 3 weeks, you will notice how powerful the mind is and how your brain is able to reprogram itself into to reaching higher targets and creating new habits. When becoming a skilled trader, you will notice how the 3 weeks challenge will be an optimum tool to embrace working habits, such as your trading plans and routines.
Developing a meaningful habitat
This method can and is used for acquiring new habits like starting a new diet program or breaking habits such as smoking and changing negative patterns that are not working for you within your job or relationships. Our minds are flexible and soon after the 3 weeks are over, any action that we previously practiced, will become intrinsic to us.
So what if you have to give it another shot?
The 10,000 hours is one hell-of-a-commitment. In order to know if you are the right candidate for this business, you can try out the 20 hours concept and once you acquire the broad knowledge and tools, then proceed for the 3 weeks challenge to put you on track. If something is not working, it's a guarantee that you are able to go back to start and relearn the practice which is way better than remaining on the current journey and struggling along.