Interviews With Traders
The5%ers Funded Trader's Interview 15/08/18
August 15, 2018 | 11:43 am | Interviews With Traders
August 15, 2018 | 11:43 am
Interviews With Traders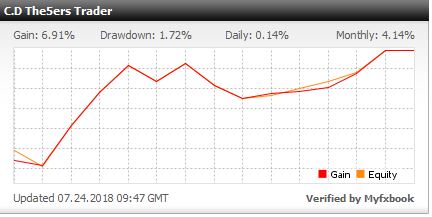 On his first evaluation account, Carlos D from Colombia succeed to pass and became a Funded trader at The5%ers Prop Trading Fund, he already got paid 50% for his profitable first month as a funded trader, And seems on his way to reach the 10% profit and to get a new double account size.
Name: Carlos D.
Age: 21
Country: Colombia
Please describe your trading journey. How long are you trading? when you become consistent? what made the change for you?
Let's start with that I never liked Demo accounts and I never had a mentor, so I had a lot of mistakes on my way. I started like any newbie, reading free courses on the internet, I thought I broke the market with that, I opened my first account of 100 USD, of course, blow my account
I entered a facebook group where we bought several courses, sincerely I made the mistake of believing that with what I read was already a god in the markets, and I blew my account again
Pay for signals, never worked for me, blow other accounts, invested in a "fund" and paid the owner to learn to operate, everything was fine, I expected him to be my mentor but he disappeared from one moment to another.
I understood that my analyzes were good, but my psychology not so much, I read a couple of books, I adjusted the size of the lots, and after 4 years I can say that I am consistent
The real change for me was psychology, I ignored it for a long time, I thought that only with correct analysis could be profitable, but a good plan of trading with a good psychology is what allowed me to be consistent.
How were you introduced to trading?
11 years ago, my parents bought their first package of shares, in the national oil company (Ecopetrol), quickly the oil reached 140 USD per barrel and the shares were valued at 500% + the dividends, of course, I didn't have the age to understand that; finishing my high school, the conversation came back to the news, I knew that the accumulated dividends were already more than 100% of the investment and that the shares were still worth 300%, I understood that the money could make more money for me. , no need to be working for other people, even without working, which is why I started studying economics and then venturing into forex.
Describe your trading plan.
My trading plan changed during the test, looking for a little more aggressive operations, since I found a model that I had been practicing which allowed me to have a better rate of success (around 85%) with operations of 1-3 hours at The opening of the Europe and London markets, applied mainly to the GBP.
Tell us about your trading routine.
It all starts at 4 pm (in Colombia), a small view of the market, just to look at the strength of the movements and understand what the movement generated, then at 11 pm, a thorough technical analysis, marking the high areas relevance, I work a lot with the DXY to read the market
I used to be very impulsive, then before entering the market, I lie on the floor and review my trading plan for a few minutes I make my operations, complete my trading record and go to sleep
By the way, food cannot miss, an empty stomach does not let me think well.
How do you manage risk in your trading? Do you have a risk management                                 Technique you can explain?
The Usual 1:1 1:2 risk reward, moving my SL to Breakeven when the position is +20 Pips.
What was your biggest challenge in trading, and how had you overcome this?
Psychology, reading several books for psychology trading, and in short, understanding that I will not be a millionaire tomorrow, everything is a process and growth must be measured, at higher risk, increase your benefits but also the chances of blow your account, therefore, I presented the test, now I can look for the benefits I seek with a reasonable account size and an excellent opportunity for growth, it is undoubtedly easier to control the psychological part now, since I do not have to risk so much to achieve the desired earnings.
What was the key moment of your trading career?
When I lost my job, and I really started working to achieve consistency, there I stopped playing to be a trader.
In your opinion, what are the most important characteristics for maintaining a                       steady trading Career?
Right now The 5% ers, offers me a career in trading with an unparalleled growth opportunity, of course, my goal is to double the account, achievin
g 10% or more.
I have to keep improving my psychology and always remember, that tomorrow I will not be a millionaire, everything is a process and I have to be very careful, I can not waste this opportunity.
What it the most important trading mental aspect, and how do you apply it in your routine.
The most important aspect is to be patient and profitable, that means to earn more than what I lose, that's why I have a trading plan that I have applied for a long time and with which I have had results. In front of me I have a large board where I have it written and before opening MT4, I lie on the floor and review every part of the trading plan in my mind, with my eyes closed, I have clear objectives and if I apply them I will be profitable.
What is your strategy to successfully pass the5%ers evaluation account?
Short movements, but with a high probability of success, my entries are made before the European session, which moves in my favor with the volume of the European and British session.
Please share your recommendations with online resources that were significant to your development path. Name and links are appreciated.
Trading in the Zone – Mark Douglas.
Please write anything you think is important but was not asked.
Now, what are you gonna do?
Being funded is a great opportunity, but I'm not here to have a 24k account, I'm looking to double the account, the market opportunities are endless and I know I can do it, I want to be one of the best fund traders, The learning will be at another level, but it's worth it, because since I was little I dreamed of being a great trader and this is my opportunity to prove it.
Get inspired by the full trading performance and statistics of Carlos's Evaluation.
WE FUND FOREX TRADERS!
The5%ers let you trade the company's capital, You get to take 50% of the profit, we cover the losses. Get your trading evaluated and become a Forex funded account trader.
Get Your Forex Funded Trading Account