Forex Blog Articles
Consecutively Test Your Strategies With Trading Demo Accounts
June 11, 2020 | 11:48 am | Forex Blog Articles
June 11, 2020 | 11:48 am
Forex Blog Articles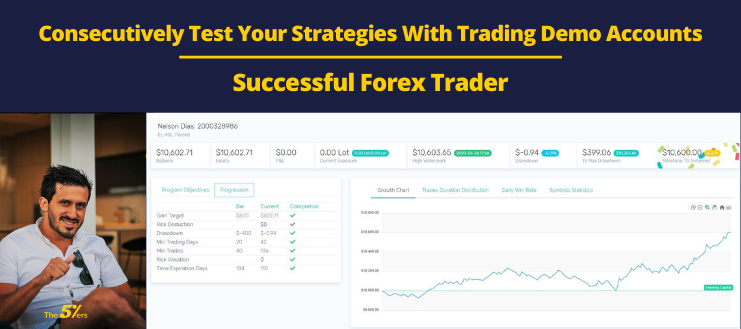 Exercise early in the morning, this will give you the energy to face the market in a more relaxed way that's Nelson Advice.
Nelson.D 38 years old, Portugal.
"Consecutively Test Your Strategies With Trading Demo Accounts".
Nelson has just successfully passed our evaluation program with a great trading plan and has become a forex funded trader.
He is now one of our funded traders and is trading with a 40K forex funded account on our platform.
His next mission is to reach 10% of profit and double his funds to 80K.
We spoke with Nelson about his trading plan, insights, and lessons gained while trading in the Forex market and on our platform as a funded trader.
Click here for more Inspirations lessons and interviews from our professional funded traders
How were you introduced to the Forex market?
In 2005, when I started working in a bank, my colleagues traded some shares and, in an initial phase, I traded just out of curiosity to try to understand the market, but without much depth in my studies. Over time, with more experience, I started to take it a little more seriously, because I really liked to follow the market.
Do you have a specific trading plan?
Yes, first of all, I work only with robots. For me, it is very important to always maintain the same discipline so that I can always obtain the same consistency. Furthermore, when working with EA's we can take advantage of the best opportunities in the market, even when we are busy with other things. On the other hand, I consecutively test many strategies in trading demo accounts so that my statistical results can have the best quality possible.
Tell us about your trading routine.
I like to get up very early and exercise early in the morning. This gives me a lot of energy to face the market in a more relaxed way and to be productive at the same time. In the job itself, I usually put some ideas of my strategies in demo accounts every day, because that way my trading in the future can be even better. I also like to do research on trading to keep me updated.
What was your biggest challenge in trading, and how did you overcome it?
My biggest challenge was essentially psychological… it was when I realized that to have better results I would have to disconnect more from the market! I had a lot of difficulty in that, and after disconnecting from the market I had the feeling that I was not working that much. Only time helped me to understand that this was the best approach I could have to become a better Trader.
What was the key moment of your trading career?
It was clearly early on when I decided to take trading in a serious and professional way. To be a Trader is a process where do you have many stages. The whole study from the beginning was very important and useful, even the content that didn't add any value to me was important.


In your opinion, what are the most important characteristics for maintaining a steady trading career?
From the moment that Trader is profitable I think that to maintain a stable career must continue with a very strict discipline, keep ideas well aligned with the reality of the market, always improve current strategies, work in a relaxed environment, respect always the market to easy it may seem and preferably to have a good statistical database… to make good decisions it is necessary to have good statistics! In short, the Trader must achieve a personal and professional lifestyle that allows to always work in high performance and in a natural way.
Do you apply any mental/psychological routines while trading? Please elaborate.
Just the ones I already mentioned, "to disconnect" from the market (in a responsible way) and work as relaxed as possible.
What was your strategy for successfully passing The 5%ers' Evaluation Program?
I had in mind that, in order to pass the evaluation program, I would not be concerned with the risk of a 4% drawdown of the program. For this reason, I decided to establish maximum losses of 0.20% per operation, a value that is very distant from what is allowed in the program, which is 1.5% per operation. In addition, I decided to work mainly with swing and breakout strategies, in order to achieve wide ratios (greater than 2:1). A good tip is to test the program first on a demo account and, based on the results obtained, decide which tactic to use.
How long did it take you to become a consistent trader?
It was in my third year that I started to see more consistency in my results and I can say was essencialy changes in behavioral aspects that helped me to become a better Trader, such as "disconecting" somehow from the market.
If you want to receive an invitation to our weekly forex analysis live webinars, trading ideas, trading strategy, and high-quality forex articles, sign up for our Newsletter.
Subscribe to our youtube channel.
Click here to check how to get qualified.
Click here to check our funding programs.
WE FUND FOREX TRADERS!
The5%ers let you trade the company's capital, You get to take 50% of the profit, we cover the losses. Get your trading evaluated and become a Forex funded account trader.
Get Your Forex Funded Trading Account