Forex Blog Articles
Wise Money Management is The Key For a Steady Trading Career
March 25, 2020 | 4:05 pm | Forex Blog Articles
March 25, 2020 | 4:05 pm
Forex Blog Articles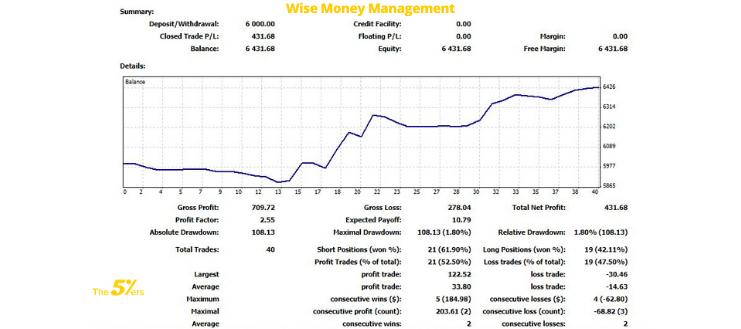 Finding The5ers, and don't struggle with his own limited funds was Hector key moment trading career
Hector.O.
52  years old, United States.
"Wise Money Management".
Hector has just successfully passed our evaluation program with a great trading plan and has become a forex funded trader.
He is now one of our funded traders and is trading with a 24K forex funded account on our platform.
His next mission is to reach 10% of profit and double his funds to 48K.
We spoke with Hector about his trading plan, insights, and lessons gained while trading in the Forex market and on our platform as a funded trader.
Click here for more Inspirations lessons and interviews from our professional funded traders
How were you introduced to the Forex market?
I first became interested in the crypto-trading market before becoming involved in forex.
Do you have a specific trading plan?
My trading plan is basically to trade the trends on the Daily chart, especially entering trades when they start to form as shown by my thoroughly-tweaked and tested indicators. I initially set a SL at 1.5x ATR, and then as the trend gets good traction, the SL is set as a TSL at about 200 points (20 pips) behind price.
Tell us about your trading routine.
Usually once a day, as soon as the daily candle has closed, I check my indicators on all pairs, and I write down all of the pairs that show good signs for entering or closing a trade if it hasn't already hit my TSL.
Do you have any risk management techniques? If so, please, elaborate?
I have actually designed my own trading calculator to monitor my money management in accordance with the 5ers trading parameters..
What was your biggest challenge in trading, and how did you overcome it?
The biggest challenge at first was adjusting my system to the 5ers requirements, which has actually made me a better trader, and then having the patience to let my system do what it has already proven to do.
What was the key moment of your trading career?
A key moment was finding out that the 5ers existed, and that I didn't have to struggle with my own limited funds to excel faster as a trader.


In your opinion, what are the most important characteristics for maintaining a steady trading career?
Being consistent in your trading. Definitely patience and trust in a system that has been proven for you. Wise money management.
Do you apply any mental/psychological routines while trading? Please elaborate.
Have a clear head before any trading activity. If you're having a bad day and are in a bad mood, clear yourself first or wait for the next day. Sleep it off. Your mood WILL affect your trading..
What was your strategy for successfully passing The 5%ers' Evaluation Program?
Sticking to a proven system and letting it do its thing..
How long did it take you to become a consistent trader?
It actually took about a year of demo practice and back-testing before I started to see consistent results that I was satisfied with. I believe I became more proficient in becoming more aware of details in my system and how to make adjustments that were more accurate.
If you want to receive an invitation to our weekly forex analysis live webinars.
Sign up for our Newsletter.
Subscribe to our youtube channel.
Click here to check how to get qualified.
Click here to check our funding programs.
WE FUND FOREX TRADERS!
The5%ers let you trade the company's capital, You get to take 50% of the profit, we cover the losses. Get your trading evaluated and become a Forex funded account trader.
Get Your Forex Funded Trading Account