Forex Blog Articles
Backtesting Indicators Until You Find the Right One That Truly Works For You
August 20, 2020 | 11:39 am | Forex Blog Articles
August 20, 2020 | 11:39 am
Forex Blog Articles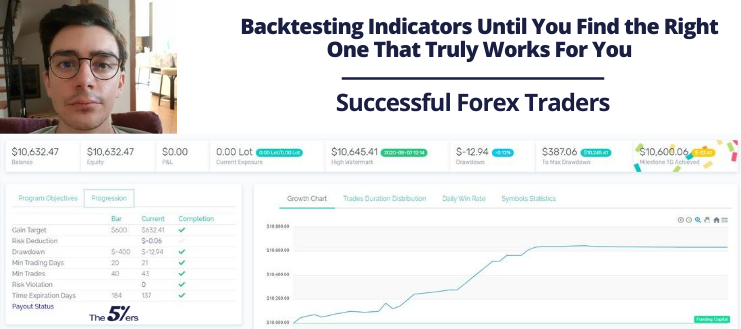 I risk 0.5% for every trade and I copied all the trade I take in my main account, That's was Leonardo strategy for passing The 5%ers' Evaluation
"Backtesting indicators until you find the one that truly works for you".
Leonardo has just successfully passed our evaluation program with a great trading plan and has become a forex funded trader.
He is now one of our funded traders and is trading with a 40K forex funded account on our platform.
His next mission is to reach 10% of profit and double his funds to 80K.
We spoke with Leonardo about his trading plan, insights, and lessons gained while trading in the Forex market and on our platform as a funded trader.
Click here for more Inspirations lessons and interviews from our professional funded traders
How were you introduced to the Forex market?
I was searching for a way to make money at home that didn't take 8 hours a day to pursue and I found a broker website with some information and I decided to try.
Do you have a specific trading plan?
Yes, I look at the chart once a day 15 minutes before the Daily candle close and if my indicator shows me a buy or sell signal I enter a trade with stop loss and take profit adjusted to ATR and I let it run until TP or SL. For intraday trading, I use 2 EA developed by myself.
Tell us about your trading routine.
I look at the chart once a day 15 minutes before the Daily candle close and if my indicator shows me a buy or sell signal I enter a trade.
What was your biggest challenge in trading, and how did you overcome it?
My biggest challenge was finding the right indicator that truly works. I overcome it by spending hours and hours backtesting almost all indicators out there.
What was the key moment of your trading career?
Understanding of risk management.


In your opinion, what are the most important characteristics for maintaining a steady trading career?
Try to avoid psychology and stick to your trading plan.
Do you apply any mental/psychological routines while trading? Please elaborate.
I try to stay away from charts and any website with financial information all day long until 15 minutes before the Daily candle close, so I won't be tempted to close my position earlier.
What was your strategy for successfully passing The 5%ers' Evaluation Program?
I risk 0.5% for every trade and I copied all the trade I take in my main account.
Please share your recommendations for online resources that were/are significant in your trading development. Name and links are appreciated.
Forexfactory forum is the single best web source to get into trading and it's the one that helped me the most
If you want to receive an invitation to our weekly forex analysis live webinars, trading ideas, trading strategy, and high-quality forex articles, sign up for our Newsletter.
Subscribe to our youtube channel.
Click here to check how to get qualified.
Click here to check our funding programs.
WE FUND FOREX TRADERS!
The5%ers let you trade the company's capital, You get to take 50% of the profit, we cover the losses. Get your trading evaluated and become a Forex funded account trader.
Get Your Forex Funded Trading Account