Forex Blog Articles
After I Fit My Strategies to The5ers Goals Everything Worked as Planned.
June 25, 2020 | 11:22 am | Forex Blog Articles
June 25, 2020 | 11:22 am
Forex Blog Articles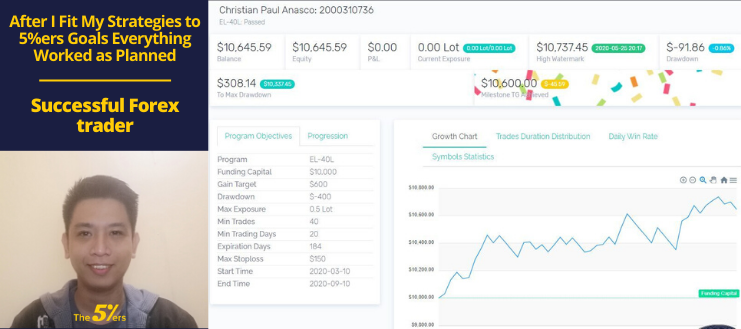 For my 5%ers evaluation account, I created 2 EAs, a breakout strategy, and a trend continuation that enters after a pullback. That's Christian Trading Strategy.
Christian.P, 31 years old, Philippines.
"Fit your Strategies to The5ers Goals".
Christian has just successfully passed our evaluation program with a great trading plan and has become a forex funded trader.
He is now one of our funded traders and is trading with a 40K forex funded account on our platform.
His next mission is to reach 10% of profit and double his funds to 80K.
We spoke with Christian about his trading plan, insights, and lessons gained while trading in the Forex market and on our platform as a funded trader.
Click here for more Inspirations lessons and interviews from our professional funded traders
How were you introduced to the Forex market?
I started with the Philippine stocks when I had 500 dollars to spare and finding ways to make more money. Since then, I looked for other means for me to have another stream of income.
Do you have a specific trading plan?
I started as a discretionary trader but I was at it. It was hard for me to control my emotions when trading. I decided to switch to EA to lessen the emotions involved and to give me a backtest result as assurance that there is a bigger chance for the strategy to work. For my 5%ers evaluation account, I created 2 EAs. One uses a breakout strategy and the other uses a trend continuation that enters after a pullback.
Tell us about your trading routine.
During my spare time, I look online for some strategies that I can code and test. I read some blogs, watch youtube videos about strategies and trade management. In terms of the trading aspect itself, I only check how my EAs goes for the day but little to no intervention at all from my end.
Do you have any risk management techniques? If so, please, elaborate?
Make sure not to risk more than 0.50% of your account balance per trade.
What was your biggest challenge in trading, and how did you overcome it?
The biggest challenge I had when I started is to fit my strategies to the5ers goals. I had to think of a way to lessen the drawdown while still getting the profit goal. After I have come up with the numbers, everything actually worked as planned.
What was the key moment of your trading career?
Everything changed when I decided to be an algorithmic trader. I'm not saying that others should also do that but for me, I had to find a way to control my emotions while trading so having an EA works best.


In your opinion, what are the most important characteristics for maintaining a steady trading career?
Risk management is the most important part of trading. I've seen people, myself included, who blew their accounts because of big lot sizes.
Do you apply any mental/psychological routines while trading? Please elaborate.
Just let my EA working for me and don't make any interventions at all. Once you do, you will actually second guess your decision whether it was the right thing or not.
What was your strategy for successfully passing The 5%ers' Evaluation Program?
I had to decrease my lot sizes to only trade 0.50% of my current account balance. I have strategies that I backtested to give me more confidence on my trading.
How long did it take you to become a consistent trader?
I started seeing consistency in my trading and trading results only last December 2019. The change happened when I decided to keep my losses as small as possible and just think of the profits next.
Would you like to share anything else with us?
5%ers is a very transparent company. Right from the start, you know what your goals are. The5ers' goals are objectives help on being more disciplined traders as compared to trading on your own.

If you want to receive an invitation to our weekly forex analysis live webinars, trading ideas, trading strategy, and high-quality forex articles, sign up for our Newsletter.
Subscribe to our youtube channel.
Click here to check how to get qualified.
Click here to check our funding programs.
WE FUND FOREX TRADERS!
The5%ers let you trade the company's capital, You get to take 50% of the profit, we cover the losses. Get your trading evaluated and become a Forex funded account trader.
Get Your Forex Funded Trading Account