Forex Blog Articles
How I Got Funded With The5ers! – The5ers review
September 3, 2020 | 11:23 am | Forex Blog Articles
September 3, 2020 | 11:23 am
Forex Blog Articles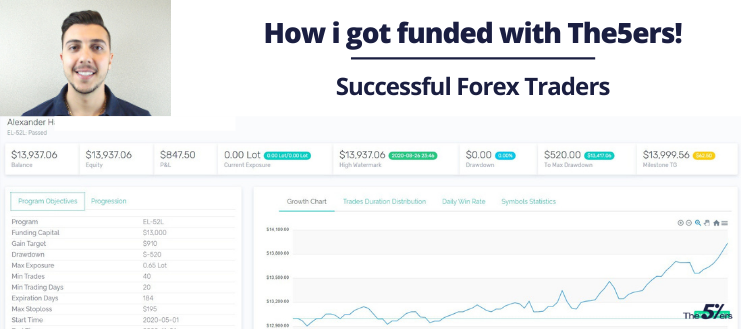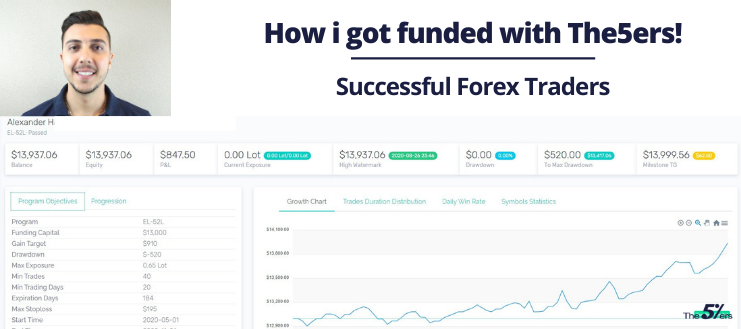 Trading is like running a business, you need to have a long term approach, That's Alexander Advice
"How I got funded with The5ers!".
Alexander has just successfully passed our evaluation program with a great trading plan and has become a forex funded trader.
He is now one of our funded traders and is trading with a 52K forex funded account on our platform.
His next mission is to reach 10% of profit and double his funds to 104K.
We spoke with Alexander about his trading plan, insights, and lessons gained while trading in the Forex market and on our platform as a funded trader.
Click here for more Inspirations lessons and interviews from our professional funded traders


In this video, Alexander goes over The5%ers' funding program and his personal evaluation process
How were you introduced to the Forex market?
I was first introduced to the world of day trading by a colleague of mine at university. From his book recommendation, I went on with my own research and developed my skills and knowledge within the forex world through time.
Do you have a specific trading plan?
Two hours prior to the London session open, I build a fundamental bias based on market sentiment. I will take a look at major futures indices in order to determine if the mood is risk-on or risk-off. I then mark up my chart by identifying key areas of interest on intra-day timeframes and wait for significant price action in those areas before taking any trading decisions. The goal is to catch the London move and manage my trade throughout the North American session. If there is no entry opportunity during the London session, I will look into opportunities during the North American session. Finally, I only trade GBPJPY & GBPCAD and take no more than 3-6 trades per week.
Tell us about your trading routine.
My trading routine involves daily exercise whether it's 10 minutes or 60 minutes. It switches my body into an "ON" mode. Since I trade the London session in North American Time Zone (EST), I wake up in the evening time and kick start my day/night with my exercise routine. This helps me to stay woke and alert during my overnight hours of trading.
Do you have any risk management techniques? If so, please, elaborate?
I tend to use a consistent position sizing, for example, 1% per trade or 0.5% for riskier trades. I go risk-free around 1:1 RR and take partial profits along the way to full take profit area.

What was your biggest challenge in trading, and how did you overcome it?
My biggest challenge was my mindset. Once I understood that trading is like running a business and that you need to have a long term approach to it, I quickly overcame this weakness. I also understood how scalable this business can be and that focusing on return on investment rather than dollar figures made all the difference in my forex journey.
What was the key moment of your trading career?
There was an indescribable moment in my trading career in which my trading knowledge turned into experience and that's when everything just "clicked".


In your opinion, what are the most important characteristics for maintaining a steady trading career?
In order to maintain a stable trading career, traders needs a system in which they follow. In order to do such a thing, you need a strong mindset and a lot of patience.
Do you apply any mental/psychological routines while trading? Please elaborate.
I don't meditate per se, however, my exercise routine involves jogging and it is at that moment of the day in which I work on my psychology.
What was your strategy for successfully passing The 5%ers' Evaluation Program?
High probability trade setups with attractive risk-to-reward ratios was crucial in my evaluation process. I believe that my risk and trade management system greatly contributed as well. It allowed me to cut losses short and mitigate my risk whenever suitable so that I run trades without necessarily exposing the account to any risk.
Please share your recommendations for online resources that were/are significant in your trading development. Name and links are appreciated.
My personal YouTube Channel 

After how much time did you become a consistent trader? What aspects changed that helped you to become consistent?
I became a consistent trader after 1 year of trial and error. The most important aspect for me that helped me become consistent was risk management.

If you want to receive an invitation to our weekly forex analysis live webinars, trading ideas, trading strategy, and high-quality forex articles, sign up for our Newsletter.
Subscribe to our youtube channel.
Click here to check how to get qualified.
Click here to check our funding programs.
WE FUND FOREX TRADERS!
The5%ers let you trade the company's capital, You get to take 50% of the profit, we cover the losses. Get your trading evaluated and become a Forex funded account trader.
Get Your Forex Funded Trading Account