Forex Blog Articles
Help Your Risk Strategy With a Lot Size Calculator
July 2, 2020 | 11:21 am | Forex Blog Articles
July 2, 2020 | 11:21 am
Forex Blog Articles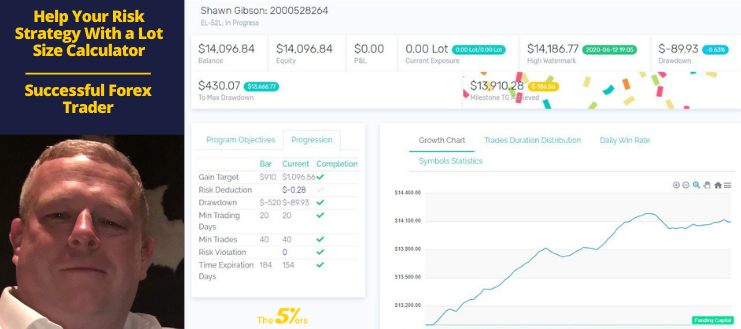 Small consistent trades with minimal risk was my strategy for passing The5ers' Evaluation Program. That's Shawn Advice.
Shawn.G, 40 years old, United Kingdom.
"Help Your Risk Strategy With a Lot Size Calculators".
Shawn has just successfully passed our evaluation program with a great trading plan and has become a forex funded trader.
He is now one of our funded traders and is trading with a 52K forex funded account on our platform.
His next mission is to reach 10% of profit and double his funds to 104K.
We spoke with Shawn about his trading plan, insights, and lessons gained while trading in the Forex market and on our platform as a funded trader.
Click here for more Inspirations lessons and interviews from our professional funded traders
How were you introduced to the Forex market?
I got into the trading industry via cryptocurrency and then I realized very quickly that cryptocurrency is like the Wild West…
Do you have a specific trading plan?
The week is started with an overall weekly and daily bias, and predominantly I am looking for a specific pattern to show itself in price to which I will trade and exit at logical points in price, Of course getting paid is the most important so I will be taking profit along the way to my target.
Tell us about your trading routine.
On the weekend I do the weekly & macro market analysis. I do top-down analysis and look at the seasonal influence mark up all high time frame levels and every morning I see what Asia has done before I progress through my day etc.
Do you have any risk management techniques? If so, please, elaborate?
Yes, I have a lot size Calculator that sits next to me and every time I enter a position it takes it off the overall amount allowed. I use a fixed percentage of my overall account. if I take a loss then I will Reduce by 50% up to a maximum three entries, if the trade is viable (3 in a row and then I'm out for the day).
What was your biggest challenge in trading, and how did you overcome it?
Much biggest challenge was blocking out the noise, as there are so many things that can influence you. I'm pleased I just buckled down put the chart time in and followed price action.
What was the key moment of your trading career?
Much biggest challenge was sticking to it as there are so many different things that you can do and I'm just very pleased that I decided after my diverse journey to stick with price action.


In your opinion, what are the most important characteristics for maintaining a steady trading career?
Planning, Discipline, Consistency, Time.
Do you apply any mental/psychological routines while trading? Please elaborate.
I guess that being in the army many years ago has provided me a very structured disciplined approach.
What was your strategy for successfully passing The 5%ers' Evaluation Program?
Small consistent trades with minimal risk using my price action skills.
How long did it take you to become a consistent trader?
3 years and time on the charts.
If you want to receive an invitation to our weekly forex analysis live webinars, trading ideas, trading strategy, and high-quality forex articles, sign up for our Newsletter.
Subscribe to our youtube channel.
Click here to check how to get qualified.
Click here to check our funding programs.
WE FUND FOREX TRADERS!
The5%ers let you trade the company's capital, You get to take 50% of the profit, we cover the losses. Get your trading evaluated and become a Forex funded account trader.
Get Your Forex Funded Trading Account