Forex Blog Articles
Remain Consistent With Your Trading Approaches | Successful Forex Trader
May 27, 2020 | 10:11 am | Forex Blog Articles
May 27, 2020 | 10:11 am
Forex Blog Articles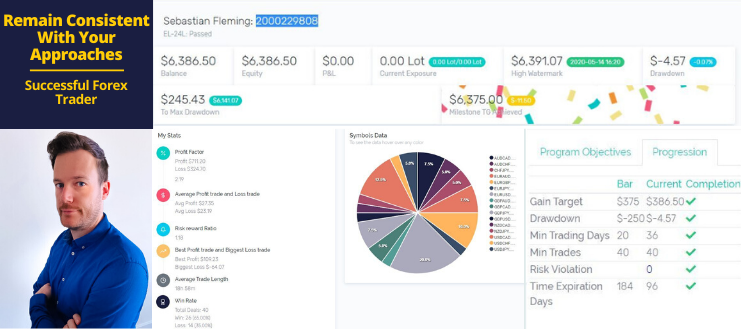 The ability to hold trades on pullbacks and not close them early is key to ensuring long term success that's Sebastian Advice.
Sebastian.F 34 years old, United Kingdom.
"remain consistent with your approaches ".
Sebastian has just successfully passed our evaluation program with a great trading plan and has become a forex funded trader.
He is now one of our funded traders and is trading with a 24K forex funded account on our platform.
His next mission is to reach 10% of profit and double his funds to 48K.
We spoke with Sebastian about his trading plan, insights, and lessons gained while trading in the Forex market and on our platform as a funded trader.
Click here for more Inspirations lessons and interviews from our professional funded traders
How were you introduced to the Forex market?
I was initially introduced to the FX market via social media. My first experience was a signal provider that later turned out to be a scam. Fortunately I was only with them for one month as I soon figured out they were not legitimate and that their signals did not provide any profits. This process did however make me curious as to what else was out there and I subsequently went on to learn as much as I could.
Do you have a specific trading plan?
Yes absolutely. And it's important to stick to the plan! My plan is derived from looking at the higher timeframes to see what the bigger picture is telling us and then diving into the lower timeframes to give me a finely tuned picture of what is going on and whether any potential setups are taking place.
Tell us about your trading routine.
I will review the markets in the evening once the start of the next day has commenced (currently 10 PM GMT) to see if there have been any interesting moves during the day. This will shape my analysis on the lower time frames and I will make my watchlist. This will be split between 'good-to-go' setups and others than need a little more development. I will place alerts to let me know when the price has hit an area of interest and then depending on the price action I may or may not decide to take a trade. Once I am in a trade I will review it on a consistent basis and take any necessary action depending on how the price action is developing.
Do you have any risk management techniques? If so, please, elaborate?
I risk 1% per trade maximum. It does not depend on the setup or whether I am more or less confident in the setup. I am simply playing the probabilities and keeping my risk the same for every trade. The only exception to that has been through this challenge where I had to adapt my risk management as I initially came very close to hitting the profit target but then went into a drawdown period.
What was your biggest challenge in trading, and how did you overcome it?
My biggest challenge

 I had to overcome in trading was patience. Having the ability to hold trades on pullbacks and not close them early is key to ensuring long term success. I overcame this through experience and seeing that my results were being hindered by my impatience

.
What was the key moment of your trading career?
I am not sure there has been one key moment but rather a succession of little moments all adding up. If I was to give just one it would be the time where I thought I was doing everything right but my results were not showing this to be the case. I reviewed the past 3 months worth of trades over the course of a few days and noticed there were some common issues. I wrote these down and kept them in front of me for the next month to make sure I wouldn't make the same mistakes again.


In your opinion, what are the most important characteristics for maintaining a steady trading career?
I think the most important characteristic in maintaining longevity in trading is to remain consistent with your approaches. This means to keep doing the right things and taking the right decisions time after time even when you have reached consistency. This is not always easy to do when the results don't show and is why most people stop trading altogether.
Do you apply any mental/psychological routines while trading? Please elaborate.
I do not apply any specific routines but I ensure that I am always in a good mindset and remain confident even when a trade might go against me. This comes from prior experience and having confidence in your strategy.
What was your strategy for successfully passing The 5%ers' Evaluation Program?
My strategy was to follow my trading plan and trade as I normally do. There is no reason to change everything up as there is plenty of time to complete the evaluation program. The only time I deviated slightly was my risk management in drawdown which I mentioned above.
How long did it take you to become a consistent trader?
It took around 2 years of consistent hard work to become consistently profitable. This means waking up early to review the markets, going to bed late to not miss any potential setups and hours, and hours of backtesting. It's not easy but it's only 2 years. Once you have mastered the skill no one can take it away from you!.
If you want to receive an invitation to our weekly forex analysis live webinars, trading ideas, trading strategy, and high-quality forex articles, sign up for our Newsletter.
Subscribe to our youtube channel.
Click here to check how to get qualified.
Click here to check our funding programs.
WE FUND FOREX TRADERS!
The5%ers let you trade the company's capital, You get to take 50% of the profit, we cover the losses. Get your trading evaluated and become a Forex funded account trader.
Get Your Forex Funded Trading Account