Forex Blog Articles
Match Your Trading Plan to Your Personality for a Stable Trading Career
July 23, 2020 | 11:22 am | Forex Blog Articles
July 23, 2020 | 11:22 am
Forex Blog Articles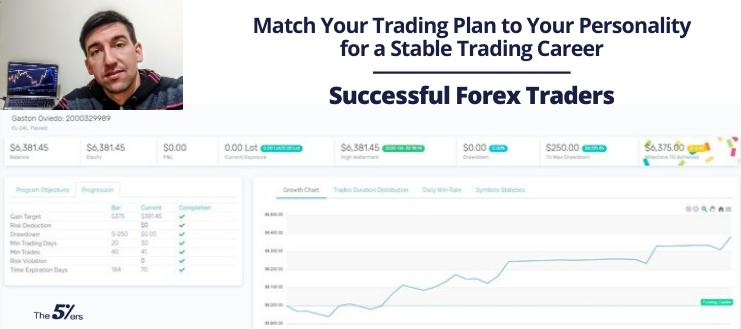 Having a Trading Plan and Trading Community Helps to Achieve a Stable Trading Career, That's Sergio Advice.
"Match Your Trading Plan to Your Personality for a Stable Trading Career".
Gastón has just successfully passed our evaluation program with a great trading plan and has become a forex funded trader.
He is now one of our funded traders and is trading with a 24K forex funded account on our platform.
His next mission is to reach 10% of profit and double his funds to 48K.
We spoke with Gastón about his trading plan, insights, and lessons gained while trading in the Forex market and on our platform as a funded trader.
Click here for more Inspirations lessons and interviews from our professional funded traders

How were you introduced to the Forex market?
I found Trading searching on the Internet "how to get rich quickly" (yes, I was a victim of that).
Do you have a specific trading plan?
Yes, I have a Trading Plan. It is composed of: My Go-To setups, risk management rules, checklist, routines, etc.
Tell us about your trading routine.
Backtest one month of data each day, six days a week. Forecast early in the morning and late in the afternoon. I check the chart once an hour (I trade H1 Time Frame). If a valid setup present itself, I take the trade and manage the position.
Do you have any risk management techniques? If so, please, elaborate?
Yes, I have. A unique and simple rule: 1% per trade, no more.
What was your biggest challenge in trading, and how did you overcome it?
Learning to think in probabilities. Accepting the losses. I think practice and market exposure help to manage that. And it is something you never overcome. Every loss has a component of pain. Being aware of this helps.
What was the key moment of your trading career?
When I discovered my current Trading Strategy. I realized how simple Trading could be (not easy tough)


In your opinion, what are the most important characteristics for maintaining a steady trading career?
Having a Trading Plan that matches your personality (including setups, routines, risk, processes, etc). And having a community you can rely on.
Do you apply any mental/psychological routines while trading? Please elaborate.
I read all the time books that help me with my psychology. Trading in the Zone is a great example. Also, I make the effort to be aware each time a setup presents itself to evaluate if it is a valid one or not. And If it is a valid one I take the trade even if it feels uncomfortable.
What was your strategy for successfully passing The 5%ers' Evaluation Program?
Firstly, studying and understanding the rules. After that, I had to match my methodology with the set of rules (I could apply it almost without changes tough). And then understanding that I had enough time to meet the targets so no rush in the process.
Please share your recommendations for online resources that were/are significant in your trading development. Name and links are appreciated.
One of the key rules not to break is DD. In order to not break this rule the position sizing of each trade have to be carefully calculated, this page helps me with that: https://www.myfxbook.com/en/forex-calculators/position-size. I use tradingview for my analysis and MT4 for placing the trades.
How long did it take you to become a consistent trader?
I became consistent after three and a half years. Having a trading plan and risk management rules helped me a lot along the process.
Would you like to share anything else with us?
Take the time to study and understand the rules. The5%ers rules are very clear and easy to understand.
If you want to receive an invitation to our weekly forex analysis live webinars, trading ideas, trading strategy, and high-quality forex articles, sign up for our Newsletter.
Subscribe to our youtube channel.
Click here to check how to get qualified.
Click here to check our funding programs.
WE FUND FOREX TRADERS!
The5%ers let you trade the company's capital, You get to take 50% of the profit, we cover the losses. Get your trading evaluated and become a Forex funded account trader.
Get Your Forex Funded Trading Account