Forex Blog Articles
Choose the Trading Method You Like and Develop a Trading Plan Around It
September 17, 2020 | 11:24 am | Forex Blog Articles
September 17, 2020 | 11:24 am
Forex Blog Articles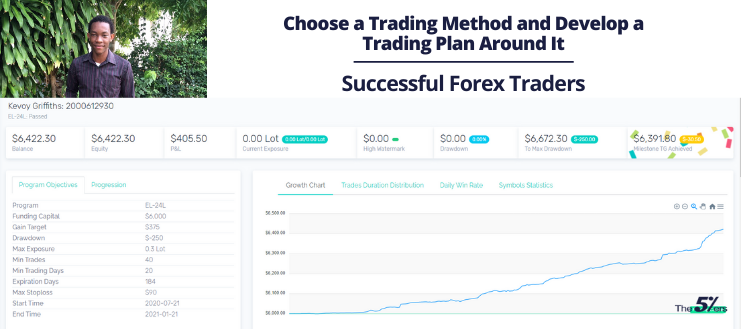 To overcome bad habits you should stay with one method and trade with less lot size, That's Kevoy Advice
"Choose the trading method you like and develop a trading plan around It.".
Kevoy has just successfully passed our evaluation program with a great trading plan and has become a forex funded trader.
He is now one of our funded traders and is trading with a 24K forex funded account on our platform.
His next mission is to reach 10% of profit and double his funds to 48K.
We spoke with Kevoy about his trading plan, insights, and lessons gained while trading in the Forex market and on our platform as a funded trader.
Click here for more Inspirations lessons and interviews from our professional funded traders


How were you introduced to the Forex market?
While at home, around the year 2016. Just browsing the internet, I came across a blog about trading and how much I can earn at home on my laptop without anyone bossing me around.
After how much time did you become a consistent trader? What aspects changed that helped you to become consistent?
I found one of VP's video/website around 2018, after that everything changes for the best. Not only in forex but in my personal life as well.

Do you have a specific trading plan?
I certainly do, I've put together an algorithm that tells me everything. Whether it's to enter, exit, risk, scaling out, take profit, stop loss, pip value per trade, the direction of the trend as well as the volume in the market, everything!
Tell us about your trading routine.
Normally, I look at my charts at the ending of the trading day for setups and my algorithm tells me what and what not to do. If there's a setup I calculate my risk first then enter the trade then close my trading platform for the remaining of the night. Then re-opened it at the ending of the trading day. It took me about 15 minutes each day to go through all the (28) pairs.
Do you have any risk management techniques? If so, please, elaborate?
Money Management – Risk Structure 2% of $50,000 USD? $50,000*0.02=$1000 $1000 is my risk.
Current ATR = (Prior ATR x 1.5) 71 pips, = 71*1.5= 106 106 is my STOPLOSS.
RISK ÷ STOPLOSS = Pip Value $1000 ÷ 106 = $9.43 $9.43 is my Pip Value.

What was your biggest challenge in trading, and how did you overcome it?
My greatest challenge was psychology & money management.
First, money management, the way I was introduced to forex was (if you can recall from my previous answer above how much money I can make while at home), the amount of money I can earn. I didn't know anything about risk in terms of money, all I knew was to increase my lot size upon how I feel or what I think the market should give me. Always trading multiple pairs with the same currency not knowing that it helps to magnify my (risk) positions.
Psychology, I was an emotional trader. You can name all the bad habits of the "99% of failed traders I had those bad traits."
just to list a few;
• Chasing losses
• Not getting out of trades when I know I should
• Constantly staring at the charts and not doing anything else with my time.
• Setting unrealistic goals
• Going "back to the drawing board" way too often instead of sticking with a trading method.
• Trading more money than my money management plan allows.
• Always getting out of trades early when I know I should not.
How I overcome these bad habits is to replace them with better ones. The first step I took was staying with one method, trade with less lot size then, later on, I found a mentor (VP) that trades the same style as I do no-nonsense forex (NNFX), without paying for any courses, enrollment, nothing because it's all free information on the web. I followed and listen to his teaching for roughly 2 years.
What was the key moment of your trading career?
As mention above followed VP teaching. He covers everything a trader needs to become successful. Whether it's psychology, money management & technical analysis. He covers them all but stresses on psychology and money management the most. Most importantly, it was up to me to put all those teaching into action.
In your opinion, what are the most important characteristics for maintaining a steady trading career?
Frist is self-belief. To accomplish anything great in life you first must have belief in thy self.
Second is knowledge. To choose which method that you like and how-to formulate a trading plan.
Third is money management. To have rock solid money management to shelter from the storm ahead, (We win by not losing) #VP.
Four is psychology. To have full control of your emotions while trading, we traders should be proactive, not reactive.
Note; psychology can be third and money management can be four depends on the persons preference.
Do you apply any mental/psychological routines while trading? Please elaborate.
I set up an alarm that tells me when the trading day is coming to an end and that I need to get into a trading mode. Other than that, I just follow the algorithm and repeat the process every day.
What was your strategy for successfully passing The 5%ers' Evaluation Program?
My strategy involves these simple, yet effective steps;
1. Trade my algorithm.
2. Stay the F*** out of the way.
3. Repeat!
Please share your recommendations for online resources that were/are significant in your trading development. Name and links are appreciated.
Name; Patrick, Popular name VP
NoNonsenseForex Youtube channel
https://nononsenseforex.com/
Would you like to share anything else with us?
Certainly, anything great in life comes with a price. "For every action there is an equal & opposite reaction," simply put, we cannot achieve nothing without paying the price. You need to decide whether or not you'll be willing to do whatever it takes to obtain that "thing" you desire. Have faith that you'll achieve it, work towards it and by all means see yourself with that "thing or whatever" it is you desire to have. So, keep at it, be consistent, keep learning and stay disciplined. I leave with this favorite quote of mine. "FAIL EARLY, FAIL OFTEN & FAIL FORWARD" -Will Smith.

If you want to receive an invitation to our live webinars, trading ideas, trading strategy, and high-quality forex articles, sign up for our Newsletter.
Subscribe to our youtube channel.
Click here to check how to get qualified.
Click here to check our funding programs.
WE FUND FOREX TRADERS!
The5%ers let you trade the company's capital, You get to take 50% of the profit, we cover the losses. Get your trading evaluated and become a Forex funded account trader.
Get Your Forex Funded Trading Account