Forex Blog Articles
The5ers Evaluation Really Helped Me a Lot to Become a Consistent Trader
July 30, 2020 | 11:11 am | Forex Blog Articles
July 30, 2020 | 11:11 am
Forex Blog Articles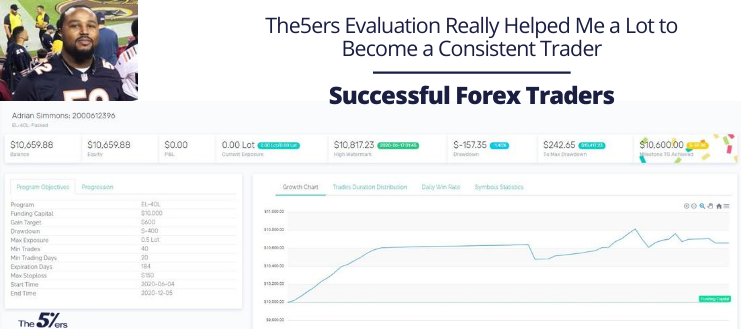 Staying safe makes for a stronger mindset and thus will make you a more consistent trader, That's Adrian Advice.
"The5ers evaluation really helped me a lot to become a consistent trader".
Adrian has just successfully passed our evaluation program with a great trading plan and has become a forex funded trader.
He is now one of our funded traders and is trading with a 40K forex funded account on our platform.
His next mission is to reach 10% of profit and double his funds to 80K.
We spoke with Adrian about his trading plan, insights, and lessons gained while trading in the Forex market and on our platform as a funded trader.
Click here for more Inspirations lessons and interviews from our professional funded traders
How were you introduced to the Forex market?
By a client of mine. I'm a barber by trade.
Do you have a specific trading plan?
Yes, I begin with no more than 5 trades and how that will fit in mathematically with what is required by the 5ers. I determine the max exposure, and my own personal margin requirements. And I maximize those 5 trades.
Tell us about your trading routine.
I wake up in the morning and begin to scan the markets for breakouts and retests. Then I use divergence in conjunction with this.
Do you have any risk management techniques? If so, please, elaborate?
I determine the maximum exposure, then I determine how 5 or less trades will fit into that. Every trade must be in profit in order for me to scale in additional trades.
What was your biggest challenge in trading, and how did you overcome it?
I lost $2400 in one day, and I was not a full-time trader, in fact, I was working 50 hours a week at my day job while having a wife and new born baby. I was faced with the harsh reality that I may never become profitable. But then I realized that I must hold on to my faith In God. While allowing God to strengthen me and ground me, I began to look for a mentor. I found a man that I respected and he poured into me his wisdom and guidance, and I realized how hard he worked at it and how he blocked all distractions out and focused solely on forex trading. I was determined to do the same.
What was the key moment of your trading career?
I remember the first time that I accomplished my first goal, of $1000 profit every day. This was a major milestone for me because it marked a moment in time where I was totally validated as a trader.


In your opinion, what are the most important characteristics for maintaining a steady trading career?
The environment is very important because every trader needs peace and quiet and preferably a dedicated office space with a view for maximum potential. Also support from the people you love and respect. A Routine that never changes is key. And unshakable focus on the task at hand.
Do you apply any mental/psychological routines while trading? Please elaborate.
Yes I watch video interviews of Millionaires and Billionaires in the background while I trade to feed my subconscience. I also draw powerful quotes from these people and write them down to be constantly recited between trades.
What was your strategy for successfully passing The 5%ers' Evaluation Program?
My strategy was to pay close attention to money management. It means everything. Staying safe makes for a stronger mindset and thus will make you a more consistent trader.
Please share your recommendations for online resources that were/are significant in your trading development. Name and links are appreciated.
Alux.com
How long did it take you to become a consistent trader?
It took me roughly 9 months to become consistent. The 5er trading challenge really helped me a lot. I studied the information available after I failed the first evaluation. I adjusted my trading to fit inside the 5ers matrix.
Would you like to share anything else with us?
Thank you for the program, this experience has made me a stronger trader.
If you want to receive an invitation to our weekly forex analysis live webinars, trading ideas, trading strategy, and high-quality forex articles, sign up for our Newsletter.
Subscribe to our youtube channel.
Click here to check how to get qualified.
Click here to check our funding programs.
WE FUND FOREX TRADERS!
The5%ers let you trade the company's capital, You get to take 50% of the profit, we cover the losses. Get your trading evaluated and become a Forex funded account trader.
Get Your Forex Funded Trading Account