Forex Blog Articles
Can You Make a Living Day Trading? – Day Trading for Beginners
August 2, 2020 | 6:52 am | Forex Blog Articles
August 2, 2020 | 6:52 am
Forex Blog Articles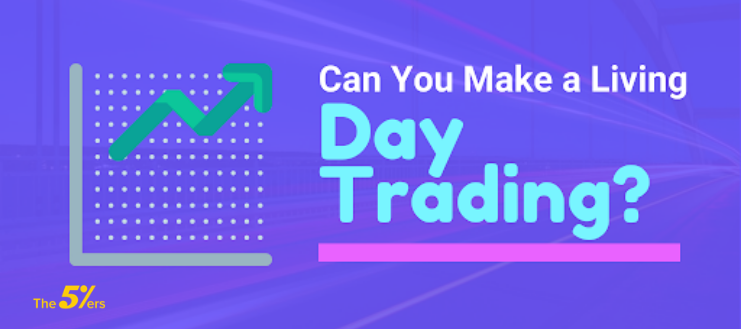 How to Start Day Trading and Make Money
If you have a computer with a fast connection at home, you have the basics on hand to start day trading. Unfortunately, the right equipment is just one part of the equation. Besides a computer and internet you'll also need the knowledge and know-how to pull of day trading for a living. Luckily, we've got your back. Below, we've gathered tips for day trading, the benefits and disadvantages, and steps for getting started.
This article is an educational guest post, it was written by Samantha Rupp from 365businesstips
Can You Make Decent Wages Day Trading?
The short answer to this question is "yes", Day trading is a potentially viable career, but it's not a get-rich-quick scheme, nor is it easier than a traditional 9-to-5 job. Keep that in mind before ditching your day job in pursuit of day trading riches.
If you're worried about the risk of day trading and the impact on your income, consider other factors that determine if what you make is "livable." For example, if you live in a low-tax or low cost-of-living area, you'll probably have an easier time making a wage that gives you a higher standard of living.
Pros of Day Trading

Comfort
Since you're working from home, there's no need to put on a suit or worry about getting ready. You can simply hop out of bed and get to work in your pajamas.

Lack of commute and expenses
Since you don't need to worry about gas or transit expenses, you can save money by avoiding those costs.

Flexibility
Day trading allows you to work whenever you want to, since there's always a market open during a 24-hour period. Plus, you can take off work whenever you want without worrying about building up your PTO.

No manager or boss
If you make day trading your full-time career, you won't have a boss to answer to. You're your own boss!

Isolating
Although being in an office with coworkers can be distracting, it can provide a nice respite from work. After all, socialization is important. When you're working from home, by yourself, you may feel lonely. Even introverts need people once in a while. If you prefer a social work environment, taking on day trading full-time may not be the right fit for you.

Inconsistent income
Day trading can be incredibly volatile. You might get lucky and experience a payload one day and then lose thousands the next. It's important to be aware of your wage fluctuations. 

Career stall
When you leave your regular job to pursue day trading, you might find it difficult to re-enter the workforce. 
Bots
When you're day trading, you'll be up against a formidable competitor: bots. Bots and automated software can make a big impact on how much you can make. 
What Kinds of Markets Do People Day Trade?
When you're deciding what to day trade, you might be overwhelmed by the options. You can trade Forex, penny stocks, regular stocks, CFDs, commodities, futures, gold, and cryptocurrencies, to name just a few.
Although the final decision is up to you, it's important to know the volatility and volume of the market you decide on. These two variables will influence how much money you can make. Remember, if there's a possibility to make a ton of money, there's also the potential to lose a ton of money. 
Day Trading Steps
Step 1: Get educated
This is one of the best times in history to get educated on any subject because there are tons of online resources you can use. It's important to understand your specific market and how trading works before you dive in with your actual money. 
Check out a range of resources in all of their available forms including podcasts, study guides, forums, tutorial videos, PDFs, blogs, audiobooks, ebooks, and regular books.
Step 2: Figure out your setup
At the very least, you'll need a mid-range priced computer and a fast internet connection at home. Why? Because if your internet connection is faulty or your computer crashes, you can easily lose tons of money in the time it takes for your computer to restart. 
You'll also need to choose your broker platform or prop firm. It should offer good pricing, customer support, and user-friendliness.
Finally, you'll need to pick a strategy to use and help guide your decisions. Make sure it's an analytical strategy based on numbers, charts, and patterns rather than your own emotions.

Step 3: How much money do you need to start day trading
Several years ago, day traders needed several thousand dollars to get started trading in the U.S. These days, you only need around $1,000 to day trade or a funded firm like The5ers.
If you have more money at your disposal to trade and you're otherwise in good financial standing, you can trade as much or as little as you want.
Step 4: Manage your risk
As you can imagine, day trading involves a certain amount of risk. When you make day trading your full-time job, it's important to figure out how you're going to manage your risk.
One system to limit your risk is using stop-losses and take-profits. A stop-loss is a price at which you'll close a trade and take the loss. A take-profit is when you'll close a trade to gain a profit.
Step 5: Avoid beginner's mistakes
When you're new to day trading, it can be easy to fall into the trap of common beginner trading mistakes. Here are a few mistakes to avoid:
Following another trader:

You won't become successful by copying the exact trades of another trader. Everyone has their own strategy, so riding on the coattails of someone else won't help. Make sure you focus on learning for yourself.

Too big, too soon:

 Beginner's luck might make you think you're a secret trading genius and cause you to lose money due to your hubris. Keep track of your emotions and let analysis guide your decisions.
Conclusion: Making a Living Day Trading
Day trading full-time isn't for everyone. You need to be extremely self-motivated, organized, analytical and understand the underpinnings of your specific market. With that said, you can make a living through day trading if you're ready to put in the work and learn. Remember, give yourself time to learn and understand the markets before ditching your full-time job. Use this article as a guide to help you make the jump – and don't risk any money that you're not willing to lose.
If you want to receive an invitation to our weekly forex analysis live webinars, trading ideas, trading strategy, and high-quality forex articles, sign up for our Newsletter.
Subscribe to our youtube channel.
Click here to check how to get qualified.
Author Bio
Samantha Rupp holds a Bachelor of Science in Business Administration and is the managing editor for 365businesstips.com. She lives in San Diego, California, and enjoys spending time on the beach, reading up on current industry trends, and traveling.
WE FUND FOREX TRADERS!
The5%ers let you trade the company's capital, You get to take 50% of the profit, we cover the losses. Get your trading evaluated and become a Forex funded account trader.
Get Your Forex Funded Trading Account