Forex Blog Articles
Be Consistent with Forex, Keep Learning and Stay Disciplined
September 24, 2020 | 8:56 am | Forex Blog Articles
September 24, 2020 | 8:56 am
Forex Blog Articles
You need to decide whether or not you'll be willing to do whatever it takes to obtain that "thing" you desire, That's Martijn Advice
"Be consistent with forex, keep learning and stay disciplined".
Martijn has just successfully passed our evaluation program with a great trading plan and has become a forex funded trader.
He is now one of our funded traders and is trading with a 40K forex funded account on our platform.
His next mission is to reach 10% of profit and double his funds to 80K.
We spoke with Martijn about his trading plan, insights, and lessons gained while trading in the Forex market and on our platform as a funded trader.
Click here for more Inspirations lessons and interviews from our professional funded traders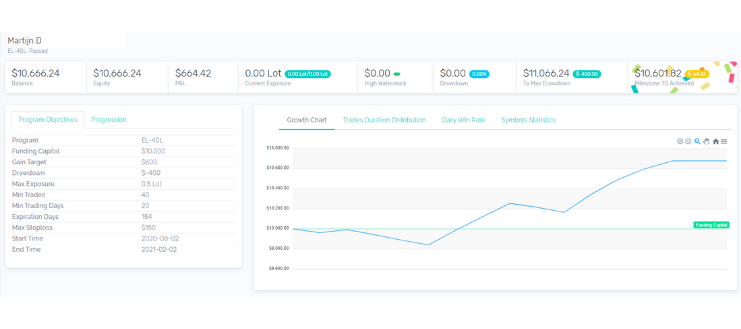 How were you introduced to trading?
Bitcoin got me interested.
After how much time did you become a consistent trader? What aspects changed that helped you to become consistent?
After a year I became a consistent trader due to starting the company and creating a good swing trading strategy. This brought more focus in my life, and now I am putting my full attention on trading, no day is missed. I also backtested a strategy for over 3 years with a mechanical approach. I had a bad Q2 and failed the first try. But now I am more focussed and driven than ever.
Do you have a specific trading plan?
I have a mechanical swing trading strategy that has strict rules for Supply & Demand order zones. With the zones on all higher timeframes working together to be able to set a trader on the 1H and 4H timeframe. These are similar trades that both have the same target but mostly different outcomes. For the 4H strategy, I use a candle script on Tradingview to point out candles like (engulfing, star formation, etc.) If this entry is valid it shows on the chart and I can enter with a 1:3 risk to reward ratio. The stop-loss is always 1.5x the value of the entry to the bottom of the candle(s). This makes for a safer entry on the best values presented at the moment.
Tell us about your trading routine.
I wake up 06:00 check the markets, map out the trading day and possible entries (Alerts on every hour or 4 hours), I check when, and how the candle closed, if needed. My days are different but mostly I go to the job, (my own project) and work or lead the people. I have my planning and alerts to keep me up to date. In the evening I check every pair for developments and possible entries.
Do you have any risk management techniques? If so, please, elaborate?
I normally use 1% per trade with a max DD of 5/6% in the backtest. The first entry is a 1:3 Risk reward ratio. The second entry is a scale-type of strategy, this can go from a 1:3 to a 1:6 risk to reward ratio.
For your company, I use a 0.50% risk per trade. This means that I should be rather safe with a 4% maximum loss. The only issue is that the trades can be rather big, so if there are many trades I have to cut some lot sizes. That is bad for a mechanical strategy, so If that would be possible I would really appreciate it.
What was your biggest challenge in trading, and how did you overcome it?
I was questioning myself and my strategy. Next to that, I was not consistent, I missed trades and took ones that looked good at the time. Now I stick with the rules and the backtested rules only.
What was the key moment of your trading career?
The moment I made bigger sums of money than losses or mostly break-even. When I made 8% in a night with a 1% entry I knew this was something to fully focus on.
In your opinion, what are the most important characteristics for maintaining a steady trading career?
Health, Clarity, and an overall modest view on the market. You don't need to chase a trade when you can focus on the bigger picture.
Do you apply any mental/psychological routines while trading? Please elaborate.
Yes, I meditate 2 or 3 times a day. Next to that I take cold showers, eat good food, and take care of myself.
What was your strategy for successfully passing The 5%ers' Evaluation Program?
I used the strategy as mentioned above. It was a really good month where I almost gained 14%.
Please share your recommendations for online resources that were/are significant in your trading development. Name and links are appreciated.
www.newcapitalfx.com and especially Nick really helped me out.
Would you like to share anything else with us?
Certainly, anything great in life comes with a price. "For every action, there is an equal & opposite reaction," simply put, we cannot achieve nothing without paying the price. You need to decide whether or not you'll be willing to do whatever it takes to obtain that "thing" you desire. Have faith that you'll achieve it, work towards it and by all means see yourself with that "thing or whatever" it is you desire to have. So, keep at it, be consistent, keep learning, and stay disciplined. I leave with this favorite quote of mine. "FAIL EARLY, FAIL OFTEN & FAIL FORWARD" -Will Smith.

If you want to receive an invitation to our live webinars, trading ideas, trading strategy, and high-quality forex articles, sign up for our Newsletter.
Subscribe to our youtube channel.
Click here to check how to get qualified.
Click here to check our funding programs.
WE FUND FOREX TRADERS!
The5%ers let you trade the company's capital, You get to take 50% of the profit, we cover the losses. Get your trading evaluated and become a Forex funded account trader.
Get Your Forex Funded Trading Account