Forex Blog Articles
Knowing Your Markets – How To Pick a Winning Trade
February 4, 2020 | 8:42 am | Forex Blog Articles
February 4, 2020 | 8:42 am
Forex Blog Articles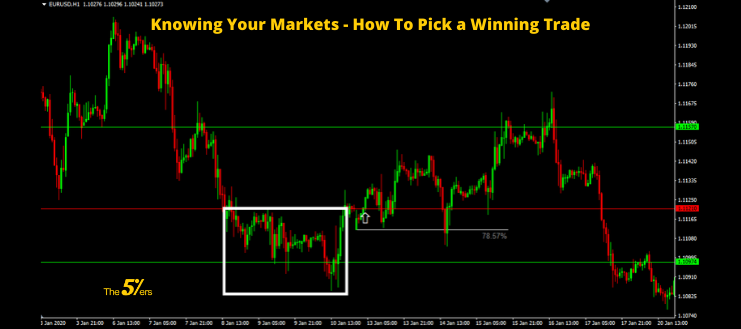 How To Pick A Winning Trade – This article is an educational guest post, it was written By Cas Daamen
In this article, I will go over a recent long trade in EURUSD. Not because it was a winner, but because this trade teaches some great lessons and I think many traders can benefit from it.
In this article, I will talk about the reasoning behind the trade, as well as why it's important to know the markets you trade.
Long trade in EURUSD
Entry:
Red line + white arrow
Stoploss:
Lower green line
Target:
Upper green line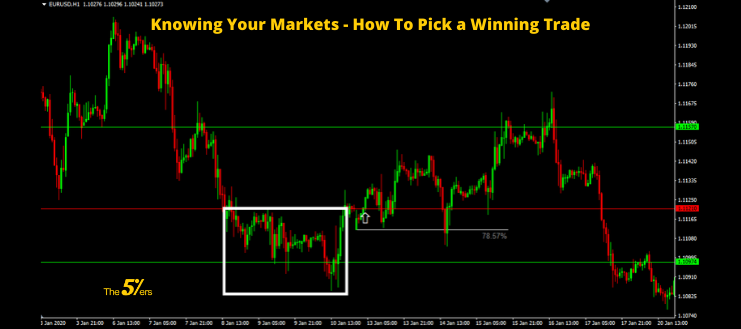 Why did I take this trade?
According to my statistics on this currency pair, there was a 68% chance we were going to hit my target before taking out my stop loss.
My target was at 1.53R. This gives me a positive expectancy, without even taking market context into consideration. If I don't have these statistics in my favor at the outset of the trade I don't take the setup, regardless of how "good" price action looks.
In the white box, we had an accumulation pattern, this indicates long positions are being accumulated. 
As soon as we broke out of the range I would normally enter a long position. However, this happened on Friday night, just before the weekly close. I waited for the Sunday open, waited for the spread to become normal and entered my position at the original entry that I normally use.
I do hold trades over the weekends, but when I can avoid it, I try to do it. No need to take on extra gapping risk, the game is hard enough already. 
The little white line I drew in is the weekly open. 
After my entry price moves up, comes down (just above the weekly open price) and then comes quite close to my target, but reversed.
People that are also long will most likely have their stops just below the weekly open line.
Knowing that big traders need liquidity to fill their orders, and knowing that they don't want a lot of people on their side of the trade, I expected we were going to take out the weekly open price to trigger the stop orders, before moving to a new area.
I also know, according to my statistics, that there is a 78.75% chance the market will come back to test the weekly open price, and a 50% chance this happens on Tuesday (which was the day it happened). Knowing all this, I don't panic because the market came back to my entry.
I knew there was a high chance we were going to see a test of the weekly open price, according to my stats, and according to how bigger players operate. We broke the weekly open and immediately reversed, just like I thought would happen. After this we quickly went to target, paying me 1.53R.


What lessons can we take away from this trade?
The first thing to know about how to pick a winning trade is you should know the markets you trade. I know the chances of succeeding, even before I take a trade. I knew there was a high chance the market was going to test the weekly open price, so I don't put my stop at this obvious spot, as most people would do. 
Knowing this kind of information about the markets you trade can give you a big advantage over the other players.  This information will also greatly reduce the chance of making emotional mistakes during trading.
If you knew there was a 78.75% chance the weekly open would get hit, you wouldn't feel bad because your trade went in drawdown, and you wouldn't place your stop there. Every little thing that you can do to be ahead of your competition is vital. Know the markets you trade, know the players and how they operate, know what is likely to happen, know where your trade idea is wrong, know your statistics. 
After all, this game is a competition. If you don't come prepared, someone else will, and they will take your money.
Cas Daamen Bio:
My name is Cas Daamen, I'm 23 years old and I'm from The Netherlands, I have been trading for a little over 3 years now.
You might have seen my name before in a blog, that's because I have written one before. I noticed I really enjoyed writing it, so I decided to make another one. I also think that this particular trade and its lesson will help a lot of traders.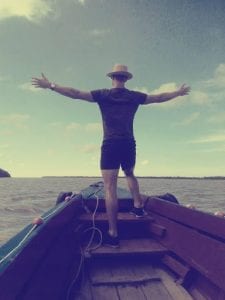 For people that are interested in my work after having read this blog:
I do have a small telegram channel where I occasionally post insights in my trading process & my view on the markets, I also post information about other trading related topics.
Feel free to join https://t.me/cdfxtrading
I am always open to help others, and I believe everyone can learn something from someone else, no matter their level of experience. So if you have any questions about the blog, or just want to chat about trading you can contact me on twitter @CasDaamen 
How To Pick A Winning Trade Summary
The article presented the idea of how to identify a potential trade and trade it successfully. Keep in mind that it is important to know the market you are trading in before you start your trading strategy. It is also important to come up with an action plan for each situation that the trade develops so that you know how to respond carefully to each situation.
If you want to receive an invitation to our weekly forex analysis live webinars, trading ideas, trading strategy, and high-quality forex articles, sign up for our Newsletter.
Subscribe to our youtube channel.
Click here to learn how to get qualified.
Click here to check our funding programs.
WE FUND FOREX TRADERS!
The5%ers let you trade the company's capital, You get to take 50% of the profit, we cover the losses. Get your trading evaluated and become a Forex funded account trader.
Get Your Forex Funded Trading Account