Forex Blog Articles
Master Your Trading System That Sync With Your Lifestyle | Successful Forex Trader
April 28, 2020 | 11:14 am | Forex Blog Articles
April 28, 2020 | 11:14 am
Forex Blog Articles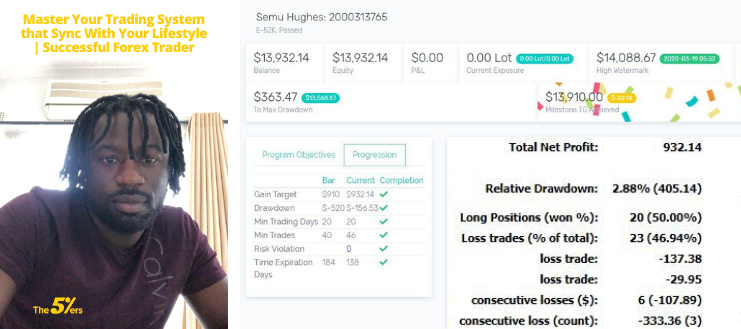 Search for the currency is trending the same direction against all others that's Hughes trading plan.
Hughes.S 35 years old, Zimbabwe.
"Master Your Trading System".
Hughes has just successfully passed our evaluation program with a great trading plan and has become a forex funded trader.
He is now one of our funded traders and is trading with a 52K forex funded account on our platform.
His next mission is to reach 10% of profit and double his funds to 104K.
We spoke with Hughes about his trading plan, insights, and lessons gained while trading in the Forex market and on our platform as a funded trader.
Click here for more Inspirations lessons and interviews from our professional funded traders
How were you introduced to the Forex market?
A friend who worked at a bank told me about it. He doesn't trade though. After that, I did my research on the internet.
Do you have a specific trading plan?
2 aspects to my plan. I look at currencies as baskets i.e. I look at all the pairs of a certain currency to see how it's behaving. The best trades are those when a currency is trending in the same direction against all the others, it shows strong momentum. I then make entries on the four hour chart by getting in on pullbacks of the main trend for that currency. I also confirm the trend using two moving averages.
Tell us about your trading routine.
I just check on the currency direction for all that currency pair. I have set up my MT4 so that I can see all the pairs of a one currency on one screen. This gives me a visual picture of the trend for that currency.
Do you have any risk management techniques? If so, please, elaborate?
I have a position sizing indicator which shows me how much I am risking per each trade. very useful tool. Generally, i limit my exposure in any one currency to 2% of the account balance. This is because sometimes I can take trade 5 pairs of the same currency, so it's important to manage risk if something unexpected happens. As for the 5%ers risk management, I try to always a buffer of 10 trades up to maximum drawdown.
What was your biggest challenge in trading, and how did you overcome it?
My greatest challenge was having the right psychology, I was impatient and loved the thrills. After reading Mark Douglas' book I realized I needed to find a trading strategy that suits my lifestyle (i do this part time at the moment) and my temperament. Now trading on the 4hour or daily timeframes helps me manage the need for thrills, and trading now perfectly with my schedule and lifestyle. Don't aim for percentage returns, aim to master a system and strategy that is in sync with your personality, lifestyle, and schedule. the money will naturally follow after that.
What was the key moment of your trading career?
When I read the psychology of trading by Mark Douglas.


In your opinion, what are the most important characteristics for maintaining a steady trading career?
Patience and being relentless at the same time. Understanding that as a trader you need to play the long game, things you build quick usually go quick but at the same time you need to put in the work and see what works for you, getting to know yourself is very important.
Do you apply any mental/psychological routines while trading? Please elaborate.
I meditate every morning. Helps keep me centered and calm throughout the day. I still get anxious over positions which I would taken, but with continuous meditation that is much less of a problem now. I just know that if I placed a trade and followed my rules, the market will do what it does and it will ok.
What was your strategy for successfully passing The 5%ers' Evaluation Program?
Don't rush, take your time. You have 6 months to complete this so there is plenty of time. Stick to proper risk management. ..i consider 1% to be on the high side, 0.5 % is optimum because it gives you around 8 trades before you hit maximum drawdown, and if you are using a good trading strategy that is more than enough buffer you will never be at the risk of blowing out. the maximum drawdown I reached was 2.7%, which meant I still had like 1.3% before I reached the maximum drawdown. You need to guard your downside jealously. if you hit a rough patch reduce your lot size, get more wins under your belt and then increase the lot size as you start becoming profitable again.
How long did it take you to become a consistent trader?
One year. I read the psychology of trading by Michael Douglas and that helped me become a better trader.
If you want to receive an invitation to our weekly forex analysis live webinars.
Sign up for our Newsletter.
Subscribe to our youtube channel.
Click here to check how to get qualified.
Click here to check our funding programs.
WE FUND FOREX TRADERS!
The5%ers let you trade the company's capital, You get to take 50% of the profit, we cover the losses. Get your trading evaluated and become a Forex funded account trader.
Get Your Forex Funded Trading Account