Forex Blog Articles
Read the Price Action is the Key not the Indicators
October 1, 2020 | 11:10 am | Forex Blog Articles
October 1, 2020 | 11:10 am
Forex Blog Articles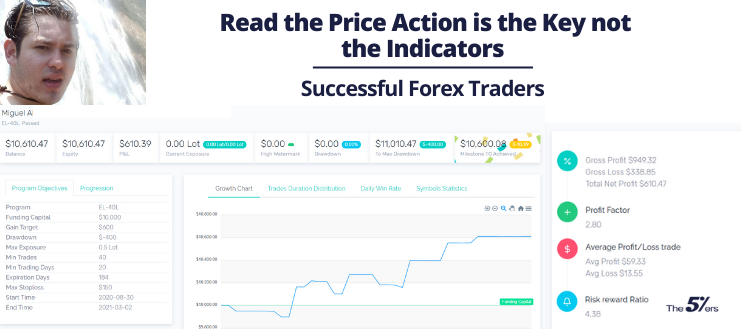 Use EA's that help you to make the risk management more easily, That's Miguel Advice
"Read the price action is the key, not the indicators".
Miguel has just successfully passed our evaluation program with a great trading plan and has become a forex funded trader.
He is now one of our funded traders and is trading with a 40K forex funded account on our platform.
His next mission is to reach 10% of profit and double his funds to 80K.
We spoke with Miguel about his trading plan, insights, and lessons gained while trading in the Forex market and on our platform as a funded trader.
Click here for more Inspirations lessons and interviews from our professional funded traders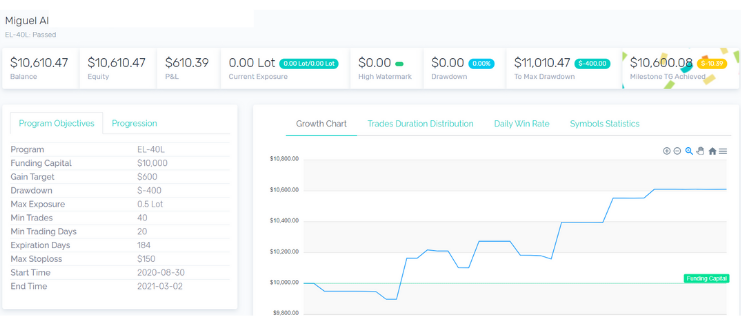 After how much time did you become a consistent trader? What aspects changed that helped you to become consistent?
After 3 years I become a consistent trader, the discipline is the key and Specialize in a method.
Do you have a specific trading plan?
yes, I do. My trading plan is focused on risk management and find the liquidity pools on the charts. Read the price action is the key, not the indicators.
Do you have any risk management techniques? If so, please, elaborate?
I use EA's that help me to make the risk management more easily, use the technology in your favor. And always do Breakeven when the trade goes up. Free the risk is the key.
What was your biggest challenge in trading, and how did you overcome it?
When I lost a lot of dollars and it's not possible to see the result around the corner, so My only way to overcome was the visualization, believe that the results are happening, just need to make it happen.
What was the key moment of your trading career?
When I passed the evaluation period of the 5ers.
In your opinion, what are the most important characteristics for maintaining a steady trading career?
Risk management.
Do you apply any mental/psychological routines while trading? Please elaborate.
Separate the emotional phase of your trading plan.
What was your strategy for successfully passing The 5%ers' Evaluation Program?
Focus on risk management rules. Be patient and consistent.
Please share your recommendations for online resources that were/are significant in your trading development. Name and links are appreciated.
EA's that make easier your strategy. I recommend the EAs about Risk management and auto Breakeven and take partials.
Would you like to share anything else with us?
The financial assets are like women: focus and Specialize in only one. – Alejandro Márquez.

If you want to receive an invitation to our live webinars, trading ideas, trading strategy, and high-quality forex articles, sign up for our Newsletter.
Subscribe to our youtube channel.
Click here to check how to get qualified.
Click here to check our funding programs.
WE FUND FOREX TRADERS!
The5%ers let you trade the company's capital, You get to take 50% of the profit, we cover the losses. Get your trading evaluated and become a Forex funded account trader.
Get Your Forex Funded Trading Account