Forex Blog Articles
Build Your Career Path As a Proprietary Trader
August 12, 2020 | 6:38 am | Forex Blog Articles
August 12, 2020 | 6:38 am
Forex Blog Articles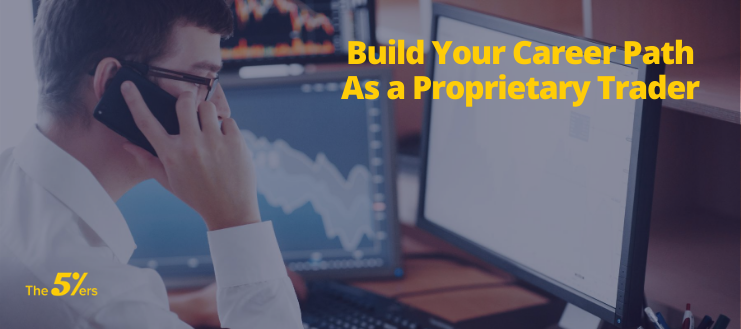 Why Trading for a Proprietary Trading Fund is the Natural Progression for Your Career
Somewhere in the mid-70s to early 80s, a new type of trading emerged. During this period, many individual traders couldn't get enough funding or liquidity in order to trade high volumes on their own.
In response to the demand of traders, US companies began renting some of their floor space to skillful traders, effectively making them part of the trading division within the firm.
The arrangement was a resounding success. The traders would invest a portion of the trading portfolio and the fund would give the trader more and more capital as long as the trader continued to show potential and skill.
Proprietary Trader Career Path
Today any Forex trader who wants to increase profit potential could get funds from a proprietary firm.
The trader will have to pass an evaluation to show his or her abilities, each company has its own requirement and its conditions for test success.
Whether you are a full-time or part-time trader, the prop firms give you the opportunity to make a living from trading Forex. Some firms even have a growth program in which if a trader meets certain conditions, he or she will double the fund or even triple it. Here you can see The5ers growth program.
Same Direction
Because traders share profits with the prop firm, both parties want their success.
Prop firms have clear risk management, which traders need to trade according to. This is done so that the trader does not lose all the money quickly, in case of failure.
In addition, the firms provide a platform that will help traders, like a dashboard where traders can see their stats, receive alerts that will help them control their trades, for example – if they forget to put a stop loss.
Also, the firms provide support to traders, if a trader wants to consult, the firms have forex traders who can support and advise.
You will usually find on their websites a blog if quite a bit of quality content and a YouTube channel with trading videos.
As a Forex trader who wants to develop his career, prop firms provide him with an ideal platform to both succeed and continue to develop as a trader.
Minimize Individual Risk
In this arrangement, the prop trader would then be sharing the risk with the fund. In return, the trader would get more leverage than he or she could get for themselves if they were trading independently. Traders are also able to get orders in low pricing – something else that would have been impossible as solo traders.
New Models for New Times
In modern times, ever since the internet took control of the markets, proprietary trading funds and firms have seen their models change dramatically.
Looking back to the first setups, there is virtually no remnants of the original mode. The name is now just a generic description of funds that have an agreement with third party traders to come in and trade as a service provider. Prop trading no longer describes any specific trading model.
No More Physical Space
In the days before the internet took over, prop traders had to rent their seats on the trading floor which might explain why some of today's online funds ask for subscriptions from their traders.
At The5ers, we don't think this outdated model should exist. There's no physical space that traders are occupying that would justify paying dues for. Why would you pay for a seat that doesn't really exist?
The only reason we can come up with to pay a subscription is for traders to show that they are serious. If they're willing to pay a subscription, it tells us that they are confident in their abilities. This is the only condition in which we think it's fair for a prop trader to pay for a subscription.


A Shifting Trading Landscape
Since the environment has shifted to a virtual, cyber world, and there are no physical spots to rent, traders need to work with a company that understands these seismic shifts.
The5%ers are one of the few companies to fully understand the changing landscape of the industry.
A One time Fee
The declaration for a confident trader has moved from paying a monthly sub to buying a one time fee in order to cover testing costs.
At the5%ers, this test is to show that your trading is confident and your performance is positive. This proves to the proprietary fund that you're eligible to receive and trade their money. Maybe there is a remnant of the original system after all. This is the same old fashioned model where the fund provides the funds and the trader provides the trading labors.
When a trader has a good trading performance with a positive outcome over time, the only natural thing is for the trader to look for ways to trade bigger capital to create more gains for themselves.
Here is an example of a funded trader who managed in less than a year to be funded from 10k to 160k.
A More Convenient Way to Trade
As we mentioned before, in the new era of proprietary trading, where you can trade from your own office, wherever you want, there is no fighting over one or two physical seats available with a firm or an office.
Being a prop trader also eliminates the need to look for a job and prove yourself every day.
It also eliminates the need for scouting for willing investors to invest in your talents. You don't need to beg and painfully show your legitimacy to earn their money.
proprietary trader – It's All on the Table
In the proprietary fund, you get a predefined program that clearly defines what success and failure look like. Everything that is expected from you, as well as your growth potential according to performance is laid out. There are no secrets or hidden rules or limitations.
Everything will be explained and defined way before you enter the program.
Proprietary trading funds in today's online world are providing huge opportunities for traders all over the world and at all levels of skill. From intermediate to a high level, these funds allow traders access to more capital which leads to a bigger growth horizon for the present and future market successes.
If you want to receive an invitation to our weekly forex analysis live webinars, trading ideas, trading strategy, and high-quality forex articles, sign up for our Newsletter.
Subscribe to our youtube channel.
Click here to check how to get qualified.
Click here to check our funding programs
WE FUND FOREX TRADERS!
The5%ers let you trade the company's capital, You get to take 50% of the profit, we cover the losses. Get your trading evaluated and become a Forex funded account trader.
Get Your Forex Funded Trading Account