Forex Blog Articles
Trading Career as a Forex Prop Trader
January 18, 2020 | 7:34 am | Forex Blog Articles
January 18, 2020 | 7:34 am
Forex Blog Articles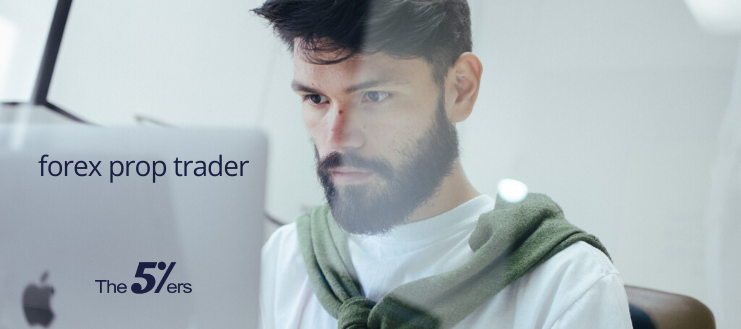 Forex Prop Trading
A lot of traders today are thinking about taking their trading career to the next level by becoming a forex prop trader. That is the goal for traders, who plan on building successful careers in trading forex. There are a lot of forex traders that are trading by themselves, but they don't end up trading in forex for a long time, because they can't sustain the losses from their trades. That is where forex funded trading accounts are changing the game since it gives traders the chance of getting a risk-free trading job that doesn't require capital from their end.
At The5ers forex proprietary fund, we offer traders the chance to build their trading career as a forex prop trader. They can trade for a living like professionals, with complete freedom to use their own trading strategy.
However, they must get consistent results when trading as a forex prop trader, because when you show exponential growth, your capital and wealth portfolio with the proprietary fund increases as well. It is the perfect win-win scenario, because the only thing required from traders is talent, while the fund brings the capital.
Why become a forex prop trader?
Forex traders with plans for the future understand that the most logical step in their trading career is to join a proprietary fund. That gives them access to someone else's capital, and they can hone their trading skills and strategies even further. The more success you achieve while trading with a forex proprietary fund the more capital you will be given, and the more money you will make.
If you were looking for reasons why you should become a forex prop trader, here are some of them:
Access to high trading capital
The biggest benefit of working with a forex proprietary fund is to gain access to more capital than you could ever imagine while trading on your own. A lot of traders are limited by their trades because they don't have enough capital when trading on their own. Even if they do have high capital, they aren't willing to take risks, because it is their own money, and if they lose that trade, it may bankrupt them.
You don't have to deal with any pressure when trading with a proprietary fund, because you have access to high capital. That means you don't need to worry about losing trades since you will not lose a single penny out of your pocket.
Get paid for trading forex every month
A lot of traders quickly realize at the beginning of their forex career that they may not get paid monthly or consistently because the forex market is volatile. That puts additional pressure on traders to perfect their strategy and make profitable trades if they plan on getting paid. When trading with a proprietary trading fund, there is no such pressure, because traders are paid monthly.
When you have knowledge that you are going to get paid every month, you can start planning your career trajectory. It stabilizes your finances and gives traders hopes for forging a successful career in forex trading, which they can't see when trading by themselves.
Being paid for profits is not at the expense of growth
When self-funded traders make profits and want to withdraw these profits from their account, it ends up reducing their buying power in the future. That isn't the best strategy to adopt if you have major plans for building a career in trading forex.
For instance, if you are managing a $100K account and you made profits of 10% this month, then your earnings for the month were $10K. Now, if you choose to withdraw the $10K from the account, then you will start with the same $100K for the next month. This shows that the trader didn't increase their buying power, even though they made a profit last month, because they withdrew the profits.
The5ers are a proprietary trading fund, and the reason why they are such a good option for anyone looking to further their forex trading career is that they reward traders who make profits. They pay for the $10K profit, and at a 10% profit milestone, the capital of the account will be doubled to 200K. This increases the buying power of the trader and they also earn a nice reward, while the profit payout isn't deducted from the account.
Only a proprietary fund can afford this, because they have the reserves to reward profitable traders, and traders that bring consistent profits to the fund will get more and more market
buying power with ever-increasing trading capital.


Risk-free trading
When you are trading with a forex proprietary fund you effectively eliminate any risks you were taking while trading by yourself. You don't need to invest your own money, since you will be given a funded trading account, and that takes all the pressure off your trades. This eliminates pressure and gives traders the chance to perfect their trading strategy by taking more risks.
All traders wish to achieve the peace of mind that comes with risk-free trading when they work with a forex proprietary fund. There is nothing stopping traders from improving their trading strategy and skills, but the only hindrance is a risk. To become a successful forex trader, you must take risks, but when trading with your own money it can be difficult. This is the reason why so many forex traders plan on working with a funded trading account since it allows them to practice risk-free trading.
Incompatible trading growth scheme
You will be given a nonlinear growth program, which means that when you start making money for the fund, show consistency and display your trading talent, the fund will increase the capital you are handling. This allows you to take your forex trading career to new heights as you can make bigger and more profitable trades and become one of the top forex traders in the market.
When you are given more capital to trade with it is a sign of trust from the proprietary fund, because they believe in your ability to make even bigger and more profitable trades for them in the future. The5ers trading growth program offers all forex traders with the opportunity to double their trading balance with every trading milestone they achieve. So, every time you achieve a 10% profit, The5ers will double your trading balance.
This growth scheme can do wonders for your trading career, as you can experience exponential growth, with reliable monthly profit payouts, and zero minimum requirements or obligations.
This means you can achieve over 1 million dollars in only 7 rounds! If you make 70% profit in Forex on your account, it will translate into capital worth $1.28 million.
You can then manage this amount in your account. Aiming to develop the growth potential of traders, The5ers will reward top performers with increased capital and buying power in their live trading accounts. With the 2X double growth for 10% profit rule, traders can grow their trading accounts from $10K to an account worth more than $1.28 million quickly for serious growth.
Develop professional habits
It is important for forex traders to look at their trading as a professional job, instead of looking at it as a part-time job. You need professionalism in every aspect of your life if you want to be successful, and when it comes to the forex trading market professionalism is everything.
That is because the biggest skill you need to become a successful forex trader is discipline. You must resist making trades that look profitable, but the market isn't looking good, because sometimes you must step away from the market.
Forex traders with no professionalism and discipline in their trades are going to lose those trades more times than they are going to profit from them. That is what separates the best forex traders from the rest because their level of professionalism and discipline allows them to get consistent results.
Risk management
In proprietary trading companies, understanding risk management is very important.
This is done by setting up a solid risk management system, which will help traders work more confidently and with better and more responsible trading behavior.
Anyone who has been trading alone knows that most traders without a risk management system, will probably slip and take irrational risks that are not aligned with their trading plans.
How to Join a Forex prop Fund
To join a forex prop trading company, potential members will need to take the qualification test. The fund will also provide target goals and risk parameters.
the forex proprietary firm must test the traders who want to be accepted because they provide the financing, so they need to be sure they are funding traders who have proven professionalism, and they can meet their requirements.
Forex Prop Trader Conclusion
At The5ers proprietary fund, we offer all traders the chance to forge a successful forex trading career by signing up for evaluation in our funded trading account. If you want to start a career in trading forex or want to work in forex, then joining a forex proprietary fund is the best option for you.
If you want to receive an invitation to our weekly forex analysis live webinars.
Sign up for our Newsletter.
Subscribe to our youtube channel
Click here to learn how to get qualified
Click here to check our funding programs
Photo by Miguelangel Miquelena
WE FUND FOREX TRADERS!
The5%ers let you trade the company's capital, You get to take 50% of the profit, we cover the losses. Get your trading evaluated and become a Forex funded account trader.
Get Your Forex Funded Trading Account