Forex Blog Articles
Forex Traders Shared Their Strategy For Passing The5ers' Evaluation Program
March 29, 2020 | 12:18 pm | Forex Blog Articles
March 29, 2020 | 12:18 pm
Forex Blog Articles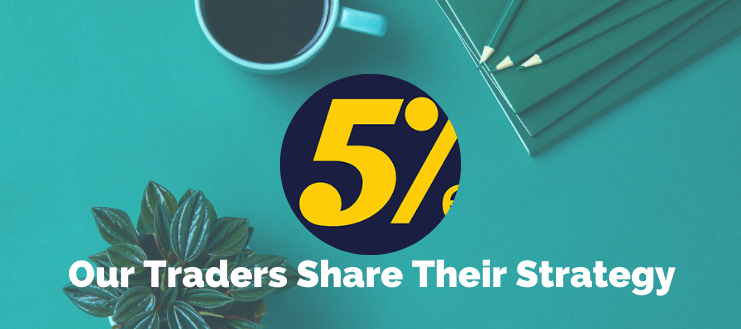 This Article Presents Real Traders Who Have Passed The5ers' Evaluation Program
passing The5ers Evaluation Program
Justin's advice: Don't risk any more than 1% of the account
Justin.W. 31, United States.
Justin's strategy was to scale trades, he moves stop losses to break even once the price moved enough. All his trades size in the evaluation account were 0.02.
Justin says he's looking forward to trading a larger account because he will be able to set trade size better according to risk.
Click here to read Justin's full interview.
Kiel's advice: Take the Time and Effort to Learn Yourself
Kiel.R. 25, United States.
Kiel used a daily-timeframe strategy of capitalizing of 50-EMA bounces. Kiel is not a day-trader and developing the patience to swing-trade took time.
Click here to read Kiel's full interview.
Brad's advice: Know when to Cut Losses Fast.
Brad.S. 28, United States.
Brad says he was very disciplined with his trading for the evaluation and whith his position sizing and knew when to cut losses fast.
His approach was slow and steady from the beginning, which gave him a huge psychological advantage because he was in no rush to trade the account up.
Click here to read Brad's full interview.
Timothy's advice: Use Risk Management
Timothy.M, 36, Rwanda.
Timothy says that managing risk was a big part of passing the evaluation.
Timothy setts his risk in dollars and then adapts the position size to suit his predetermined risk amount. He used free apps to do this, such as Myfxbook.com pip size calculator.
Click here to read Timothy's full interview.
Roeder's advice: Focussing on Fundamentals on Just a Few Pairs
Roedet.S. 42, Netherlands.
Roedet failed his first evaluation program. However, he successfully passed the second time.
Roedet says he was able to make more money in just a few winning trades while keeping his losing trades small.
Click here to read Roedet's full interview.
Chase's advice: Trade with Patience and Fearlessness
Chase.W. 27, United States.
Chase uses his trading plan as his strategy.
He usually waits for the price to break resistance/support/trendline as the point where he begins to look for trade entries.
His purpose is to place an entry where it retests whatever line it breaks (If more than one he much more willing to trade it).
Click here to read Chase's full interview.


Vawda's advice: Be Disciplined with your Strategy
Vawda.Z. 29, South Africa.
Vawda says he just followed his trading plan believing that consistency will get him to his target.
Even though a period of a couple of losses, he was disciplined and stuck by his strategy, and believed in his ability and analysis.
Click here to read Vawda's full interview.
Nathan's advice: Keep Risk Low and Know your Strategy Inside and Out
Nathan.R. 25, United States.
Nathan says you should keep the risk low and know your strategy inside and out.
If you're a trend trader you need to cut losses and let the winners run, you'll never know when the next big trend will occur.
Click here to read Nathan's full interview.
Robert's advice: Stick with Pairs you are Familiar with
Robert.B. 40, United States.
Robert's strategy was going with a strong USD when US stocks were weak and going against the USD when US stocks were strong.
Robert's tip for other traders in the program is to stick with pairs you are familiar with their fundamentals and place pending orders and not market orders.
Click here to read Robert's full interview.
Brandon's advice: Combine patience with Proper Risk Management
Brandon.M. 26, United States.
Brandon basically takes a trade if his system tells him to do it, or manage a trade or exit a trade if it requires him to do so. It works out to be about 2-5% profit a month on average.
Click here to read Brandon's full interview.
Andrew's advice: Hold Profitable Positions for Long Terms and Cut Losses
Andrew.K. 19, England
Andrew is using the same strategy that he's been using for a year now, with weekly zones, daily zones, trading reversals and breakouts.
He has risked only 0.5% per trade which allowed him to still be in profit, and he was consistent with it.
Click here to read Andrew's full interview.
Passing The5ers Evaluation Program – Conclusion
There are quite a few traders who have successfully passed our evaluation program.
Click here to find more great interviews and tips from those successful traders.
Use their knowledge and tips to pass the evaluation program and to proceed to better forex trading.
If you want to receive an invitation to our weekly forex analysis live webinars, trading ideas, trading strategy, and high-quality forex articles, sign up for our Newsletter.
Subscribe to our youtube channel.
Click here to check how to get qualified.
Click here to check our funding programs.
WE FUND FOREX TRADERS!
The5%ers let you trade the company's capital, You get to take 50% of the profit, we cover the losses. Get your trading evaluated and become a Forex funded account trader.
Get Your Forex Funded Trading Account